The 10 Cocktails You Have to Try in NYC This Spring
March 9, 2018 - by Merrill Lee Girardeau
Spring has almost sprung in New York and it's time to get in the spirit with some spirits. Out with the Moscow mules and hot toddies, and in with brighter cocktails like sangrias and negronis. Get a hit of elderflower in your Strawberry Collins, or enjoy an Indian-inspired Badam Lassi with citrus top notes. Below are spring cocktails to enjoy at bars and restaurants around the city!
Spring Cocktails: Paloma and Rhubarb Bourbon Lemonade at The Wright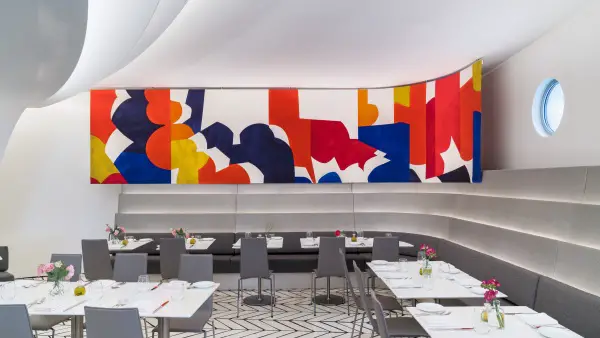 Photo: Sarah Crowner
The Solomon R. Guggenheim Museum isn't just about incredible art and architecture. While you're there, the in-house restaurant The Wright features a seasonal menu that includes house-made pasta and the renowned Wright Burger. Just in time for spring, don't miss the Paloma and Rhubarb Bourbon Lemonade cocktail, as refreshing as it sounds. Stop by before or after your museum visit to enjoy lunch, brunch, and dessert made from simple ingredients prepared exceptionally well. Book a table on OpenTable.com. 1071 Fifth Ave., 212-427-5690, guggenheim.org
Spring Cocktails: Apple Bijou at ABC Kitchen
We're starting off at ABC Kitchen, the fabulous restaurant inside an interior design emporium, ABC Carpet & Home. In this gorgeous ground-level space, the seasonal menus give us a cocktail called the Apple Bijou. It hits all the right notes, with soju (the Korean vodka: goes down smoother!), herbaceous chartreuse, rye, and green apple. 35 E. 18th St., 212-475-5829, abchome.com/dine
Spring Cocktails: End of Day at David Burke Kitchen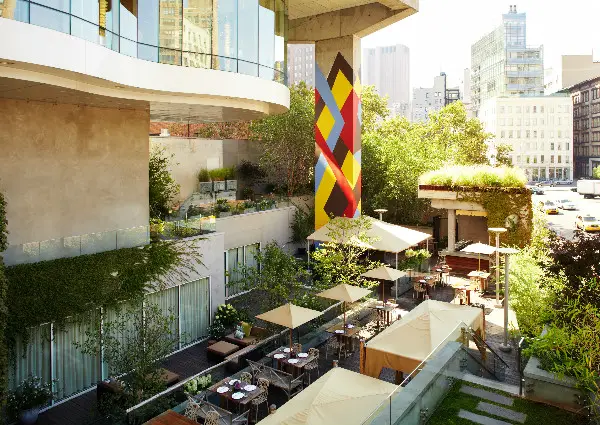 In a prime SoHo location, David Burke Kitchen is a go-to spot for fresh ingredients and creative combinations. Stop by after your tours and adventures for the house's End of Day cocktail. This aptly named evening refresher is a margarita with floral accents. Think tequila, triple sec, bubbles, lemon juice, and a pansy flower to top it off. Want End of Day to come a little sooner? It's on the happy hour list as well. Catch that Monday to Friday, 4-8pm. 23 Grand St., 212-201-9119, davidburkekitchennyc.com
Spring Cocktails: White Sangria at Alcala Restaurant
Tucked away in Midtown East, Alcala delivers excellent Spanish cuisine, from paella to leche frita. As winter turns to spring, come enjoy Spain's signature beverage, sangria. Alcala serves red and white sangrias based on the wines mixed in each, and both flavors contain triple sec and fresh fruit. We'll point you to the white sangria for a lighter, brighter taste of Spain. 246 E. 44th St., 212-370-1866, alcalarestaurant.nyc
Spring Cocktails: Golden Quince at Hanjan
Hanjan, a Korea Town treasure, boasts an embarrassment of riches on its cocktail menu. The springiest of these options is the Golden Quince. Quince is a fruit that tastes a bit like a lemon-pear hybrid. This drink matches that fresh, zingy taste with bourbon, frangelico liqueur (hazelnut-flavored!), and lemon. 36 W 26th St., 212-206-7226, hanjan26.com
Spring Cocktails: Provencal Sangria at Pera SoHo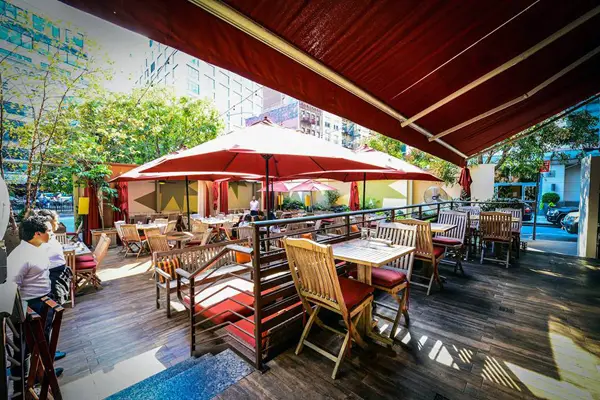 We couldn't resist putting another sangria on this list—especially from Pera SoHo, a Mediterranean bar/restaurant with an outdoor patio (!). Happy hour is 4-8pm every day at the bar, where you can enjoy the Provencal Sangria for $7. This delightful tipple melds rosé with elderflower liqueur, fresh pear and apple slices, and a sprig of thyme. 54 Thompson St., 212-878-6305, pera-soho.com
Spring Cocktails: Badam Lassi at Baar Baar
The new Baar Baar in the East Village may have a name too fun to resist, but this "Indian gastro bar" also delivers innovative cocktails to savor. You might need a patient bartender to explain these riffs on regional Indian cocktails (each drink has its own paragraph on the menu), or you can take our word for it and try the Badam Lassi. This gin-based wonder contains cashew feni, a white spirit made from the fruit of the cashew plant. Added to that are almond milk, egg white, cream, orange oil, soda, and a twist of fresh citrus. Think of it as a mango lassi that's having way more fun. 13 E. 1st St., 212-228-1200, baarbaarnyc.com
Spring Cocktails: Light Me Up at Patent Pending
Patent Pending, new to NoMad, definitely evokes words like speakeasy, mixology, and bowtie. If that's up your alley, you'll also be pleased to know Patent Pending is indeed a speakeasy hidden behind a coffee shop (and that the building once housed inventor Nikola Tesla, who inspired the bar's design). These cocktails look incredible from top to bottom, but the Light Me Up is our pick to put the spring in your step. It's bourbon and mango black tea, rum, amaro, chartreuse, and Szechuan peppercorn, with lime, and pineapple to brighten the flavor. 49 W. 27th St., 212-689-4002, patentpendingnyc.com
Spring Cocktails: Negroni Bianco at Dante
The negroni is a bright-red spring cocktail with three basic ingredients: gin, campari bitters, and sweet vermouth. No one does the negroni better than Dante, a bar in Greenwich Village with an entire page devoted to this signature cocktail. The Negroni Bianco skips the campari for quinquina aperitif and lemon bitters. It comes with a sprig of baby's breath at the rim too! Be sure to come for #thenegronisessions (i.e. happy hour), where your negroni will be $10! Daily from 3-6pm. 79-81 MacDougal St., 212-982-5275, dante-nyc.com
Spring Cocktails: Mojito at Genuine Liquorette
Little Italy's Genuine Liquorette looks like a souped-up gas station out of 1965. Your mojito will arrive as a cold can of Sprite with an upturned airplane bottle of Bacardi wedged in the top of the can. It's all part of the unfussy West-Coast vibe, and the drinks taste great in addition to the quirky presentation. 191 Grand St., 646-726-4633, eatgenuine.com
Looking for Free Group Planning Services?
Get free advice on planning your group's trip to New York.
RESTAURANTS

Vida Verde brings the tastes, colors, sounds, and scents of ...

THEATER

In a heartbeat, 38 planes with 6,579 passengers were strand...

SHOPPING

The sweetest experience in Times Square!...

SIGHTSEEING

Hop aboard these environmentally friendly twin-hulled catama...