In a Tony season dominated by: a) pop culture, in a head-spinning pastiche of sources, from best-seller pedigree (Harry Potter and the Cursed Child), to teen chick flicks (Mean Girls), to quirky cartoon (SpongeBob SquarePants), to animated blockbuster (Frozen); and b) iconic revivals, spanning both musicals (My Fair Lady; Carousel), and dramas (Angels in America; The Iceman Cometh; Three Tall Women), it's easy to get so caught up in the excitement of reviews and awards that you ignore the simple question facing every theatregoer: what do you like?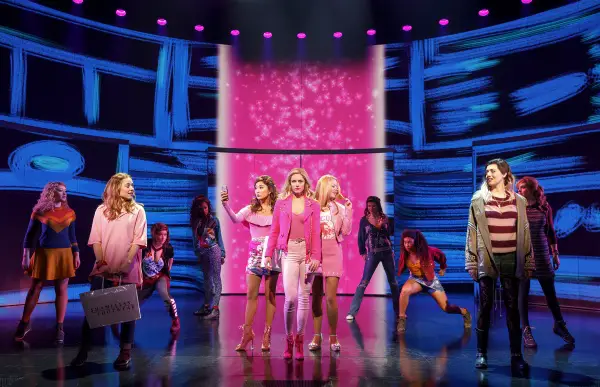 Erika Henningsen, Ashley Park, Taylor Louderman, Kate Rockwell, Barrett Wilbert Weed, and the company of Mean Girls. Credit: © 2018, Joan Marcus.
Sometimes the answer is as simple as a favorite star. Tony winner Laurie Metcalf (A Doll's House Part 2), for example, whose Oscar-nominated performance in Lady Bird almost eclipsed her current star turn in Three Tall Women opposite 81-year-old Oscar winner Glenda Jackson. Or, should you have a soft spot in your heart for HBO's expired series Six Feet Under, you are dying (all puns intended) to check out Lauren Ambrose in her Broadway musical debut as Eliza Doolittle in My Fair Lady.
Denzel (does he really need a last name anymore?) Washington as Hickey in Eugene O'Neill's The Iceman Cometh is the shattered nucleus around which barflies congregate, a group made up of celebrated stage veterans including Tony winners Bill Irwin (Who's Afraid of Virginia Woolf?) and Frank Wood (Side Man), as well as David Morse (The Seafarer; House). This is a gorgeously etched production attracting more than Washington's fan base.


Occasionally, the biggest drawing card for a hit show is the author—i.e. Tina Fey, whose comedic personality is all over her musical adaptation of her 2004 film Mean Girls. Updated to embrace social media and to some degree fashion (50 Shades of Pink?), the show's music was composed by Fey's husband, Jeff Richmond, with lyrics by Nell Benjamin.
Then again, it might be all about the kids—Disney's latest sell-out Frozen, for example, boasts an audience peppered with shimmering mini-Elsas, all sufficiently awestruck when Broadway veteran Caissie Levy dazzles to the nth degree of stage magic by belting "Let It Go."
Gavin Lee as Squidward Q. Tentacles. Photo by Joan Marcus.
SpongeBob SquarePants, the season's other kid magnet, also warrants a major thumbs-up for adults—and should a grown-up be suffering from depression, anxiety, and/or ennui, the show is a pretty fun antidote. (Another show with similar therapeutic powers is the long-running, riotous Broadway romp The Play That Goes Wrong.) And in case you happen to be a rock fan, SpongeBob's score comes wrapped in multi-platinum contributors (Cyndi Lauper, David Bowie, John Legend…long list, best to just Google).
Speaking of rock VIPs, you now have through December 15th to land tickets to Springsteen on Broadway. The Boss, as you probably know, was chosen for a Special 2018 Tony Award for…well, being special. He shares the honor with John Leguizamo, whose latest Broadway production, the funny, savvy, and unfortunately limited-run Latin History for Morons, closed in February.
COMINGS & GOINGS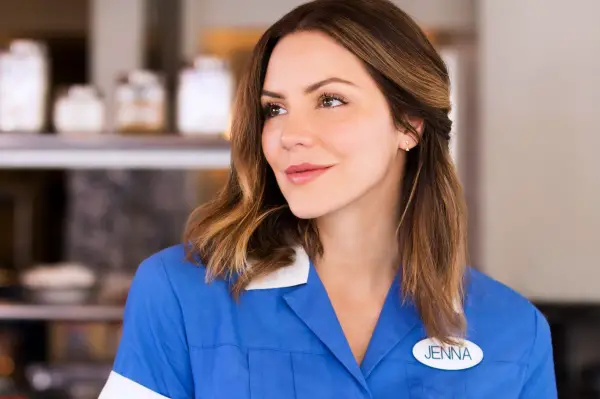 Catch her while you can: Katharine McPhee's run in Waitress ends June 24th. Photo by Matt Murphy.

If you have your heart set on seeing Lea Salonga's lovely portrayal of the god Erzule in the musical revival Once on This Island, the clock is ticking. The Tony-winning actress (Miss Saigon) will play her last performance on June 24th. Fans of Scorpion and Smash will want to take note that Katharine McPhee will be ending her stint as Jenna, the pie-baking heroine of Waitress, on June 17th.
As for new cast members, Tyler Glenn—lead singer of the multi-platinum rock band Neon Trees—recently made his Broadway debut in the role of Charlie Price in the Tony-winning musical Kinky Boots. Glenn, who's slated to remain with the show through July 17th, says, "I love this show and its message of inclusion and its genuine sweetness and humanity. Plus, it's just so much fun. I'm honored to be a part of the family and rock the boots all summer long!"
Another high-profile entertainer making her Broadway debut is Supergirl star Melissa Benoist, who assumes the role of Carole King in the long-running hit Beautiful, for a limited run: June 7th through August 4th. According to Benoist, who played Marley Rose on Glee's fourth and fifth seasons, "Carole's music was a mainstay in my household growing up, like it was for so many people. It will be an honor and a pleasure to sing her music and portray her inspiring resilience to audiences every night."
Finally, in a truly remarkable casting coup, Oscar nominee Chazz Palminteri joins the company of his labor-of-love musical, A Bronx Tale, taking over the pivotal role of Sonny for all weekday performances (Tuesday through Friday) as of May 24th. The show's current Sonny, Tony nominee Nick Cordero, will play the role on Saturdays and Sundays. "I'm thrilled to be sharing the role of Sonny with Chazz, who created this remarkable character," says Cordero, who will be shooting a film during the week for several months.
---
OFF-BROADWAY: FOR YOUR CONSIDERATION
It's summer in the city and if you think you're too old for camp, you're very, very wrong. Just tweak the definition and head to Off-Broadway's St. Luke's Theatre where FRIENDS! The Musical Parody—a 100% off-the-wall campy sendup of the adored '90s sitcom. The hair! The costumes! The rapid-fire plot twists! You've entered the 20-something world of Monica, Ross, Phoebe, Joey, Chandler, and runaway bride Rachel (with a side order of Gunther at their Central Perk hangout). Already a cult favorite—Friday night especially—this madcap production was created by veteran satirists Bob and Tobly McSmith. And should you need an infusion of hilarity (far more blue than its TV source material) join the gang as often as possible: "They'll be there for you!"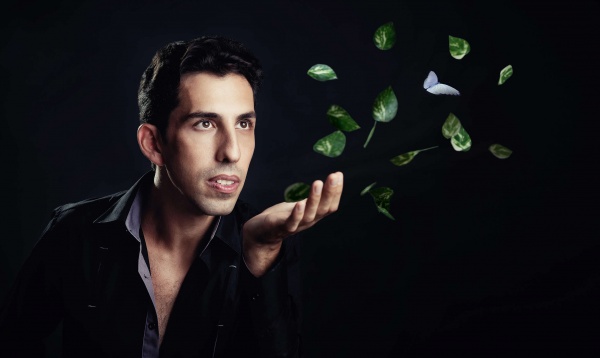 One last temptation…arriving June 13th is world-renowned illusionist Vitaly Beckman appearing at The Westside Theatre with an ingenious collection of unparalleled surprises—like making faces disappear from driver's licenses and turning art into reality. The show? VITALY: An Evening of Wonders. The draw? Illusions that have blown the minds of audiences across the globe. "I've heard that it takes a lot to shock and astonish New Yorkers, but I think I may have a few surprises in store," Vitaly says. "I'm thrilled to make my Off-Broadway debut, and I look forward to a summer of magic in this magical city."