New Yorkers and visitors alike can enjoy plenty of culture this summer in New York City—and one of the best places to find it is at Lincoln Center. One of the city's most vibrant cultural resources, Lincoln Center's programming is packed with world-class offerings in theatre, dance, music, and more, all of which will be on full display in its summer line-up.
New York City Ballet's Midsummer Night's Dream.


Lincoln Center will be home to the city's two major ballet companies, the New York City Ballet and American Ballet Theatre, early in the summer. New York City Ballet will wrap-up its spring season just after Memorial Day with their full-length adaptation of A Midsummer Night's Dream, which will play May 28 – June 2. American Ballet Theatre's spring season at the Metropolitan Opera House will extend through July 6, and audiences can look forward to classics like Swan Lake and Sleeping Beauty, along with newer works that include a full-length ballet of Jane Eyre. Alvin Ailey American Dance Theater will also be performing at Lincoln Center this summer, offering five different programs of performances at the David H. Koch Theater from June 12-16. Those wanting a more international offering can enjoy the Liaoning Ballet of China, one of the country's most famous ballet companies, as they perform the ballet Hua Mulan and other excerpts of their repertoire from August 23-25.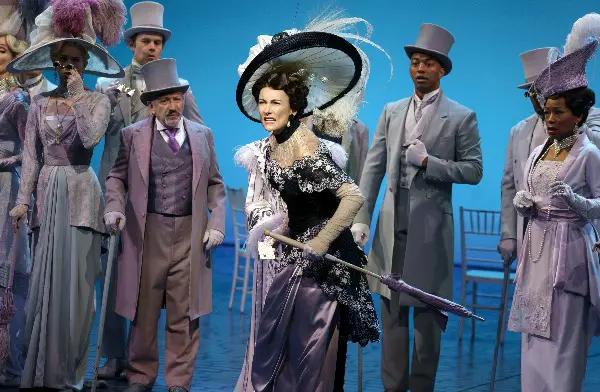 Laura Benanti stars in My Fair Lady through July 7. Photo by Joan Marcus.
Theater fans can check out the summer offerings at Lincoln Center Theater, where the current revival of Lerner and Loewe's musical My Fair Lady is still going strong. Audiences hoping to catch actress Laura Benanti as heroine Eliza Doolittle will be able to see her in the show through July 7. But there's more taking place on the theater's smaller stages as well. Musical theatre fans can also catch a different sort of musical, IN THE GREEN, which tells the story of the Medieval-era woman Hildegard von Bingen. The musical will run at LCT3, the theater complex's smallest space, from June 8 – August 4. Another new play, Chris Urch's Uganda-set The Rolling Stone, will run from June 20 – August 25.
Country singer Jennifer Nettles performs at Alice Tully Hall May 31. 
Before they set off on tour for the summer, classical music lovers can enjoy the New York Philharmonic as they perform Beethoven's Eroica (May 22-28) and John Corigliano's Symphony No. 1 (May 30–June 1), a piece dedicated to those impacted by the AIDS epidemic. The Philharmonic will also debut the world premiere of Pulitzer Prize winner David Lang's opera prisoner of the state, an adaptation of Beethoven's Fidelio, from June 6-8. Over the summer, Lincoln Center will also have offerings for fans of other musical genres: country singer Jennifer Nettles will perform at Alice Tully Hall May 31, and a June 20 orchestral concert will celebrate K-pop.
A few blocks away at Columbus Circle, Jazz at Lincoln Center will continue their robust programming of jazz music throughout the summer. On June 7 and 8, the Jazz at Lincoln Center Orchestra with Wynton Marsalis will debut a new work that bridges jazz and visual art, Portraits of America: A Jazz Story. Fans of musical theatre standards—and My Fair Lady—can catch Michael Feinstein as he sings through the Lerner & Loewe songbook on June 5 and 6. In addition to the spot's jazzier offerings, opera fans can also enjoy New York City Opera's Stonewall at the space from June 21-28, which was created to commemorate the 50th anniversary of the Stonewall uprising.
Those hoping to catch the Metropolitan Opera live this summer will unfortunately be out of luck, as the opera company takes a break before its fall season begins. Opera buffs should keep an eye out, however, for the Met Opera Summer HD Festival, which typically takes place in late August. The event screens filmed versions of the Met Opera's performances right on Lincoln Center Plaza, giving opera lovers the chance to grab a seat in the summer air and enjoy a free (if filmed) performance. Lincoln Center visitors wanting to get their culture on the big screen should also stay tuned to the programming at the Film Society of Lincoln Center. Film programming will be announced throughout the summer, though early summer visitors to the Film Society can look forward to the New York African Film Festival, taking place May 30–June 4.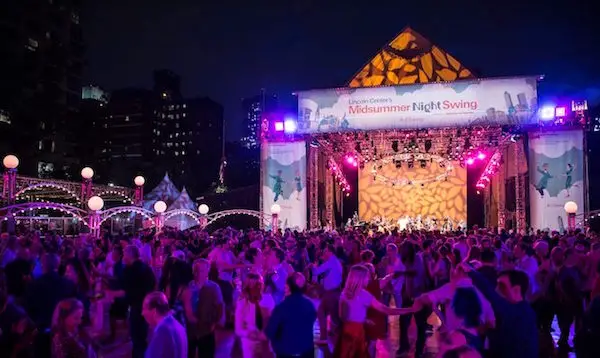 Lincoln Center's Midsummer Night Swing returns June 25-July 13. 
In addition to its regular offerings, Lincoln Center also comes alive during the summer with two special festivals: Midsummer Night Swing and the Mostly Mozart Festival. Midsummer Night Swing will take place this year from June 25–July 13, and gives visitors the opportunity to enjoy some swinging live music and hit the dance floor—and take a quick dance lesson before showing off your moves. The Mostly Mozart Festival, which takes place July 17–August 10, shows off the music of Wolfgang Amadeus Mozart—and not always in a straightforward way. In addition to a broad program of classical music performances, the festival also includes dance, theater, and other offerings, even including a documentary dedicated to Buster Keaton (July 16). Pieces to keep an eye out for this summer include a new world premiere by Mark Morris Dance Group (July 10-13), a production of Mozart's The Magic Flute by the innovative British theatre company 1927 (July 17-20), and The Black Clown (July 24-27), a music-theater adaptation of Langston Hughes' 1931 poem.
For more information, visit lincolncenter.org.