The Best of Summer Restaurant Week NYC 2017
July 14, 2017 - by City Guide News Desk
Summer may be New York's quiet(er) season, but the city's restaurant scene will be going full-force for Summer Restaurant Week. Almost 400 spots participate, rolling out a very affordable red carpet with three-course specials for both lunch and dinner (the meals are mostly on the weekdays, with a few Sundays, and a few brunches, included in the mix). The cost is a fraction of what you might find other weeks—$29 for lunch and $42 for dinner, not including tax, tip, and drinks. We've got the best of New York's 2017 Summer Restaurant Week, but don't wait too long: the specials only run July 24th through August 18th.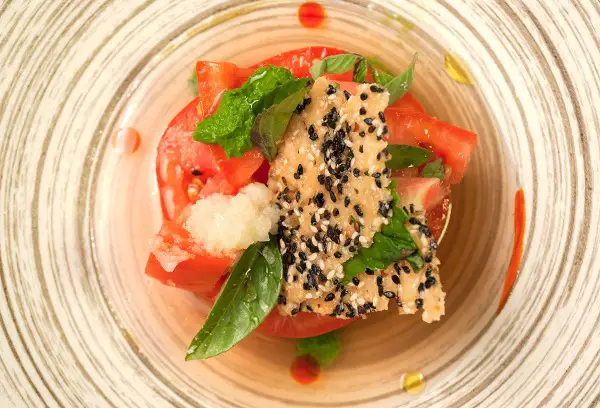 Asia de Cuba marries together the food cultures of Latin America and Asia, creating dishes that utilize techniques from both culinary backgrounds. The end result? Near perfection, evident in the food's intriguing and eclectic flavors. This Restaurant Week, Asia de Cuba will be unveiling a new summer tomato salad (above), with Thai basil and sesame parmesan chips. Among the additional offerings are snapper ceviche, roasted beet salad, rocoto-glazed cod, seven-spice chicken, and a short rib vaca frita. Come dessert, it's tres leches de chocolate, coconut cake, and sorbet. They're also serving $8 wines by the glass and mojitos, the latter made with house-pressed sugarcane juice (a great way to avoid hangovers!). 415 Lafayette St. (btw. E. 4th & E. 8th Sts.), 212-726-7755, asiadecuba.com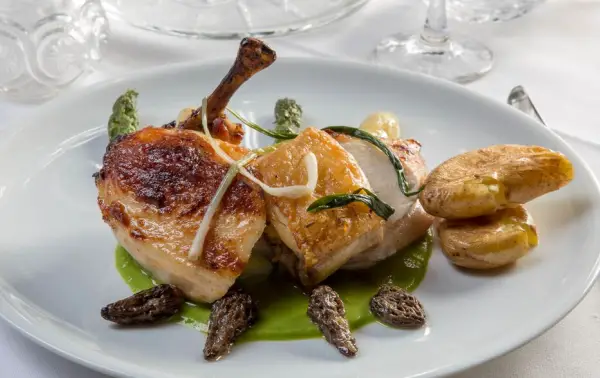 Modern American restaurant Beautique is as luxurious and stylish as New York gets. The menu showcases market-fresh ingredients and classic French technique, alongside cocktails from James Beard-nominated mixologist Charlotte Voisey. Restaurant Week dinners bring appetizers like apple salad and veal & ricotta meatballs, mains like oven-roasted chicken breast with a bordelaise sauce or steak frites. Molten chocolate cake tempts among the decadent dessert options. 8 W. 58th St. (btw. Fifth & Sixth Aves.), 212-753-1200, beautiquedining.com
Ben & Jack's serves generous portions of steakhouse favorites to a very satisfied clientele. For Restaurant Week, you'll find dinners starting off with soup or salads, followed by irresistible mains like filet mignon, house burgers, and grilled wild salmon. Ben & Jack's makes accompaniment affordable, too, with a generous outlay of $40 wines by the bottle. 255 Fifth Ave. (btw. 28th & 29th Sts.), 212-532-7600, benandjackssteakhouse.com
Benjamin Steakhouse, the 2016 Concierge Choice Awards winner for steak, has spun off one of New York's newest steakhouse destination. Benjamin Prime combines modern elegance with traditional steakhouse classics. For Restaurant Week 2017 enjoy a luxurious lunch that starts off with appetizers like lobster bisque, crabcakes, grilled calamari, or salads; mains include a USDA Prime Junior New York Sirloin, grilled salmon, roast chicken, and a yellowfin tuna Bolognese pasta. New York cheesecake and flourless chocolate cake will tempt at dessert. 23 E. 40th St. (btw. Park & Madison Aves.), 212-338-0818, benjaminsteakhouse.com
Established in 1969, Bobby Van's now boasts eight locations throughout the Northeast, with five in Manhattan, including one in a central location near Times Square. They serve the finest USDA dry-aged prime beef and select seafood; sample their best at Restaurant Week in a scene that's proudly old-time New York steakhouse, with white tablecloths, elegant wood, and 30-foot high windows. Filet mignon, veal chops, and prime sirloin are among your options. 120 W. 45th St. (btw. Sixth & Seventh Aves.), 212-575-5623, bobbyvans.com
Darbar boasts some of New York City's most authentic Indian food at more than reasonable prices. Look for classic masalas, vindaloos, tandoori, and korma dishes, alongside specialties like Maine crab cakes and potato croquettes stuffed with goat cheese. For Restaurant Week, Darbar will be serving a dinner special Monday through Friday nights, with Sunday nights thrown in as well. 152 E. 46th St. (btw. Third and Lexington Aves.), 212-681-4500, darbarny.com
Fine Indian dining in an elegant setting is what you'll find at Midtown East's Darbar Grill. Great ambience and service complement an impressive range of seafood, chicken, goat, and vegetarian entrees. For Restaurant Week, Darbar Grill will be joining its sibling Darbar in serving dinner specials Monday through Friday nights, with Sunday nights also thrown in as well. 157 E. 55th St. (btw. Third and Lexington Aves.), 212-751-4600, darbargrill.com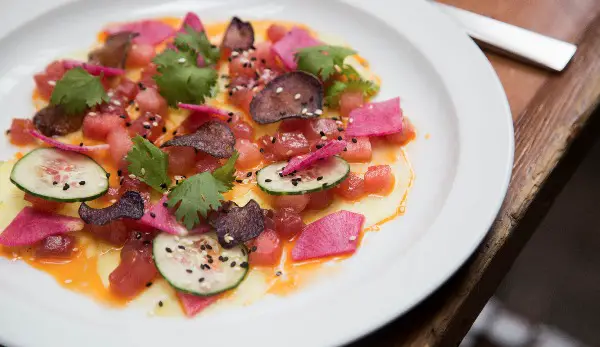 Regionally sourced ingredients and imaginative reinterpretations of classic American cooking are on display at David Burke Kitchen in The James New York downtown. Restaurant Week is no exception, with lunch, brunch, and dinner specials on the docket. Seasonal appetizers like heirloom tomato burrata and gazpacho pave the way for entrees like barbecued pork belly, braised rabbit agnolotti, and salmon grilled with lemon soy brown butter. 23 Grand St. (Sixth Ave.), 212-201-9119, davidburkekitchen.com
Del Frisco's Double Eagle Steakhouse boasts a sophisticated space that reflects the energy, vibrancy, and romanticism of the city. Excellent service combines with generous portions of legendary steaks and seafood. For Restaurant Week, Del Frisco's will offer a special lunch, available Monday through Friday. 1221 Avenue of the Americas (entrance on 49th St., 212-575-5129, delfriscos.com
Ed's Chowder House brings Montauk to Manhattan, serving up the best of East Coast seafood in an airy, casual space. Celebrate the best of summer at Restaurant Week with a dinner menu that offers appetizers like a choice of chowders (New England clam or corn), crab cake, or the crispy fried clam and watercress salad above. Entrees let you pick among the likes of organic Skuna Bay salmon, mushroom barley risotto, and roast chicken with polenta. Save room for dessert, including the house's famous lemon meringue pie. 44 W. 63rd St. (btw. Broadway and Columbus Ave.), 212-956-1288, edschowderhouse.nyc

Since 1908, Little Italy's Grotta Azzurra has been a favorite of Enrico Caruso and many other celebs. Pizzas, pastas, steaks, seafood, salads—you'll find something for everyone. At Restaurant Week, special menus will be available for weekday lunches and dinners, plus brunch/lunch and dinner on Sunday. Start off with roast beet or mango salad, follow with the likes of shrimp gnocchi, sole Caprese, or filet mignon Fortalenza, and finish with a choice of Italian cheesecake, cannolli, tartufo, or tiramisu. 177 Mulberry St. (Broome St.), 212-925-8775, bluegrotta.com
"A farmhouse in the middle of Manhattan," La Masseria offers classic Italian dishes from the Puglia region of Italy, utilizing the freshest natural ingredients. See for yourself at Restaurant Week, when special bargain menus will be available for weekday lunches and dinners, plus brunch/lunch and dinner on Sunday. 235 W. 48th St. (btw. Broadway & Eighth Ave.), 212-582-2111, lamasserianyc.com
Masseria dei Vini ("Masseria of Wines") is brought to you by the La Masseria team, which delivers a modern and updated version of a "masseria" (in the region of Puglia, in southern Italy, masserias are fortified farmhouses, and many of them have been transformed into restaurants and hotels). The menu blends traditional with modern without one overpowering the other. The Restaurant Week possibilities include homemade stuffed fresh mozzarella of the day as a starter, entrees like gnocchi, sea bream broiled with herbs, and Margherita pizzas. For dessert, it's lemon-glazed custard sponge cake or fresh berries and sorbet. 887 Ninth Ave. (btw. 57th & 58th Sts.), 212-315-2888, masseriadeivini.com
Famous for USDA prime-aged beef, fresh seafood, fine wine and elegant desserts, Morton's The Steakhouse is the ideal place for a memorable dinner. Restaurant Week sees entrees like "dirty" double-cut prime pork chops and shrimp scampi, with French onion soup, lobster bisque, and Caesar salads on the appetizers. Save room for dessert: options include Key Lime pie, cheesecake, and double chocolate mousse. 551 Fifth Ave. (on 45th, btw. Fifth & Madison Aves.), 212-972-3315, mortons.com/newyork
Family owned since 1982, Nino's 46 serves traditional Italian favorites with a contemporary twist. Guests are treated like part of the family! For Restaurant Week you'll find a wide range of temptations—homemade meatballs, seafood salad, and beef carpaccio among the appetizers and braised lamb shank, filet mignon finished in a Barolo wine sauce, and branzino Marechiara (white wine, Manila clams and mussels, touch of tomato sauce) among the entrees. Choose from cheesecake, tiramisu, and chocolate mousse for dessert. 39 W. 46th St. (btw. Fifth & Sixth Aves.), 212-719-4015, ninos46.com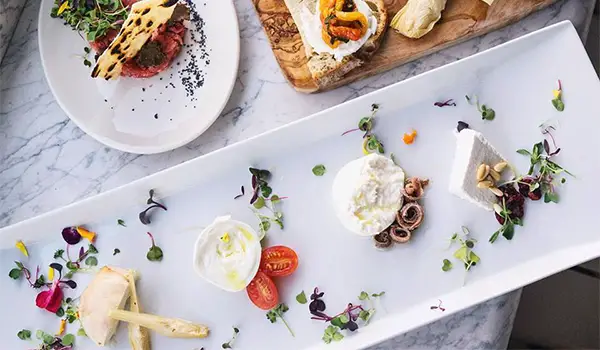 In Neapolitan dialect, the word "obicà" translates as "here it is," and if you're looking for some of the freshest and most authentic Italian in New York City, point yourself to Obicà Mozzarella Bar Pizza e Cucina, where you'll find it served right before your eyes. A mozzarella sampler leads off the Restaurant Week dinner appetizer list, joined by a summer burrata, carpaccio, and fried mozzarella di bufala bites. Angus tagliata, asparagus and shrimp risotto, and black truffle pizza are among the entree highlights. 928 Broadway (btw. 21st & 22nd Sts.), 212-777-2754, obica.com
Inspired by a renowned Istanbul neighborhood where cuisine, art, culture, nightlife, and the cosmopolitan converge, the sibling Pera restaurants in New York (Pera Mediterranean Brasserie in midtown and Pera SoHo downtown) are transportative experiences. Regional specialties shine for Restaurant Week. Midtown: 303 Madison Ave. (btw. 41st & 42nd Sts), 212-878-6301, peranyc.com; downtown: 54 Thompson St. (Broome St.), 212-878-6305, pera-soho.com
For the complete list of 390 participating restaurants, visit nycgo.com.

Looking for Free Group Planning Services?
Get free advice on planning your group's trip to New York.
RESTAURANTS

Multi-concept restaurant offering modern Japanese cuisine, a...

THEATER

Beloved diva Bernadette Peters and four-time Tony nominee Vi...

SHOPPING

DataVision is redefining retail with their new, fully intera...

SIGHTSEEING

A state-of-the-art Coney Island amusement park that's home t...