Delicate World: The Glass Menagerie Returns to Broadway
October 3, 2013 - by Melanie Baker
In Tennessee Williams' loosely autobiographical memory play The Glass Menagerie, currently on Broadway for the first time since 2005, it is an overwhelming sense of absence that lingers in the air after the final curtain. It's an absence that somehow, in all of its emptiness, fills the theatre with loss, despair, and sympathy, as the play's four characters — with varying ambitions for better realities — fall short of personal fulfillment.

Jones & Keenan-Bolger. Photo: Michael J. Lutch

Theatrical powerhouse Cherry Jones, a Tennessee native, imbues Amanda Wingfield, Williams' iconic, aging Southern belle, with stunning pragmatic and emotional layers. A two-time Tony Award winner (The Heiress; Doubt), Jones' deep, complex drawl is a study in affection laced with pain for her children: Tom, portrayed by Zachary Quinto (Star Trek; American Horror Story; Heroes), who craves to depart his mundane factory job to pursue his creativity; and introverted and physically impaired Laura, played by Celia Keenan-Bolger (The 25th Annual Putnam County Spelling Bee; Peter and the Starcatcher).

A gentle soul, Laura is as fragile as the treasured collection of glass animals that gives the play its title, yet underneath, Keenan-Bolger's expressive acting style is not nearly as one-dimensional and airy-fairy as usually portrayed.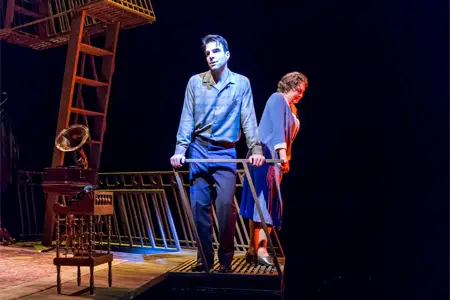 Quinto & Jones. Photo: Michael J. Lutch

Equally incisive is Quinto's take on Tom. A revelation in his Broadway debut, Quinto combines independent strength with compassion for the two women who continue to dominate his life, despite his efforts to distance himself from the Wingfield vise of motherly pushback and sisterly love.

Menagerie's plot revolves around Amanda's pressuring of Tom to track down a "gentleman caller" for Laura. When he shows up with Jim, a coworker played with ease and humor by Brian Smith, Amanda's grandiose hopes for Laura kick into high gear, unnerving Laura and setting up a tension that's broken only when Smith and Keenen-Bolger share a tender dialogue leading up to the heartbreaking climax of the wished-for romance.

On the creative side, thumbs up to Tony winner John Tiffany's deft direction and Bob Crowley's outstanding scenic design. Also flawless is the mood-enhancing lighting and the sound design by Natasha Katz and Clive Goodwin, respectively.

Having premiered in 1944, The Glass Menagerie has remained one of American theatre's most celebrated works for seven decades; the current revival is a powerful and unforgettable addition to this rich legacy.
---
The Glass Menagerie is playing at the Booth Theatre, 222 W. 45th St. For tickets, call 212-239-6200 or click here.
Looking for Free Group Planning Services?
Get free advice on planning your group's trip to New York.
RESTAURANTS

The newest member to the Heartland Brewery family, HB Burger...

THEATER

Gaston Leroux's famous period thriller is now one of Broadwa...

SHOPPING

Swiss luxury watch manufacturer for men and women since 1853...

SIGHTSEEING

Hop aboard these environmentally friendly twin-hulled catama...