The Flatiron District takes its name from the Flatiron Building, the endlessly photographed wedge-shaped building on 23rd Street and Fifth Avenue. The boundaries of the neighborhood push north of 23rd Street into what used to be considered a portion of the NoMad neighborhood, and south down towards Union Square. After you snap your perfect pic in front of the Flatiron, you have endless options to explore. We've narrowed them down for you, whether you're looking to shop, eat, explore, or all of the above!
What to Do in the Flatiron: Shopping
Fishs Eddy
We love Flatiron most for the shopping. The corridor of 5th Avenue below 23rd Street is fashion paradise, with stores like Zara, Madewell, Anthropologie, and H&M. Club Monaco gets added props for the Toby's Estate coffee shop and The Strand mini-bookstore inside its stylish store. Men's stores in the area include the J. Crew Men's Store and Bonobos. Athletes of all stripes can pop into Nike Running and Athleta for a wide array of athletic shoes and activewear.


But it's not all about grown-ups; kids can shop to their heart's content in Flatiron too. The window displays alone are reason enough to visit The Lego Store on 23rd Street. This Lego emporium can supply spare parts for your miniature Death Star or introduce you to the newest designs of your favorite toy bricks. Books of Wonder is a bookstore devoted to children's literature for tots to teens and is one of the happiest shops in town.
This area is also brimming with beautiful home goods. Find a singular New York treasure, full of fine home goods, jewelry, clothing, and gifts, at ABC Carpet & Home (the carpets are worth a look too). Across the street you'll find the dishes of your dreams at Fishs Eddy. Cheap, adorable home goods and gifts can be found at Flying Tiger Copenhagen on E 21st Street.
What to Do in the Flatiron: Food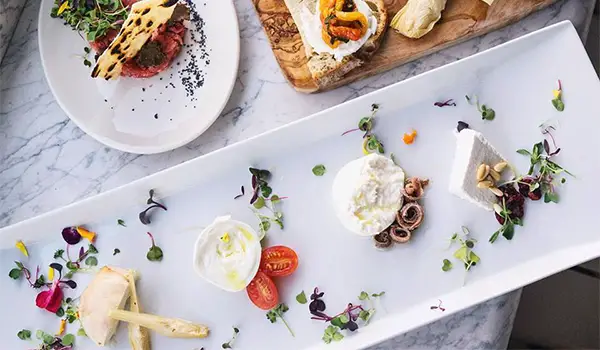 In Neapolitan dialect, the word "obicà" translates as "here it is," and if you're looking for some of the freshest and most authentic Italian in New York City, point yourself to Obicà Mozzarella Bar Pizza e Cucina, where you'll find it served right before your eyes. This Flatiron favorite holds down a soaring space within a historic building. A friendly, welcoming staff leads diners through a genuine Italian experience, centered on fresh mozzarella di bufala Campana DOP, flown in directly twice a week from artisanal cheesemakers in Campania. Obicà selects its provider farms carefully, to ensure its cheese always has its characteristic milky texture, porcelain-white shine, and distinctive taste.

Eataly
No Flatiron list would be complete without Eataly. This is celebrity chef Mario Batali's Italian emporium, bursting with visitors shopping for gelato, espresso, vino, and more. Eataly also contains six restaurants, each highlighting a certain kind of Italian food, like the rooftop bar and restaurant and the popular La Pizza & La Pasta.
Nearby is the first ever Shake Shack, which is arguably the most photogenic location (those string lights!). Get your concretes and burgers at this outdoor icon of fast food. Almond is worth a pop-by for hearty French-inspired fare featuring local, seasonal ingredients. Sushi fans should head right over to Sugarfish on E 20th for affordable, delectable nigiri and maki.
ABC Carpet really does it all: their basement floor houses not one but two restaurants. Go to ABC Cocina for creative executions of Mexican dishes. A sumptuous blend of Lebanese and Armenian flavors find their home at Almayass. For an iconic fine-dining experience, you can't go wrong with the triple-Michelin-starred Eleven Madison Park or the note-perfect seasonal menu at Gramercy Tavern.
Travel a few blocks north for the area's best dessert: crazy-good crepe cakes at Lady M Cake Boutique.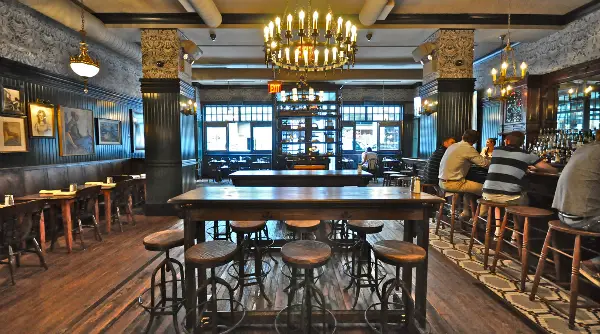 Flatiron Hall, a beer hall and restaurant in a central Flatiron location, is a perfect place to stop off. House beers run from IPAs to Belgian Wheats to red ales and seasonal specials. They're well-matched by a modern selection of burgers, appetizers, and shared plates. Main courses include Maui fish tacos, steak frites, and bacon & chicken mac 'n' cheese. Open from noon until late seven days a week.
What to Do in the Flatiron: Attractions
Madison Square Park
The Flatiron Building itself is, unfortunately, not open for visitors, though you can get a comprehensive tour of this area with Like a Local Tours. A couple of fun facts: the building was constructed in 1902 and is 6.5 feet wide at the narrowest point of the wedge. Instead, take a jaunt in Madison Square Park (not to be confused with Madison Square Garden). It's perfect for people-watching around the fountain and is often the site of public art projects. Till March 25, 2018, you can see orbs of light hanging over the lawns in Erwin Redl's installation Whiteout.
Recently reopened after renovations, the Theodore Roosevelt Birthplace is open to the public for tours through our 26th President's childhood home on E 20th. Kids and adults alike can experience the mind-bending exhibits at the National Museum of Mathematics. If you're looking to blend nerdy with naughty, check out the Museum of Sex, a playful and informative exploration of human sexuality north of Madison Square Park.