Easter is coming up on April 21. Whether you're celebrating the Christian holiday or just soaking in the wonder of springtime, there are plenty of ways to enjoy the city with family and friends. Below are Easter egg hunts for kids, cruises for families, and the classic Easter Parade on Fifth Avenue for all DIY milliners. The only thing missing on the list is a hunt for Peeps marshmallow chicks; looks like you'll have to organize that on your own.
Easter Parade and Easter Bonnet Festival
Image: Katy Gartside Photography/Flickr
The annual Easter Parade is a longstanding and well-loved tradition in New York City. All you have to do to participate is wear a bonnet (homemade is typical, but not required), then you too can process down Fifth Avenue with the rest of the headpiece-wearing crowd. Or if you prefer to watch, just post up anywhere on Fifth Ave. from 49th to 57th Streets and gaze at the Easter Parade. This tradition centers around St. Patrick's Cathedral in Midtown and originated in the 1870s. But we're pretty sure the 19th-century participants didn't make their bonnets from MetroCards and plush toys! Sun, April 21, 10am-4pm. Fifth Ave. from 49th St. to 57th St.
FAO Schwarz
Speaking of plush toys, FAO Schwarz is celebrating Easter for kids and families at its new Rockefeller Center location. Schwarz's patron puppies Patrick and Penelope will be on site every Saturday and Sunday through Easter for photo ops. There will also be custom embroidery stations for toys, arts and crafts, and manicures for kids at these special weekend events. Come to New York's signature toy store for all the bunny-themed fun your kid can handle! Saturdays and Sundays through April 21. 30 Rockefeller Plaza, 800-326-8638, faoschwarz.com
Brooklyn Botanic Garden Cherry Blossoms
Brooklyn Botanic Garden's famous cherry blossoms should be in full bloom by April 21. Come take a relaxing walk through the Cherry Esplanade around Easter, and/or come to Sakura Matsuri Festival on April 27 and 28. This cherry blossom festival honors Japan, the native land of the pink flowering tree, with events for the whole family. Here's a list of other places to see NYC cherry blossoms. 445 Flatbush Ave., 718-623-7200, bbg.org
Easter Cruises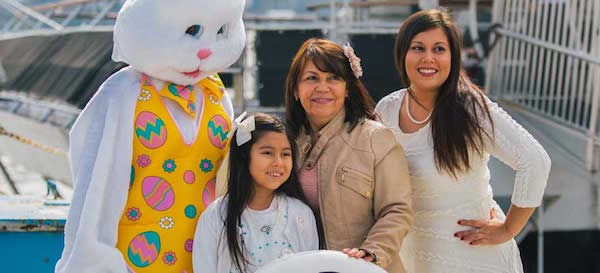 Easter pairs well with the sea air, skyline, and live music. There are several cruise companies offering just that on April 21. Bateaux New York will set sail for brunch and dinner on Easter, offering scrumptious plated meals, live music, and at brunch, bottomless mimosas. Right now, Bateaux is offering a limited-time promotion of 20% off the Easter cruise; check website for details. Spirit Cruises is offering a similar package, with brunch and dinner on April 21. The one and only Easter Bunny will show at the brunch cruise, and kids can enjoy games and surprises at dinner. The Easter Bunny will hop on over to the Hornblower ship for its Easter Brunch, which will also feature an egg hunt and brunch buffet. For the adults, there will be "free-flowing mimosas," as listed on the invite, plus live jazz. Book ASAP for any of these cruises, as tickets are going fast! All events Sun, April 21. Bateaux: Chelsea Piers, 866-817-3463, bateauxnewyork.com; Hornblower: Pier 40, 646-403-3955, hornblowernewyork.com; Spirit: Chelsea Piers: 866-483-3866, spiritcruises.com
BKB Eggstravaganza
Take your Easter egg hunt vertical at Brooklyn Boulders' fourth annual Eggstravaganza on April 13. This event, held at the climbing company's Astoria location, will send kids up the wall to find hundreds of eggs and other surprises at this one-of-a-kind event. Kids of all ages are welcome to attend, and parents can hunt for free. Register before April 5 for early-bird pricing. Sat, April 13, 10am-12pm & 1pm-3pm. 23-10 41st Ave., 718-482-7078, eventbrite.com
St. John the Divine
The Cathedral at St. John the Divine, the largest cathedral in the world, will hold inclusive services on Easter weekend, each featuring the acclaimed Cathedral Choir. The candlelight service The Great Vigil of Easter and Holy Eucharist will be held the evening of Saturday, April 20, while morning and evening services will be held Easter Sunday, April 21. At Festal Eucharist for Easter Day (10am), hear brass instruments and a message from the Bishop of New York. At 4pm is Festal Evensong with the Cathedral Choir. 1047 Amsterdam Ave., 212-316-7540, stjohndivine.org