Five hundred miles from land and two and a half miles below the Atlantic, R.M.S. Titanic is slowly turning to dust. Fortunately, you can still marvel at her beauty and mourn the fate of those aboard through February at Titanic: The Exhibition, now ensconced at Sixth Avenue and 14th Street—mere blocks from where the liner was supposed to dock 110 years ago at Pier 59 on the Hudson River.
The installation describes in detail how the White Star Line conceived to build the liner as one of a trio—the Olympic, Titanic, and Gigantic, later rechristened as the Britannic. There's an audio presentation that allows patrons to track the progress of her construction, see artifacts from her sister ships which were identical to those sailing on that star-crossed maiden voyage, and come face to face with one of the few life jackets that spared a life from icy waters the night of April 14, 1912.
While she would be dwarfed today by the colossal floating malls of most cruise ships, Titanic's first class appointments remain a treasure to behold. You'll see letters home from those traveling aboard, recreations of rooms (including the magnificent staircase that became a centerpiece of director James Cameron's Titanic blockbuster), the obligatory model cutaway that illustrates the myriad dining halls, quarters, and engine rooms that made her the last word in luxury travel, if that's what you could afford.
You'll also get to see a CGI recreation of her fatal encounter with the iceberg that took more than 1,500 to their doom.
In some ways, Titanic will always be that outsized traffic accident the world keeps rubbernecking past. Perhaps, because there weren't enough lifeboats for all, it's the unnecessary loss of life that haunts us still. Perhaps it's the textbook definition of irony that she was dubbed "unsinkable" in the hubris of those who put her afloat. (The inquiry that followed the tragedy did result in new maritime laws that ensured better shipboard communication and enough room on lifeboats so that no trans-oceanic passenger would ever have to watch from the deck of a sinking ship as their lifeboats rowed out of sight.)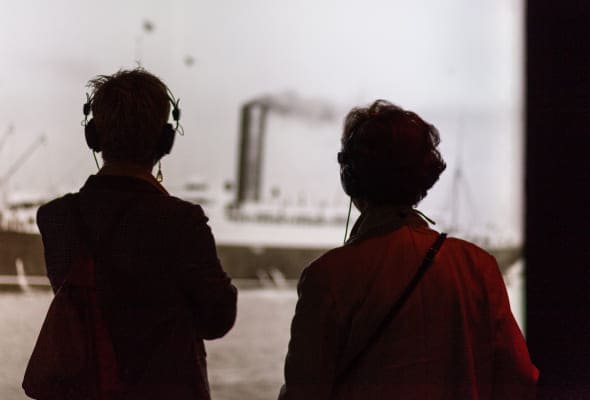 Titantic: The Exhibition will doubtless stir all of that in the minds of those who visit. There's a large-scale model of Titanic's wreck on the sea floor that gives some idea of where some of her victims were forever entombed, along with slides that show her decay in haunting silence. There is no Jack and Rose love story to buoy the experience; instead, Titanic: The Exhibition is a sobering reminder of gilded glory and the frailties and follies that are—sometimes tragically—part of our shared humanity.
526 Sixth Ave., Tuesdays–Thursdays: 10am-7pm, Fridays: 10am-8pm, Saturdays: 9am-8pm, Sundays: 9am-7pm, titanicexhibition.com/nyc