Presented in tandem, The Brooklyn Museum recently unveiled two unique exhibitions for the summer. One: Titus Kaphar will focus on a single work by the artist Titus Kaphar—a painting called "Shifting the Gaze"—while Rembrandt to Picasso: Five Centuries of European Works on Paper will examine the development of European art on paper through a new critical lens.
One: Titus Kaphar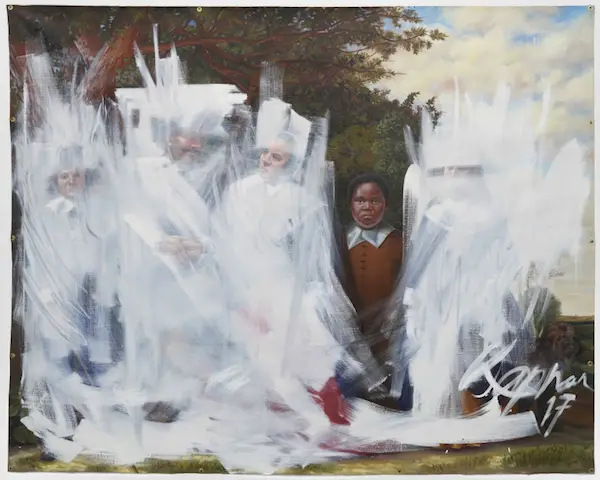 Titus Kaphar's Shifting the Gaze.
The museum's One Brooklyn series selects single works from the museum collection, examining its content and context with fresh eyes. One: Titus Kaphar will present the painting "Shifting the Gaze" (2017), a powerful work from Titus Kaphar.


This painting recreates a Dutch piece from the 1600s called "Family Group in a Landscape" by Frans Hals. The original painting depicts a wealthy white family and a black boy, presumed to be the family servant. During Kaphar's TED Talk from 2017, called "Can Art Amend History?," the artist presented his own recreation of "Family Group" and painted over the figures of each family member with white paint, leaving the black young man in the foreground alone. This new image challenges the Euro-centric worldviews that inform the original painting's "compositional hierarchy," as Kaphar calls it during his TED Talk, which will also be on view in this exhibition.
Kaphar seeks a more honest, less exclusionary vision of art history, a perspective he has also brought to Rembrandt to Picasso: Five Centuries of European Works on Paper. This exhibition, on view in neighboring galleries, will present comments from Kaphar under select images, pulled from his talks with Brooklyn Museum curators.
Rembrandt to Picasso: Five Centuries of European Works on Paper
Pablo Picasso (Spanish, 1881–1973). Head of a Young Man (Tête de jeune homme), 1923. Grease crayon on pink Michallet laid paper, Brooklyn Museum; Carll H. de Silver Fund, 39.18. © 2018 Estate of Pablo Picasso/Artists Rights Society (ARS), New York.
The Brooklyn Museum has been collecting European works on paper for over a century. In the new exhibition Rembrandt to Picasso: Five Centuries of European Works on Paper, the collection started with watercolor works on paper by James Tissot and has blossomed into a world-class catalog spanning some of the most important periods in European art history. Works by William Blake, Albrecht Dürer, Francisco Goya, Vincent van Gogh, and Vasily Kandinsky will all be on view in this exhibition, divided into four chronologically arranged sections. With Kaphar's painting nearby and his supplemental text in this exhibition, visitors will see the sidelined narratives often forgotten when we view the European art-historical canon.
Artistic works on paper became increasingly common in the sixteenth and seventeenth centuries in the form of woodcuts, engravings, and etchings. Artists like Albrecht Dürer utilized and innovated printmaking technique during this time; his large-scale woodcut print series will be on view in the first part of the exhibition, as well as work by Rembrandt and Wenceslaus Hollar.
During the Enlightenment, the rationalism and social awareness of the day informed the work of artists like William Hogarth, while Romantics like Blake and Goya maintained a more emotional, supernatural view of the world. Hogarth's engravings from Gin Lane and Beer Street, both criticizing the economic disparities of sixteenth-century Britain; Blake's mythic "The Great Red Dragon" and the "Woman Clothed with the Sun"; and Goya's series "Los Caprichos" will all be on view in the second section.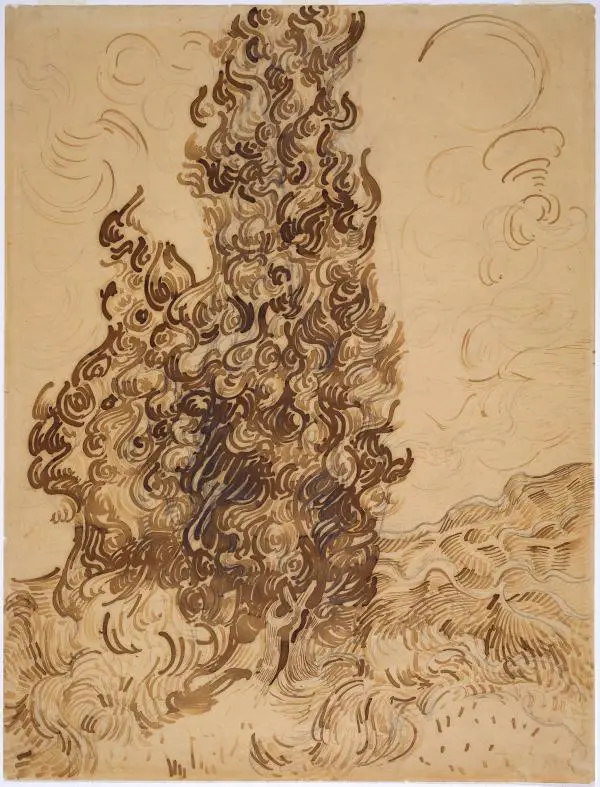 Vincent van Gogh (Dutch, 1853–1890). Cypresses, June 1889. Reed pen, graphite, quill, and brown and black ink on wove Latune et Cie Balcons paper. Brooklyn Museum, Frank L. Babbott Fund and A. Augustus Healy Fund, 38.123.
In the late eighteenth century, artists like Eugène Delacroix, Honoré Daumier, and Théodore Géricault utilized the emerging medium of lithography, while developments in etching technique were employed by Impressionists like Edouard Manet and Edgar Degas a century later. Manet's "The Equestrienne" and Degas' "Woman Drying Her Hair" will be on view in the third section, in addition to work by famous post-Impressionists such as Vincent van Gogh, Paul Gauguin, and Paul Cézanne.
After World War I, imagery fragmented further, as seen in the Expressionist works of Vasily Kandinsky, Erich Heckel, and Käthe Kollwitz. Interest in African and South Pacific cultures also burgeoned during this time, a further opportunity for us to examine the representation of non-Western influences in Western art. Picasso famously drew inspiration from African cultures, and "Nude Standing in Profile" (1906) will be on view in this exhibition as an indication of his interest in ancient Iberian art.
Both One: Titus Kaphar and Rembrandt to Picasso opened June 21 and will run through October 13, 2019.
---
The Brooklyn Museum is located at 200 Eastern Parkway. Call 718-501-6354 or visit brooklynmuseum.org for more information.