The transformation of cantankerous actor Michael Dorsey into outspoken actress Dorothy Michaels is a definite high point for audiences taking in the celluloid-to-musical adaptation of Tootsie—but trust me, it's only one in a caboodle of high points. The others include the show's spot-on book by Robert Horn, and David Yazbek's mind-blowing score (ballads, fast-paced patter songs, cheesy—and not so cheesy—show biz numbers). Add in Scott Ellis (direction) and Denis Jones (choreography), a collaboration made in madcap heaven, and you're almost there.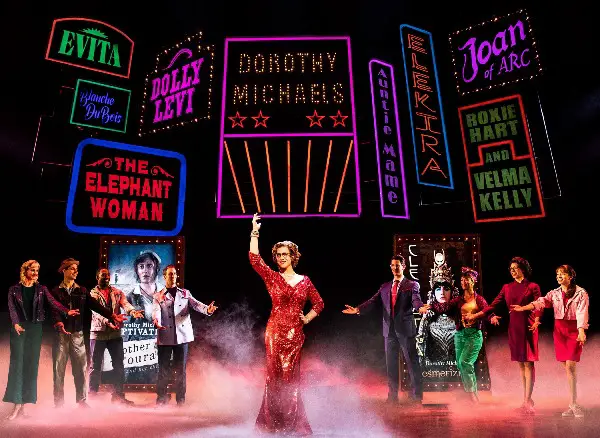 All photos by Matthew Murphy, 2019.


Except for the cast. (I'd say, "drum roll, please", but when it comes to Broadway's zaniest, it doesn't get any better than these guys, so I'll ask for a rim-shot instead.) Santino Fontana in the "title" role may be brilliant as the show's comedic fulcrum but he's well met with the likes of Reg Rogers, Julie Halson, Michael McGrath, Sarah Stiles, Andy Grotelueschen, John Behlmann, and Lilli Cooper.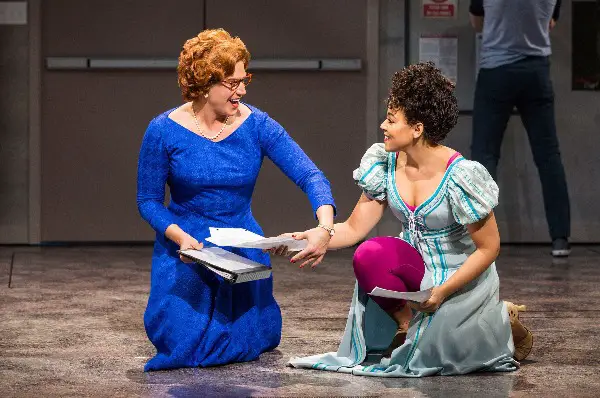 Lilli Cooper updates Julie Nichols across from Santino Fontana's Michael Dorsey.
I last saw Cooper in SpongeBob SquarePants playing Sandy Cheeks and she was the most adorable thing on Broadway. Now she's bringing a different sort of adorableness to the role of Julie Nichols, the leading lady caught up in a convoluted romance. And while the name and love interest remain the same, much has changed with her character from the original 1982 motion picture starring Dustin Hoffman and Jessica Lange.
"Our version of Julie is very different than the film's version. She isn't a mother, nor is she in a relationship with her director. She's a strong, independent woman who is incredibly passionate about her work," says Cooper, going on to note, "This shift has definitely made it easier to make her completely my own."
Indeed, in addition from changing the genre from soap opera to Broadway musical, other concessions have been made to a contemporary context. "There are certain problematic themes, which in 1982 were not as much in the forefront of people's minds," Cooper observes. 
"I've been asked before 'why this story,' 'why now,' " she continues. "And I don't think we'd be able to do it without the genius of this creative team fully immersing our story in today's social climate. Our show completely takes into account the world we live in today and broaches the subjects of the #MeToo movement and feminism head on."
And as it happens, farce—diving for cover in male-centric lady's underthings, say—when intertwined with savvy lyrics and dialogue, offers maximum bang for the message buck vis a vis hilarity. As for any hint of angst, that's pretty much covered by unemployed actors bemoaning (rightfully, I might add) doomed auditions and put-upon lives. For them, romance is an elusive perk. So when Michael/Dorothy falls for Julie, it almost comes as a surprise, with the relationship taking twists and turns that Fontana and Cooper navigate nicely.
"I definitely think the chemistry of our characters has gotten stronger the more we've worked on them," says Cooper, who describes her costar as a dream scene partner. "The beauty of the story we're telling is that it is a love letter to the theater, and the life of actors. We've had many meta moments where we as actors sit and discuss ways to make our show the best it can be, after rehearsing a scene where our characters, as actors, have just discussed ways to make their show the best it can be. Life imitates art."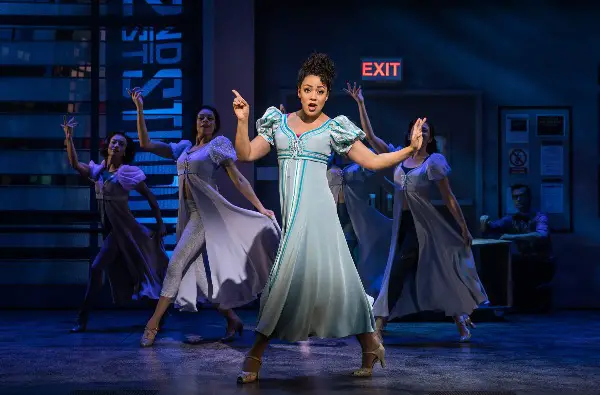 Meanwhile, the idea of crafting a stage production (within a stage production) after a film can, possibly, lead to a backdoor homage or two. Look for a Robin Williams The Birdcage choreographic crossover and a salute to Mr. Hoffman in The Graduate (lovely and subtle…wait for it).
The show soars in myriad ways and no one feels it more than Cooper herself. "While sticking to the DNA of the film, our version of Tootsie is completely its own: updated, relatable, and truly hilarious. We dare anyone to sit in that audience and not laugh through the entire show," she says. "And what steps it up to the next level is that our story is deeply moving. It's about the sacrifices we make in order to do what we love, and what we learn from our mistakes along the way. At its core it's a love story, not just between Michael and Julie, but the love for our craft."
---
Tootsie is playing at the Marquis Theatre, 1535 Broadway off 46th St. For reservations call 800-745-3000 or visit TootsieMusical.com.