Off-Broadway is rocking some seriously fun nostalgia courtesy of Trip of Love, the gloriously retro musical revue awash with catch phrases—"Make Love Not War"—beach blanket and black light visuals, hippies, hotties, and far-out production numbers (from "Wipe Out" to "White Rabbit") for a "Right on!" celebration of the grooviest of yesteryears!
Tara Palsha, Kelly Felthous, Dionne Figgins, and the cast of Trip of Love. Photo: Matthew Murphy
Who should see it:
Fashionistas: be inspired by mod threads—go-go boots, Twiggy, bellbottoms (appliques not optional); tie-dyed everything...and be sure to wear a flower in your hair (gender optional).
Clubbers: Get your dance freak on in the era of the Monkey, Swim, Watusi, and Pony.
Downloaders: Get into the vinyl groove with tracks spanning surfer, romance, rebellion, camp, psychedelic, and every other genre from the decade.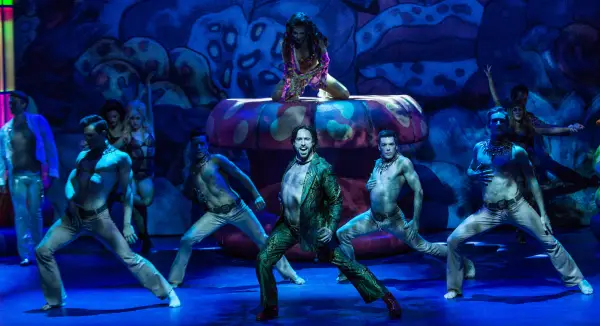 Joey Calveri, Tara Palsha, and the cast of Trip of Love. Photo: Matthew Murphy 
Trip of Love is playing at Stage 42, 422 W. 42nd St., 212-239-6200, tripoflove.com. Tickets start at $35.
Trip of Love preview video.