There's something very Twilight Zone about memory plays—a genre frequently mined by Rod Serling in the decades following Tennessee Williams' seminal template, The Glass Menagerie. Almost all of these episodes backpedal cautiously, ultimately revealing the tears in time's gauze-coated filter.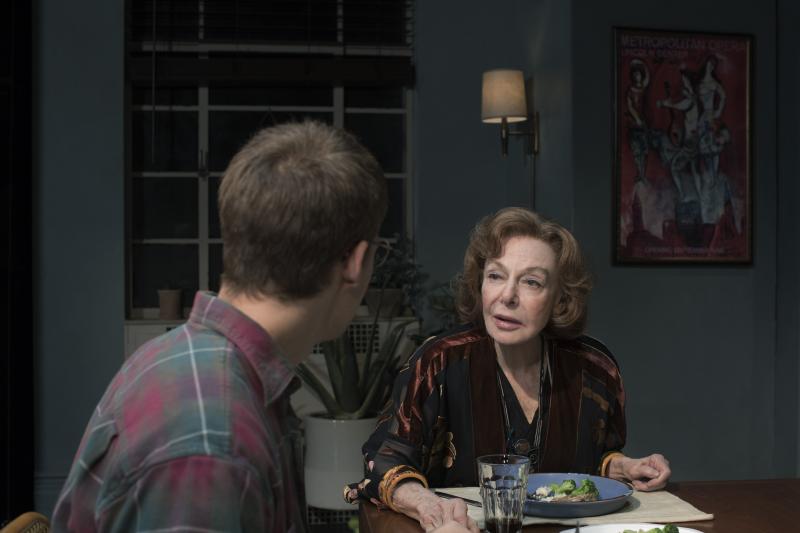 A strong Tony contender after more than half a century away: Elaine May in The Waverly Gallery. Photo by Brigitte Lacombe.
Oscar-winning playwright Kenneth Lonergan's tack with The Waverly Gallery is far more pragmatic, offering audiences a theatrically enhanced time capsule inspired by his grandmother's descent into dementia…and her actual Greenwich Village art gallery. In Lonergan's script—a Pulitzer Prize finalist—even Daniel, a young version of himself played by Lucas Hedges, doesn't gloss over his sense of restlessness around his grandmother, admitting early on that he was "stingy" with his visits to her gallery because "once you went in there, it was kind of tough getting out again."
Portrayed by writer/actress/comedic legend Elaine May, Daniel's effusively chatty grandmother, Gladys Green, comes into sharp focus even as her mind atrophies. And May is brilliant. Rising from octogenarian ashes, she shuttles blithely between yesterday and today in monologues and dialogues: a hearing-aid-challenged phoenix raconteur in search of an audience.
Gladys' daughter, Ellen (Tony winner Joan Allen), along with Howard, Ellen's husband and Daniel's stepfather (David Cromer), always seem to be in a holding pattern around Gladys, waiting for the next brain cell to drop. Their weekly dinners with her and Daniel are laced with impatience. As for humor, much of it comes from Gladys' repetitive ramblings…but these are generally tinged with pathos. I kept thinking throughout of Byron's line, "And if I laugh at any mortal thing, tis that I may not weep."
The fourth and most enigmatic character in the play a young artist who Gladys takes under her wing, offering him the gallery to show his paintings and allowing him to basically live in the back. Don, as played by Michael Cera, is the kind of person you could never quite wrap your head around—one-beat behind: fascinating and maybe a tad sinister.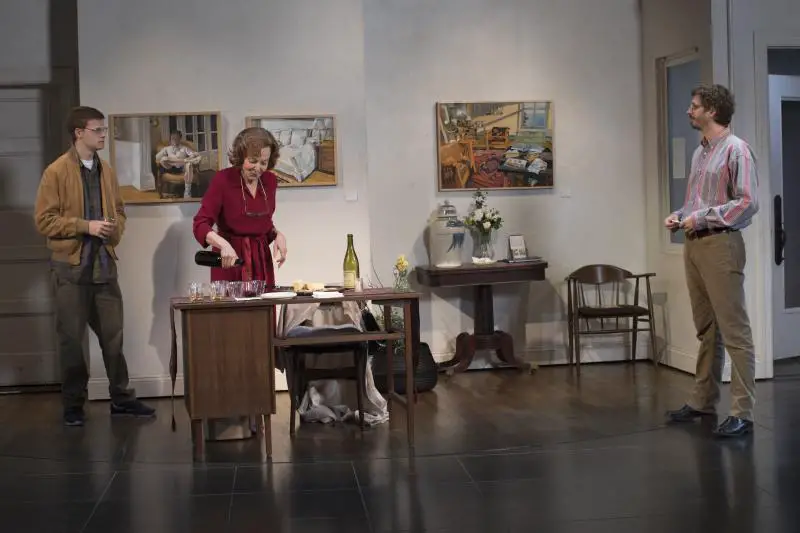 Photo by Brigitte Lacombe.
Overall, the cast is flawless; believable to a fault. Only Daniel steps out of character, however, narrating as weeks and months pass and Gladys devolves—for the most part, oblivious until she can no longer live on her own. The gallery has been lost to an adjacent hotel leaving her unmoored. And so she moves in with Ellen and Howard.
A haunting and unforgettable evening of theatre…unless, of course, we forget.
The Waverly Gallery is playing at the John Golden Theatre, 252 W. 45th St., 212-239-6200.