Chinatown Meets the Lower East Side: Where to Eat and Drink Around Secret NYC Nabe "Two Bridges"
April 25, 2018 - by Merrill Lee Girardeau
If you've ever found yourself on the Manhattan side of Manhattan Bridge, walking around in a daze and wondering "What is this place?", you're not alone. You've merely stumbled upon one of Manhattan's last secret neighborhoods! Called Two Bridges, it extends from the east side of Brooklyn Bridge and under the Manhattan Bridge. It's a narrow neighborhood bordered by East Broadway on the north and FDR Drive on the south. Among other things, Two Bridges makes a great option when restaurants and clubs on the Lower East Side are full to capacity (it happens). Another plus: you and your Brooklyn friends can meet in the middle here, especially if they're on the nearby F train. Luckily, there are some phenomenal eats and drinks in Two Bridges. Read on for more juicy secrets from this little-known neighborhood!
Where to Eat and Drink in Two Bridges: Brigitte
New to Two Bridges, Brigitte should definitely go in the dictionary beside "expat French bistro." Its gold hanging lamps, white marble bar, delicate white chairs, and purposefully haphazard frames of girls gazing into the distance complete the tres chic image. A new brunch favorite, you'll go gaga for the pancakes with caramelized banana and the picturesque eggs benedict. Dinner and happy hour picks include grilled octopus, pappardelle pasta with mushrooms, and perfectly tart grapefruit cocktail with Lillet Blanc and Saint Germain. 37 Canal St., 646-649-3378, brigitteles.com
Where to Eat and Drink in Two Bridges: 49 Monroe
This pick should be your go-to for ambiance and Italian food. A charming, plant-bedecked restaurant under Manhattan Bridge, 49 Monroe makes a great spot for groups and dates alike. Share a $23 carafe of house wine and some truffle fries at the bar to start. For dinner, go straight for the hit dish, a massive plate of seafood paella. The kitchen also turns out solid Italian classics like eggplant parmesan and spaghetti carbonara. 49 Monroe St., 917-472-7732
Where to Eat and Drink in Two Bridges: Cervo's
A small Portuguese restaurant on Canal, Cervo's has charmed the area since its opening late last summer with fresh, local seafood and wines from Portugal and Spain. Come for a drink from the extensive wine list, which features several pet-nat vintners, and feast on a few Maine oysters. For dinner, go for the excellent lamb burger and vanilla pudding with roasted pears and almonds for dessert. 43 Canal St., 212-226-2545, cervosnyc.com
Where to Eat and Drink in Two Bridges: Dimes
With a mid-century flair and bubble-shaped ceiling that looks straight out of The Jetsons, Dimes makes a striking first impression. Try one of their specialty cocktails (we're a fan of the mezcal-based Desert Flower). Their seasonal salads make fresh starters and introduce you to the innovative, plant-heavy menu. Two notable main courses are Spiced Quinoa with sweet potato and nori shiso pesto and fall-apart Pulled Pork on pineapple rice. 49 Canal St, 212-925-1300, dimesnyc.com
Where to Eat and Drink in Two Bridges: Hwa Yuan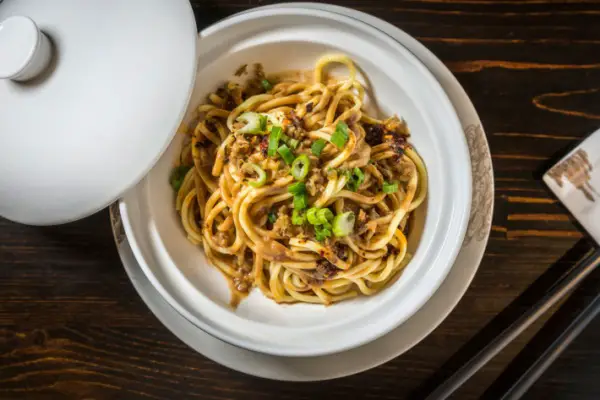 A massive three-story Chinese restaurant on East Broadway, Hwa Yuan is perfect for large groups craving authentic Szechuan cuisine. The legacy of Hwa Yuan comes in the form of cold sesame noodles, a recipe perfected by the late chef Shorty Tang (his son now runs the restaurant). Order a round of noodles with a crispy Beijing Duck, which is roasted in-house to perfection. If you still have room, order the scallion pancakes, short ribs, and string beans. 42 East Broadway, 212-966-6002, hwayuannyc.com
Where to Eat and Drink in Two Bridges: Kiki's
Kiki's sneaks up on you, hidden beneath an old sign reading "Y.H. Printing Inc." on a quiet corner near the East Broadway F train stop. But inside is a hip, candlelit Mediterranean restaurant with fabulous pita, baklava, and everything in between. It's a pared-down menu with lots of Greek culinary terms, so don't be afraid to have your server point you in the right direction if you're lost. We recommend the tzatziki (yogurt cucumber sauce with dill, served with pita for dipping) and lamb frikasse (fall-off-the-bone lamb with fennel and lemon). 130 Division St., 646-882-7052
Where to Eat and Drink in Two Bridges: Les Enfants de Bohème
A celebrated French restaurant on the east end of Two Bridges, Les Enfants de Bohème boasts a menu full of winning dishes, whether at brunch, dinner, or happy hour. Order the fantastic croque madame with coffee for your weekend brunch, or steak tartare with bread and chicken au jus for an intimate dinner. The casual environment with line-drawn murals on the wall might encourage you to stay for just one more drink. We recommend the on-theme Two Bridges cocktail with lemon and bourbon. Cash only. 177 Henry St., 646-476-4843, lesenfantsdeboheme.com
Where to Eat and Drink in Two Bridges: Mission Chinese Food
With its subversion of the classic Chinese restaurant experience, Mission Chinese serves innovative ingredients in a nightclub-esque atmosphere. If you're drinking, no need to peruse the menu; go straight for the Phil Khallins cocktail. Served in a patterned bowl, it features gin, coconut milk, lime, chilli, ginger, lemongrass, and sesame oil (go ahead and order two; it's that good). Pair that with pickled peanuts. For your meal, go for the fantastically savory salt cod fried rice, spicy Chengdu style hot peanut noodles, and thrice-cooked bacon with rice cakes. Make a reservation ASAP; spots fill up quickly! 171 E Broadway, missionchinesefood.com
Where to Eat and Drink in Two Bridges: Mr. Fong's
Start your weekend at Mr. Fong's, a bar hidden underneath Manhattan Bridge. It's a small place with strong cocktails and laid-back atmosphere. Order the Salty Plum Old-Fashioned to start, and count yourself among the few in the know about this Two Bridges treasure. 40 Market St., 646-964-4540
Where to Eat and Drink in Two Bridges: 12 Corners
If you're around Two Bridges looking to get some work done, your first stop should be 12 Corners, a small coffee shop on East Broadway. It's about as basic as a coffee shop gets, but it does its job well. Friendly service, free wifi, plenty of outlets, and good, cheap coffee will keep you trucking through whatever assignment you're facing. Try the unsweetened matcha latte and the strong iced coffee if you want something with a bit more zip. 155 E Broadway, 212-625-8888, 12cornerscoffee.com
Looking for Free Group Planning Services?
Get free advice on planning your group's trip to New York.
RESTAURANTS

Multi-concept restaurant offering modern Japanese cuisine, a...

THEATER

Gaston Leroux's famous period thriller is now one of Broadwa...

SHOPPING

The world's largest source of cameras, camcorders, and more ...

SIGHTSEEING

This renovated museum complex includes the 900-foot-long air...