The era of platform shoes, glam jumpsuits (his and hers), voluptuous hair, and dancing—always to the beat, always with attitude, usually under the flicker of a disco ball and to juggernaut hits that you met first on the radio—is back with a fierce autobiographical twist. Summer: The Donna Summer Musical, with its winning parade of Summer's songs, is lighting up the stage of Broadway's Lunt-Fontanne Theatre with its savvy portrait of the Queen of Disco.
Ariana DeBose is some hot stuff as "Disco Donna" in Summer: The Donna Summer Musical. © 2018 Joan Marcus
Ironically, Summer fought against the royal title—she didn't feel it represented who she was. But, as the show makes clear, there was no bucking the media or her growing fan base. At one point the character of Neil Bogart (head of Casablanca Records and Donna's mentor, played by Aaron Krohn) tells Summer to her face: "You're about glamour, you're the Disco Queen…"


To tap into the various stages of her life, the musical presents three versions of Summer: Duckling Donna (Storm Lever), the young girl who dreams of stardom; Disco Donna (Ariana DeBose), who catapults to fame in 1975 with her intensely sensual "Love to Love You Baby"; and Diva Donna (LaChanze, who scored a Tony for her leading lady performance in the original Broadway production of The Color Purple), as the mature wife-mother-artist.
It's Diva Donna who opens the show, in electric blue elegance, telling us, her audience du jour, "I want the next couple of hours to be a time that everybody here remembers forever. You know what they say, play each show as if it's your last and one day you'll be right. I guess this is the concert of a lifetime."
LaChanze as "Diva Donna," Ariana DeBose as "Disco Donna," and Storm Lever as "Duckling Donna" and company. © Joan Marcus, 2018.
Brought up in a modest home in Dorchester, Massachusetts, Summer made her way up the R&B and pop charts via Munich, New York, and Los Angeles, along the way creating a chapter of music embraced by a generation hungry to break through sexual and racial barriers.
"Donna Summer was a catalyst for the music scene, as big as any headliner," says DeBose, whose extensive Broadway credits include A Bronx Tale, Hamilton, and Pippin. "Her music has influenced every singer, Madonna, Beyoncé, everyone."
Summer's life experiences are woven throughout the lavish show as she evolves from church choir singer to dance floor goddess to chart-topping superstar. Still, for DeBose, a native of Raleigh, North Carolina, what stood out while developing her character were the similarities in her and Donna's career trajectories: "Donna Summer and I both started working at 18 and learned from the school of life, rather than from a university curriculum," she notes. "I'm a dancer and her music is all about dance moves. I felt a natural attraction to this show and I brought in my dance to bring the facets of my character together."
Musically, Summer soars, with a score—by Summer, Giorgio Moroder, Paul Jabara, and others—comprised of such (now) classics as "Last Dance," "On the Radio," "She Works Hard for the Money," "Hot Stuff," and even a nod to the singer's first break,  in 1968 in the Munich production of Hair: "White Boys." As for the dancing, get ready for some powerhouse moves created by On Your Feet! choreographer Sergio Trujillo.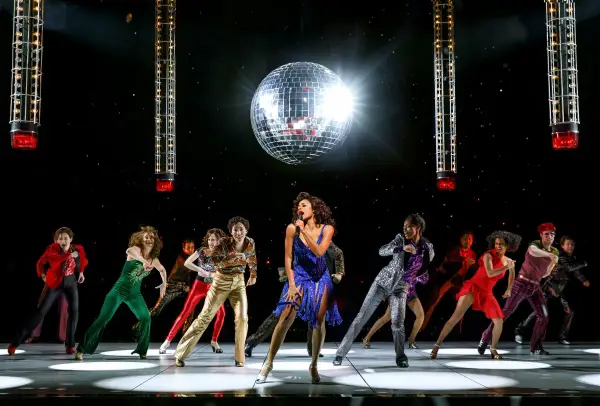 © Joan Marcus, 2018.
The show's storyline (book by Coleman Domingo, Robert Cary, and show director Des McAnuff) tracks the evolution of kid to megastar and beyond, struggles and setbacks included, giving theatregoers a privileged look at the soul beneath the wig and sequins.
"Donna Summer was a real person and a real person who made mistakes," says DeBose. "But those mistakes didn't diminish her impact on the music world, and she's now being rediscovered as a female force in this time when women are taking charge."
According to DeBose, it's that message that has female theatregoers lining up at the stage door, not just for autographs and selfies, but to talk about the aspects of the show that resonated with them, like the number of women on stage, the diversity, and Summer's remarkable power to enthrall and influence even today.
"It's very interesting," observes DeBose. "They all mention how important the song 'She Works Hard for the Money' is to them, and how they can relate…and they thank us for sharing the message."
---
Summer: The Donna Summer Musical is playing at the Lunt-Fontanne Theater, 205 W. 46th St. For tickets call 877-250-2929 or visit thedonnasummermusical.com.