As I survey the September stages—what's upcoming on Broadway and beyond in New York theater—I am moved to a confession. I am addicted to slapstick. Whether it's Sheldon Cooper, twitching madly under a burglar-proofed net on The Big Bang Theory, or pretty much anything from the Monty Python vault, I will crack up. More so if the farce is live onstage and my guffaw filter is down. So when I learned The Play That Goes Wrong, Broadway's longest running non-musical—once slated to close in September—had been tossed a lifeline through January 6th, I slipped on a banana peel and walked into a wall in celebration. The brilliantly loopy cast (and hyperactive Tony Award-winning set) rates a 10+.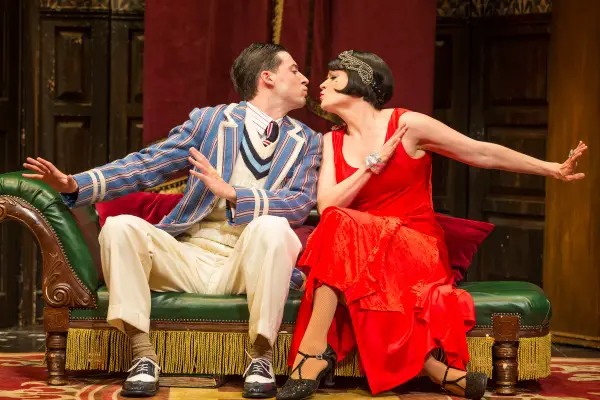 Alex Mandell and Amelia McClain ready a smooch in the Olivier and Tony Award winning The Play That Goes Wrong. Photo by Jeremy Daniel.
Musical-wise, Broadway's deliciously zany SpongeBob SquarePants—a laugh riot even if you're not a kid—received its eviction papers from Broadway's Palace (theatre renovations…hmmm), to take effect September 16th. See it while you can. (If you're unfamiliar with the original Nickelodeon series, try to check out a few episodes beforehand, if only to see how brilliantly the show adapts its anthropomorphized cartoon characters to actual humans.)


New to Broadway with a wildly idiosyncratic take on the jukebox musical genre is Head Over Heels—a must-see if you're a fan of the '80s groundbreaking all-femme pop group the Go-Go's ("We Got the Beat," "Vacation," Belinda Carlisle's "Heaven Is a Place on Earth") and you are ready, willing, and game to tackle verbal hijinks on a madcap Elizabethan scale. If this suggests a full-blown musical of the absurd, it is, in the best possible way. It's also a hanky-panky feast of farce, cross-dressing, LGBT awakenings, and happily-ever-afters. I'm pleased to report that Tony-winning director Michael Mayer hasn't skimped on the camp, and while the entire cast shines, it's transgender diva Peppermint who embodies all things glitz and grandeur in her Broadway debut as Pythio, The Oracle of Delphi.
Marilu Henner is ready for Gettin' the Band Back Together. Photo by Robert Ascroft.
Another Broadway newbie raking in platinum laughs is Gettin' the Band Back Together. With social media followers amping up the praise one decibel at a time for the show's successful melding of original score by Mark Allen and spectacularly funny book by the team of Ken Davenport, the writer/performer group the Grundleshotz, and Sarah Saltzberg (a Grundleshotzian herself, who provided additional material), GTBBT promises to be one of the new season's hottest tickets. Having a killer cast doesn't hurt either. Mitchell Jarvis, who left an indelibly manic mark on anyone who saw his Lonny in Rock of Ages, heads a company of Broadway pros, including multi-Golden Globe nominee Marilu Henner, who's best known for playing Elaine Nardo on the long-running sitcom Taxi.
FYI: It was recently announced that one of Henner's Taxi costars, Emmy winner Christopher Lloyd, will be appearing as Ezra Pound in playwright Sean O'Leary's drama Pound, scheduled to run Off-Broadway this coming October. If you're into celebrity spotting, my guess is Marilu and Christopher won't miss the chance to see each other perform—schedules permitting, of course!
THE DIVINE SARAH
There is an irresistible convergence unfolding at the American Airlines Theatre as celebrated playwright/Pulitzer nominee Theresa Rebeck and Tony/Olivier Award-winning actress Janet McTeer move into the Roundabout spotlight with Rebeck's latest world premiere, Bernhardt/Hamlet. One can only fantasize…up until it begins previews on August 31st, that is.
An eccentric by reputation and self-promotion, superstar of the French stage Sarah Bernhardt first played Hamlet in 1899 when she was 55. A year later, she became the first woman to play Shakespeare's Prince of Denmark on film (Le duel d'Hamlet, 1900). Lots going on there. More, one imagines, in the hands of Rebeck and McTeer, whose costars include Tony-nominee Dylan Baker (La Bête; The Front Page; November) and Jason Butler Harner, who plays Agent Roy Petty on the Netflix series Ozark—which, incidentally, recruited McTeer for Season 2 (which also kicks off on August 31st) as drug cartel attorney Helen Pierce. 
For now, though, the busy actress is all about The Divine Sarah. As Mark Twain put it, "There are five kinds of actresses: bad actresses, fair actresses, good actresses, great actresses. And then there is Sarah Bernhardt." And now there is Janet McTeer.
THE NEW ONE
Photo by Carol Rosegg
Comedian/storyteller Mike Birbiglia is no sell out—he doesn't even push the envelope when asked about his show du jour, resting on: "If you liked my other shows and movies, I think you'll love The New One." And will you ever! Birbiglia's self-observational humor reads as charmingly matter-of-fact as he touches on everything from his physical anomalies to his wife and cushy couch. And while he's no sell out, he is sold out. While there's no waiting list, there is a student rush, so if you show up at the Cherry Lane Theatre (38 Commerce St.) about an hour to 30 minutes before curtain time (and with a valid student ID card) you may get lucky (thru 8/26). thenewone.com
DESPERATE TIMES...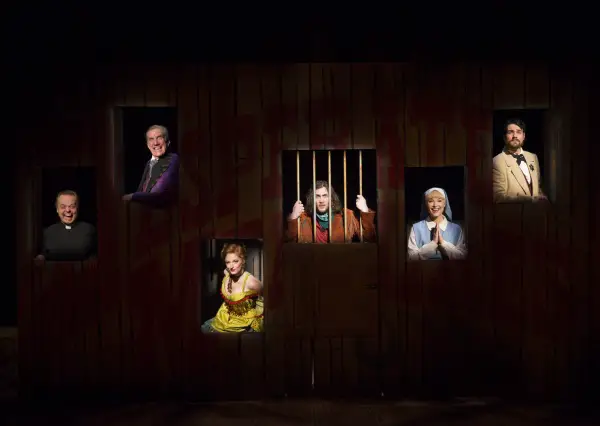 By Carol Rosegg.

I'm not a fan of Shakespeare's Measure for Measure—or country and western music, for that matter—so I was totally sideswiped when I fell for Desperate Measures, "a musical comedy gone wild," with a yee-haw twang and a saddlebag full of awards.
Based ever so loosely on The Bard, this right smart production has a heart as big as Texas. Sure Johnny Blood (Conor Ryan) may be sitting in jail, sentenced to death, but his sister Susanna/Sister Mary Jo (Sarah Parnicky) and his girlfriend Bella Rose (Lauren Molina) are determined to set things right…at any cost!
Enter a lecherous Governor (Nick Wyman), handsome sheriff (Peter Saide), and everyone else (Gary Marachek), who keep the music (by David Friedman) and lyrics (Peter Kellogg) ridin' high! Toss in plenty of naughty monkey business (no monkeys, though) and you'll understand why the show's original Off-Broadway run was extended three times. And now the clock is ticking down again: the show is slated to close October 28th. My advice? Giddy up! desperatemeasuresmusical.com