A host of New York City destinations are offering free fitness classes in outdoor spaces—from courtyards to waterfront parks. A fun and full lineup of classes includes everything from yoga, Zumba, and dancing salsa to high-intensity fitness and cardio. Some locations require registration. Classes are weather permitting, so be sure to check with the providers. Here's the lineup for July 2019 and beyond.
Meatpacking District's Sweat Sessions
Via a partnership with Wellth Collective, the Meatpacking District's Business Improvement District is hosting Sweat Sessions—a series of three 45-minute free workout classes on Tuesday evenings through September 10. Classes consist of yoga, boot camp, and more. Sweat Sessions are led by some of the top fitness studios in the city including Box + Flow, Orange Theory, Barre3, and beyond. The schedule, class descriptions, registration, and information on the weather's impact on the schedule can be found via thesweatsessions.splashthat.com. Classes are held in Hudson River Park's 14th Street Park, 212-633-0185, meatpacking-district.com/events/the-sweat-sessions.
Union Square Partnership
Brooklyn Bridge Park Waterfront Workouts
More than 3,500 fitness enthusiasts head to Brooklyn Bridge Park for its free waterfront workouts, which are offered through September. Topnotch instructors teach a broad range of classes from Broadway Dance to Salsa with Dodge YMCA, Zumba, Sunrise Abhaya Yoga, and more. Get inspired—the fun classes boast water views. The park is located at 334 Furman St. in Brooklyn, brooklynbridgepark.org. The schedule is available here.
Flatiron Summer Series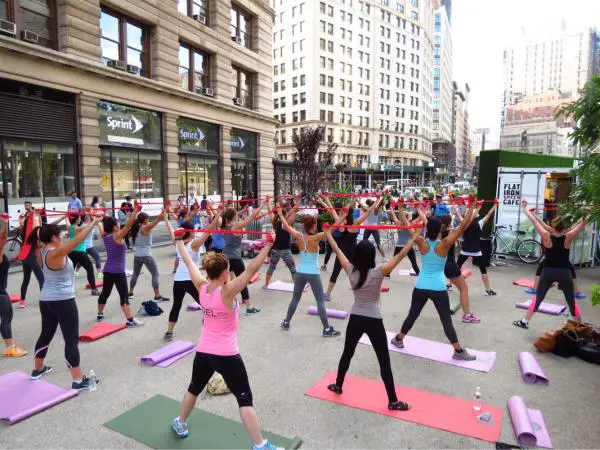 Flatiron/23rd Street Partnership Business Improvement District (BID)
In celebration of Flatiron's reputation as New York City's "Fit-District," this summer the Flatiron/23rd Street Partnership Business Improvement District (BID) presents free fitness classes on the South Public Plaza on Wednesdays from 6 to 7pm. The classes, which run through August 8, are taught by instructors from local studios, including Exhale Flatiron, Uplift Studios, Bode nyc, New York Health & Racquet Club, and Broadway Bodies. Classes are open to the public, but are subject to changes due to weather. The South Public Plaza is located at 23rd Street, at the intersection of Broadway and Fifth Avenue in the shadow of the iconic Flatiron Building. 212-741-2323, flatirondistrict.nyc
Industry City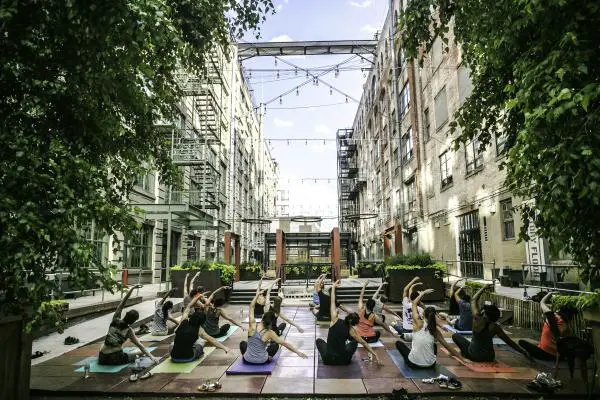 Industry City has announced the launch of Courtyard Rec—free outdoor workouts that will run all summer long in the Brooklyn campus's massive outdoor space. The series features two simultaneous fitness sessions every Sunday morning at 10:30am, continuing through September 1. Guests can choose from a yoga class in Courtyard 5/6 and a higher intensity fitness class in Courtyard 1/2. Yogis, please bring your own mats. For other modalities, wear appropriate shoes.All participants must wear appropriate clothing and arrive within 10 minutes of start time or forfeit your spot. *Registration opens two weeks in advance; classes are only offered when weather cooperates. Be sure to RSVP to receive programming updates. Here's the link for events and registration, and a map. 220 36th St., #2a, Brooklyn, 718-965-6450, industrycity.com
Seaport Fit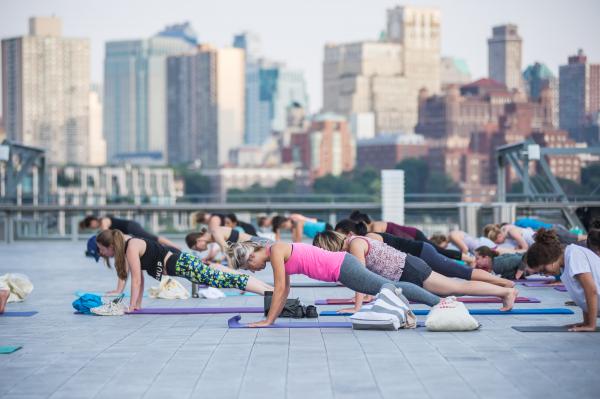 Jane Kratochvil 
The Seaport District and The Howard Hughes Corporation launch the complimentary Seaport Fit fitness program, which will run all season long. The lineup of classes for July include Trooper Fitness Met Con (high-energy, motivational workouts guided by certified coaches Physique 57, and the Mile High Run Club (a running experience in coordination with strength training classes). Classes begin on July 9. 89 South St., 212-732-8257, pier17ny. To sign-up, visit here.
Union Square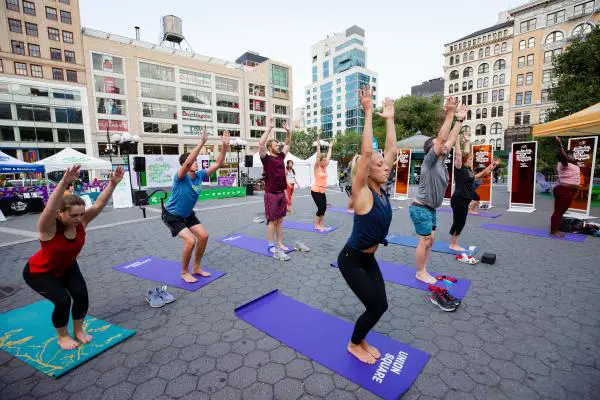 Union Square Partnership
Through August 8, Union Square Partnership's Citi Summer in the Square offers a schedule of outdoor activities. Every Thursday through August 8, New Yorkers and visitors alike can experience more than 135 free community programs. Activities, which include yoga, boxing, dance cardio, cardio HIIT, tai chi, and running, are offered in the mornings and evenings in Union Square Park. All classes require sneakers except yoga. A limited amount of yoga mats are supplied per class. Advance sign up is required for individual attendees. Weather-related updates will be posted on Twitter and Instagram @UnionSquareNY. summerinthesquare.nyc