I suspect the writers of The Play That Goes Wrong had a bit of trouble coming up with a name for their fabulously frenetic show. I mean, it could've easily been called "The Script That Goes Wrong," "The Set That Runs Amok," or "The Cast That Couldn't Shoot Straight." Still, in terms of comic genius, everything about the production is very, very right.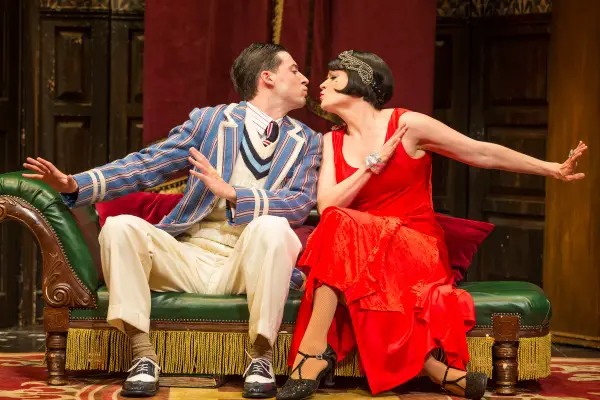 Alex Mandell and Amelia McClain ready a smooch in the Olivier and Tony Award winning The Play That Goes Wrong. Photo by Jeremy Daniel.
With the perfect dose of slapstick shtick and zany twists, this Olivier-winning farce arrived on Broadway via the tripartite collaboration of two Henrys (Lewis and Shields) and one Jonathan (Sayer). Their script, under the savvy direction of Mark Bell, effectively turns unsuspecting theatregoers into the opening night audience of a play-within-a-play: Susie H.K. Brideswell's The Murder at Haversham Manor presented by The Cornley University Drama Society.
British humor can be hit or miss when it crosses the pond. But when it succeeds it's a welcome respite from the outside world —in this case by offering a dizzy array of physical dexterity and flawless verbal choreography that have theatregoers reacting not only with howls of laughter, but spontaneous applause throughout.


Even pre-show, an assortment of subtle (and not so subtle) wink-wink-nudge-nudge moments unfold, setting the stage for the craziness ahead.
Mark Evans, the only Brit in the eight-person cast, honed his comedic chops in The Book of Mormon (U.S. tour) after a career marked by musicals like Spamalot, Wicked, and Ghost on London's West End. In his Broadway debut, Evans plays Chris Bean, President of The Cornley University Drama Society and the whodunit's director, as well as the character of Police Inspector Carter.
Evans believes the show is such a hit thanks to its mix of audible and physical innuendo delivered by a ridiculously talented cast—and a Tony-winning set by Nigel Hook seemingly constructed to steal the show.
"I learned a lot by watching Monty Python and Faulty Towers when I lived in England, and by acting in Spamalot. John Cleese was my idol," says the Welsh-born actor, who bears a resemblance to a young Mr. Cleese. "I do my best to channel him while also bringing my own interpretation to both Chris and the Inspector."
He goes on to note that playing two characters gives him an outlet to rage at other characters—and even the audience "…when needed," adding that he sees the audience as being as much a part of the show as the players, with theatregoer reactions turning every performance into a one-of-a-kind outing.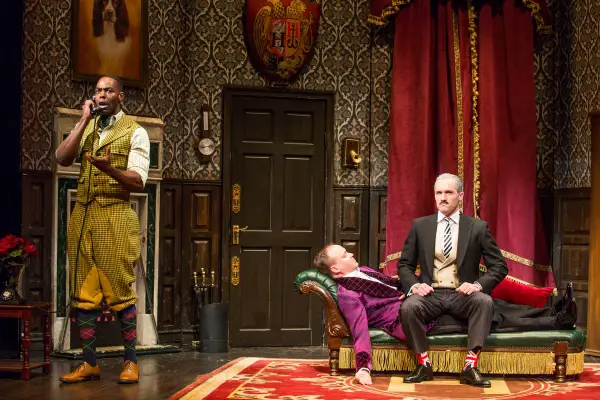 Things go wrong for Clifton Duncan, Jonathan Fielding, and Harrison Unger. Photo by Jeremy Daniel.

The current cast, all or whom signed on last September, hums like a well-oiled ensemble amid this manic romp in which every prop and set piece poses a personal threat at any given moment.
There's Annie (Ashley Bryant), the adorable stagehand who turns into the least likely of divas; Max (Alex Mandell), who transforms into a gleeful ham at the sight of the audience; Jonathan (Jonathan Fielding), as the dearly departed; Sandra (Amelia McClain), playing the femme fatale fiancé of the deceased; and Sandra's dashing, albeit confused, brother Robert (Clifton Duncan).
Riding the fringe of this upper class menagerie is a gardener who works strangely vampire hours; a manservant (Harrison Unger), whose inability to remember his lines leads him to create a new lexicon, intelligible only to himself; and Trevor (Akron Watson), the guy behind the show's sound and lighting, who can't quite stay focused.
These players muddle through disaster after Haversham Manor disaster with relentless spunk and a shared unwavering objective: to finish the play.
"I'm lucky in the sense that things happen to me, or around me, while everyone else is physically involved in the success of this disastrous play," says Evans, citing his character's ability to stay collected in the face of multiple fiascos.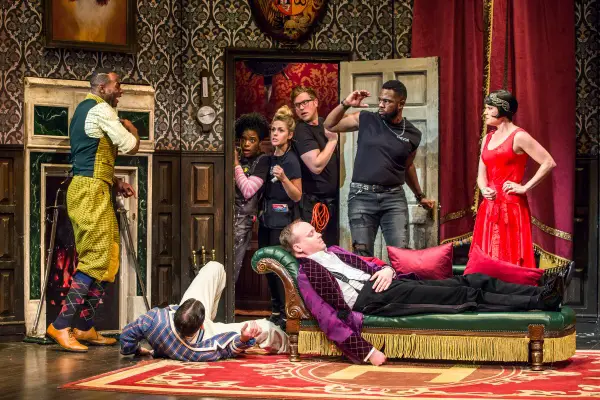 Photo by Jeremy Daniel.
As for audiences, suffice to say The Play That Goes Wrong invites everyone—kids to seniors—to return again and again, if only to to pick up on what they might have missed in the rapid-fire mayhem. Or just to relive the funniest show on Broadway—standing ovation included.
FYI: The Play That Goes Wrong opened on April 2, 2017, making it the longest running non-musical currently playing on Broadway.
---
The Play That Goes Wrong is playing at the Lyceum Theatre, 149 W. 45th St. For tickets, call 212-239-6200 or visit broadwaygoeswrong.com.