With museums focused on art, science, history, and everything in between, New York City is full of opportunities for students to learn more about the world. Although the city may be tight on space, legendary institutions like the Met, the MoMA, and the Natural History Museum are all experts at taking in school groups and giving them experiences that kids will never forget. Read on for the best in New York museums for school groups.
Museums for School Groups: Art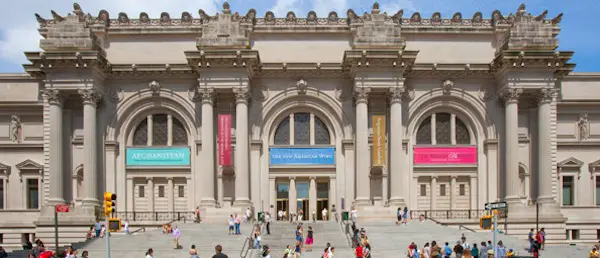 The Metropolitan Museum of Art is one of the most renowned museums in the world, and with over two million works of art in its collections, it's easy to see why. The museum's varied collections feature a wide variety of topics sure to suit the tastes and subject matter of any school group, from European and Asian art to the Met's renowned Egyptian collections and the famed Temple of Dendur. School groups are welcomed at the Met's main building, as well as at The Cloisters and the new modern art bastion The Met Breuer, with both self-guided and guided visits available to groups. Those looking to visit the Met as part of a school group should first fill out a Group Visit Request Form.
Equally renowned is the Museum of Modern Art (MoMA), whose world-famous collections of modern and contemporary art include such masterpieces as Van Gogh's "Starry Night." MoMA offers both guided and self-guided tours to school groups, as well as structured themes geared toward grades K-5 and 6-12. Groups wishing to visit MoMA can learn more here.


Outside of Manhattan you can also find a vast collection of art from around the world by artists both past and present at the Brooklyn Museum. Guided and self-guided visits are available for school groups, with at least 7-8 weeks needed to process visit requests. Learn more about Brooklyn Museum's school group policies here.
Want to give your students a more creative approach to the arts? Consider heading to the Children's Museum of the Arts, a hands-on museum in lower Manhattan geared specifically toward children and younger teens. School groups visiting the museum will be able to enjoy workshops that let students explore artistic practices through projects and their own creativity. Workshops are available in both Fine Arts, which includes painting, drawing, sculpture, and printmaking, and Media Labs, which allow students to collaborate and create their own stop-motion or live-action films. Learn more about visiting the Children's Museum of the Arts here.
Museums for School Groups: Science & the Natural World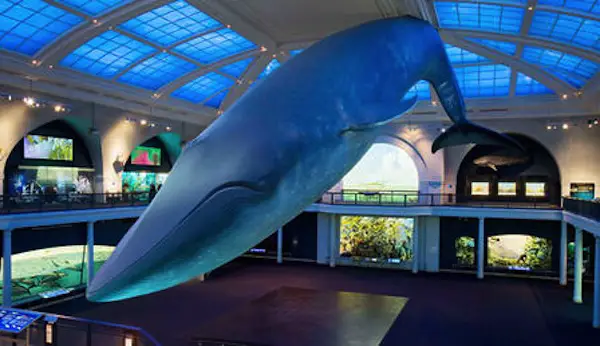 There are few museums in New York City that are quite as iconic or child-friendly as the American Museum of Natural History. From its life-size whale to the imposing dinosaur displays to the wonder of the Hayden Planetarium Space Show, the museum's displays are pretty much guaranteed to get students excited about the natural world. The museum is accordingly a top destination for school groups, making it easy to arrange a visit. School groups should set their plan at least five weeks in advance; those visiting from within the tri-state area can learn more about the museum's school group policies here, while those traveling from further away should arrange their visit through the museum's Group Sales department.
Those wishing to make their own scientific inquiries might want to head to the New York Hall of Science. Originally founded as part of the 1964-65 World's Fair, the Hall of Science in Queens is now one of the city's leading science centers, featuring over 450 exhibitions and interactive activities that allow visitors to better understand science, technology, engineering, and math. School groups can visit the museum's exhibitions and take part in one of the museum's over 30 education programs, which include science workshops and Design Labs that let students explore design and engineering. And for those who can't make it to the museum, Virtual Visits and Big Science Days, where the museum's staff comes to you, are also available. Learn more about school group visits to the museum here.
Museums for School Groups: History and Heritage
If you want to learn about history in New York City, it's hard to think of a better place to head than the New York Historical Society, whose well-researched exhibitions and comprehensive collections document the social and cultural history of the city and country in a consistently engaging way. School groups can enjoy a 90-minute field trip to the museum and take part in one of the museum's specialized student programs, which include workshops on the American Revolution, industrialization, working with primary sources, and learning history through paintings. Learn more here.
Those wishing to give students a deeper look New York City's past, present, and future should head to the Museum of the City of New York. School groups can take part in 90-minute tours that include a hands-on component, with a range of topics that reflect the museum's current programming, like Social Activism, NYC Landmarks, Affordable Housing, and the Folk Music Revival. More information about School Tours can be found here.
For a more focused look at one specific aspect of the city's history, students can explore the Tenement Museum. Located in a small apartment building on the Lower East Side, the museum traces the history and lives of the working class immigrants who resided there and in the neighborhood. School groups can explore this history in-depth through programs that include walking tours, interactive building tours focusing on specific families who resided there, and living history programs featuring costumed interpreters portraying the building's former residents. Learn more about visiting the museum here.
Those wishing to explore the history and culture of those who haven't immigrated here can visit the New York branch of the National Museum of the American Indian, which is part of the Smithsonian Institution. Located in the historic Alexander Hamilton U.S. Custom House in lower Manhattan, the museum explores and celebrates the diversity of the Native American people. Both self-guided and guided tours are available for school groups, and though admission to the museum is free, school groups looking to visit the museum should reserve their entry in advance. div. More information can be found here.
Museums for School Groups: Sites of Interest
photo: flickr/Joao Carlos Medau
Groups who want to learn about science and history in a unique setting can hop aboard Intrepid, a National Historic Landmark and former aircraft carrier that's now home to a Sea, Air, & Space Museumsure to interest students of all ages. Visitors can stop by the Intrepid, which is berthed on the Hudson River, to learn about history, technology, and innovation through their collections, which include 27 aircraft, a Cold War-era submarine, and the space shuttle Enterprise. School groups can choose from programs that are either based around science, with programs in space, water, and aviation science, or social studies and history, which focus more on the history of the ship itself and its crews. More information is available here.
One of the city's newest and most prominent sites of interest is the National September 9/11 Memorial and Museum, which explores the events and implications of September 11 and commemorates the lives lost on that tragic day. The memorial museum offers both guided Classroom Workshops and self-guided General Admission admittance for school groups; more information can be found here.
Finally, an important part of our nation's history can be found not in the city itself, but nearby on the Hudson: Ellis Island. From 1892 to 1954, 12 million immigrants passed through this gateway on their way to start a better life in America. The building still stands today, commemorating its history and the stories of those who passed through. Though some areas of the museum remain closed following Hurricane Sandy, visitors can enjoy the majority of the museum and the island it sits on. Though Ranger-guided tours are currently unavailable, school groups can enjoy self-guided tours of the island and museum, and the museum offers specialized self-guided activities for groups to take part in. Learn more about visiting Ellis Island here.