There are plenty of reasons to go to the New Year's Eve celebration in Times Square (national tradition, a sense of unity). But there are also plenty of reasons not to go (the cold, the hours of nonstop standing). We aren't here to sway you either way, only to give you some alternatives if you're looking for something a little different for your New Year's Eve in New York. Below you'll find nine concerts and parties where you'll have just as much fun saying goodbye to 2017 and hello to 2018!
New Year's Eve Fireworks Dinner with Bateaux

Toasting to the new year on a boat? It can't get much better than that. Book a spot on Bateaux's cruise for New Year's Eve, where you'll enjoy dinner, a live band, and champagne at midnight. You'll get to see fireworks lighting up the sky around Lady Liberty herself. For a lower-cost selection, you can enjoy their Bottomless Mimosa Brunch in the daytime on December 31st or on New Year's Day 2018. Pier 62 at Chelsea Piers, 212-352-1366, bateauxnewyork.com


Joe Battaglia and the New York Big Band at Edison Ballroom
If you're looking to swing in the New Year, book a table and a spot on the dance floor at the swanky Edison Ballroom. Tickets will buy you a four-course dinner, a live jazz concert, open bar, and champagne at midnight. Get out your silk and satin, dust off your dancing shoes, and get ready to swing-dance your way into 1948—er, 2018. 240 W 47th St., 212-201-7650, edisonballroom.com
Houston Hall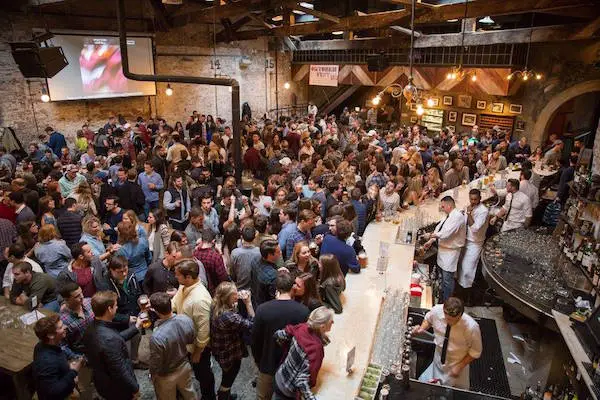 Visit Houston Hall, the West Village's most popular beer hall, for your New Year's fun. With tickets starting at $50, you'll enjoy a champagne toast at midnight, hors d'oeuvres, and dancing the night away to hit music. 222 W. Houston St., 212-675-9323, houstonhallny.com
Sweetwater Social
Come to the Village for New Year's at a mixology paradise. This underground space will offer ticket-holders a 5-hour open bar with craft cocktails, as well as hors d'oeuvres and party favors. The guest DJ will have you dancing til midnight, when you'll see a live feed of the ball drop and drink a complimentary glass of champagne to start 2018 right. Tickets start at $79. 643 Broadway, 212-253-0477, drinksweetwater.com
Dave & Buster's
True, Dave & Buster's is located at Times Square, but you'll be taking a different approach to NYE partying if you come to their holiday celebration the night of the 31st! With tickets for general admission, VIP status, and everything in between, reserve your table and get ready for some classic arcade games and VR experiences with your family this New Year's. 234 W 42nd St, 646-495-2015, daveandbusters.com
Television Concert at Bowery Ballroom
The band Television is a legend of the New York punk scene. Come see them play the Bowery Ballroom on the Lower East Side for a decidedly un-glittery New Year. Shows at 9 and 10 p.m. 6 Delancey St., boweryballroom.com
Phish at Madison Square Garden

Jam band extraordinaire Phish plays Madison Square Garden this December 31st. Although the show starts at 7:30, this band knows a thing or two about filling time with long jam sessions. In other words, you'll still be there at midnight to greet the new year with thousands of other Phish phans. 4 Pennsylvania Plaza, msg.com
They Might Be Giants at Music Hall of Williamsburg
Homegrown in Brooklyn, They Might Be Giants are alt-rock superstars returning to Williamsburg for a 2018 celebration. (You might know their song "Boss of Me," which was the theme music for the early-oughts sitcom Malcolm in the Middle.) With concert traditions like their "Dial-A-Song" phone service, They Might Be Giants will offer a fun-filled Brooklyn New Year's Eve. 66 N 6th St., 718-486-5400, musichallofwilliamsburg.com
NYRR Midnight Run in Central Park

For a really unconventional send-off to 2017, go for a run at midnight! You'll be with hundreds of fitness friends from the New York Road Runners, and if you finish the race you'll earn credit for the 2018 New York marathon. The whole night kicks off with a dance party in Central Park. At midnight, the four-mile race will start, with fireworks bursting over the skyline to cheer you on.
Meet at Rumsey Playfield in Central Park, nyrr.org