His nickname is Kiko ("kee-ko"), lovingly coined by the people who work—and work with—him in Broadway's latest sensation, King Kong. The massive marionette, whose full name dominates the Broadway Theatre marquee, is a stunning theatrical achievement, even more so when you consider his expressive movements and expressions come to life via old-school puppetry: not a high-tech bone in his mega body. As for King Kong's booming vocals (provided by Jon Hoche), that's a different story. They are purely 21st-century sound-design savvy.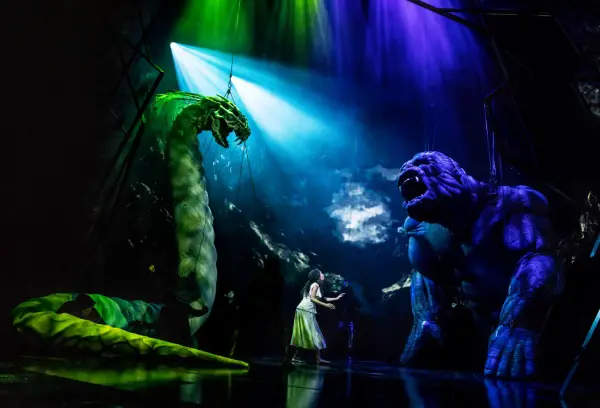 Christiani Pitts as Ann Darrow with King Kong. Photo by Matthew Murphy.
"It's astounding what the puppeteers do," says Eric William Morris, who plays Carl Denham, the determined filmmaker whose treacherous voyage to Skull Island veers from cinematic project to something more once he encounters a giant ape in his natural habitat. "I watch Kiko from the wings whenever I'm not onstage," continues Morris, who never fails to be fascinated by the puppet's impact on theatregoers. "He absolutely captivates. Audiences are blown away—and what they're seeing they're seeing live. It can only be created in the theatre."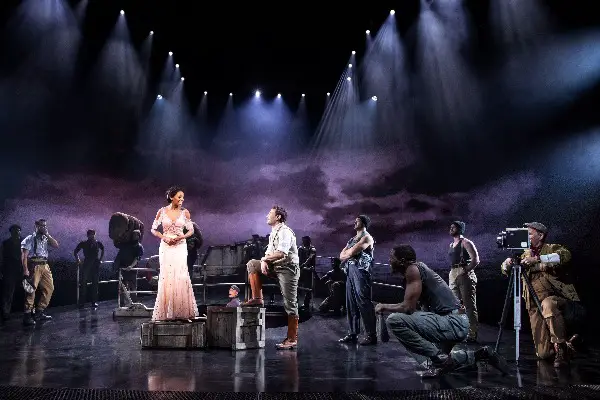 Eric William Morris goes on set with Christiani Pitts in the epic return of King Kong. Photo by Matthew Murphy.
The musical is based on, and lushly reimagined from, Hollywood's string of King Kong films, brought up to date by book writer Jack Thorne (Harry Potter and the Cursed Child) and director/choreographer Drew McOnie. Set during the Great Depression, which was actively consuming the U.S. when RKO released its original film in 1933, there is an undercurrent of desperation that's first personified in heroine Ann Darrow (a lovely Christiani Pitts), who steps into a grey, breadline-shabby Manhattan with stars in her eyes. She's determined to become not just an actress but, as she sings with increasing fierceness as audition rejections pile up, "The Queen of New York."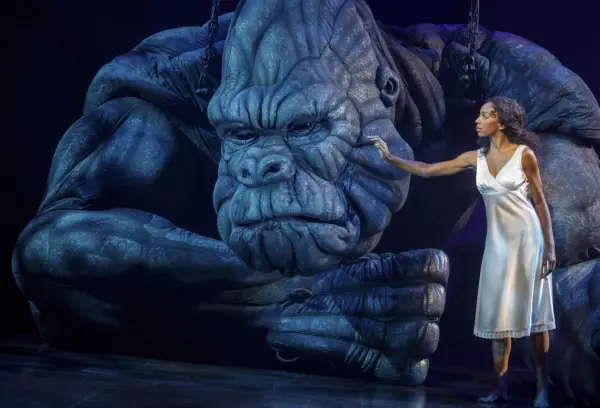 Christiani Pitts as Ann Darrow with King Kong. Photo by Joan Marcus.
Cut to a New York bar, where fate introduces her to Denham, who offers her a job as the leading lady in his new jungle film. Presto, the plot is underway, first onboard ship (not at all smooth sailing) and ultimately on location on a vine-studded island where we meet Kong, a silverback gorilla marionette, nearly 20 feet tall, weighing in at a hulking one ton.
Not surprisingly, Kong the puppet was not present a year or so ago when the cast gathered in a rehearsal room for the workshop that launched the show's journey to Broadway—and Morris's first official King Kong outing, although he'd already received the script and gotten a sense of his character.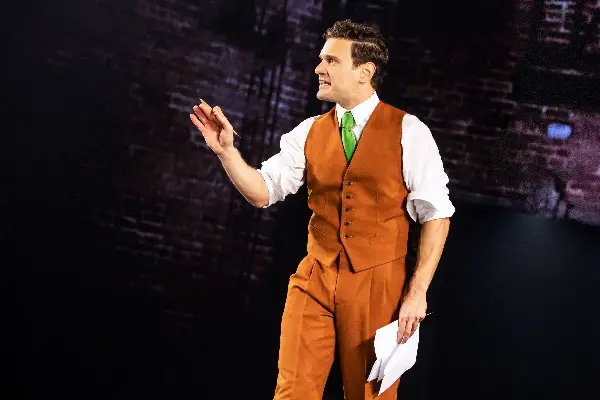 Eric William Morris as Carl Denham. Photo by Matthew Murphy.
"It's a treat for an actor to sink his teeth into a role like Denham, where ambition really takes hold," says the Circle in the Square Drama School alum. To theatregoers, the film director role may initially come across as duplicitous, moving from seemingly nice guy to oversized opportunist. But, as Morris is quick to point out, "The character never really changes his trajectory...it's grounded in the text and what he always wanted."
So when he captures Kong and brings him to New York as the end-all stage attraction, Denham is clearly who he wants to be: a recognized showman of the first order, pulling all the strings and reminding Ann: "People are really listening to me right now—I'm a producer with power."
And according to Morris, some audience members get it. "A 16-year-old girl came up to me at the stage door and said she understood why my character made the decisions he did. Which is encouraging," he says.
What was also encouraging when I saw the show was how readily the audience empathized with King Kong's "humanity." It's something Morris remarks upon: "Sometimes the monster is not who you think."
As for appeal, Morris has observed that the show is so well presented visually that even international visitors without a solid knowledge of English can be well entertained. "People can go in blank and follow the story from one beat to the next in a real way," he observes, adding, "That's what's so exciting about this retelling."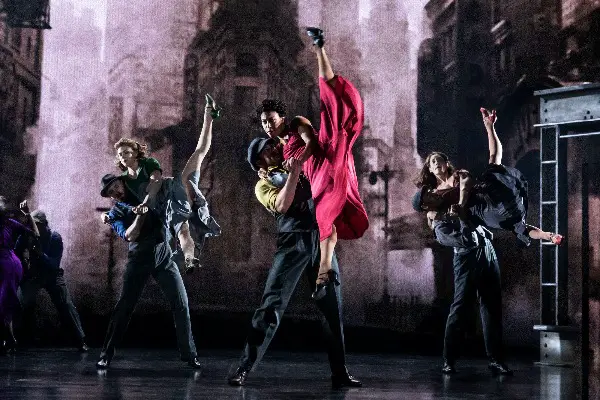 The company of King Kong. Photo by Matthew Murphy.
---
King Kong is playing at the Broadway Theatre, 1681 Broadway, btw. 52nd & 53rd Sts.
For tickets call 212-239-6200 or visit kingkongonbroadway.com.