Holiday Shows NYC: The Nutcracker, Radio City, and More
December 5, 2017 - by Alison Durkee
New York City is one of the most iconic places to spend the holiday season, and that's nowhere more true than in the city's performing arts scene. For those looking to get into the holidays and get out of the cold, the city's theatres have plenty of holiday offerings: here are some of the best holiday shows coming up this winter to get you into the seasonal spirit.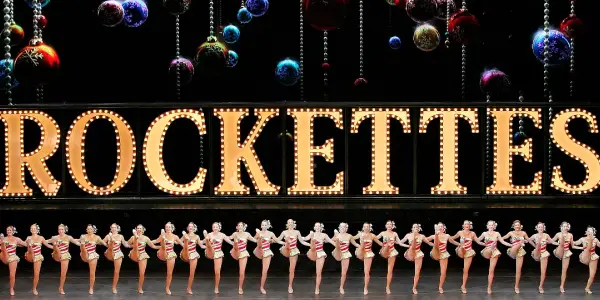 Perhaps the most iconic holiday show is the Christmas Spectacular Starring The Radio City Rockettes®, which ushers in the holiday season with the Rockettes and their high-kicking precision dancing. The awe-inspiring spectacle is currently running at Radio City through January 1.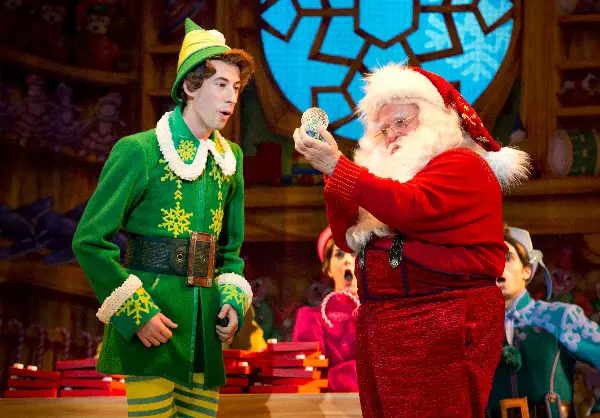 New Yorkers can also get a musical theatre Christmas with Elf the Musical, a musical adaptation of the 2003 film that stars Will Ferrell as an elf from Santa's workshop who makes his way to New York City. The festive musical will play at The Theater at Madison Square Garden from December 12-29.
One of the most classic Christmas tales of all, Charles Dickens' A Christmas Carol, will also come to life on the city's stages this winter. The Merchant's House Museum offers a captivating one-man performance from November 30–December 10, which evokes Dickens' own 1867 performance of the story in New York. For a more fully staged production of the Dickens tale, MOD Theatre Company will bring its take on the Christmas classic to life at Theatre Row from November 24–December 17. The Acting Company will also host a starry one-night benefit performance of A Christmas Carol on December 11, which will star David Hyde Pierce as Ebenezer Scrooge. Down in the Village at The Players Theatre, you can find a fresh musical adaptation by Sgouros & Bell. In its ninth year, this take on A Christmas Carol includes updated British pantomime-inspired scenic design, through December 30. Depart on another trip through time and space, this time with acapella accompaniment, as The Imbible: Christmas Carol mixes cocktails past, present, and future. Three Christmas Spirits lead the way; tickets include 3 holiday drinks. At the Roy Arias 777 Theatre in Midtown West, through December 30.
The 12-night celebration that is Winter Rhythms 2017 features 22 different shows; more than 100 artists, include Chita Rivera, Jim Dale, Caroline O'Connor; Lee Roy Reams, Joyce Castle, and Trezana Beverly perform, through December 23rd at Urban Stages. In the Irish Repertory Theatre's stage adaptation of It's a Wonderful Life, it's Christmas Eve, 1946 and we find George Bailey, the nicest guy in town, perched precariously on a bridge, on the verge of jumping. Enter Clarence, George's guardian angel. Through December 31st. For the 16th consecutive season, Axis Company will present its winter show for children, Seven in One Blow, or The Brave Little Kid, through December 19th. Adapted from the classic fairy tale by The Brothers Grimm, this interactive play lets kids in the audience participate in many of the Kid's challenges with singing and organized "shout outs."
Photo credit: © Paul Kolnik
Dance lovers can get into the holiday season this winter with another beloved holiday story: The Nutcracker. New York's best-known Nutcracker is the New York City Ballet's iconic production with choreography by George Balanchine, which is currently running at Lincoln Center through December 31. NYCB's production is far from the only Nutcracker in town. Balletomanes looking for a different production of the show can check out the Moscow Ballet's take on December 9, enjoy the New York Theatre Ballet's Art Nouveau-filled production from December 15-17, or see a New York spin on the classic tale in the Yorkville Nutcracker from December 7-10. Tired of seeing the dance production in its classic balletic form? Enjoy a different spin on the Nutcracker by traveling back in time with the 70's Nutcracker at Queens Theatre on December 2, or enjoy the Hip Hop Nutcracker on December 14.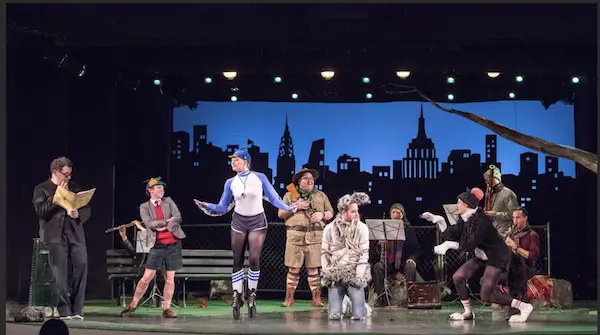 Photo: Richard Termine
While these beloved holiday tales continue to enchant audiences year after year, however, there are also other stories that will get you into the seasonal spirit. Embrace the cold weather with Hans Christian Andersen's The Snow Queen, which will be presented on stage this winter in an adaptation by physical theatre troupe Blessed Unrest. The family-friendly production will play at the New Ohio Theatre from December 30–January 7. Over on the Upper East Side, the classic story of Peter and the Wolf will return to the Guggenheim Museum from December 2-3 and 8-10 in a child-friendly production featuring a familiar face: fashion designer Isaac Mizrahi. The Guggenheim Museum will also present their annual holiday concert in their famed rotunda on December 17 and 18.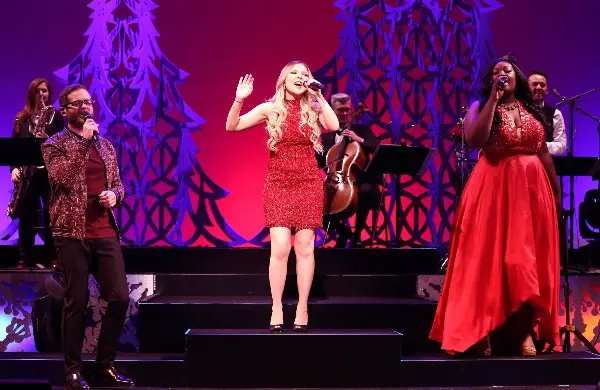 Pictured: Josh Kaufman, Bianca Ryan, and Candice Glover in Home for the Holidays. Photo credit: Carol Rosegg.
Even Broadway gets in on the season, with Home for the Holidays, which brings together three reality TV music show winners (Candice Glover, Josh Kaufman, and Bianca Ryan, the songs of the season, Oscar-nominee Danny Aiello and YouTube sensations Peter Hollens and Evynne Hollens, and The Bachelorette's Kaitlyn Bristowe as your host. It's at the August Wilson Theatre through December 30th.
After the Christmas season comes to an end, finish out 2017 on a peaceful note by spending your New Years Eve at New Years Eve Concert for Peace, an annual concert at the Cathedral of St. John the Divine that was first started by Leonard Bernstein in 1984. Fans of Bernstein have a tough choice to make this New Years, however, as the famed composer's musical theatre work will be honored with a New Year's Eve concert at Lincoln Center featuring some of Broadway's best: Aaron Tveit, Annaleigh Ashford, Christopher Jackson and Laura Osnes.
Lincoln Center will also celebrate the holidays with the New York Philharmonic, who will take on Handel's Messiah in a special holiday performance that runs from December 15-19. A few blocks away at the city's other iconic musical stage, Carnegie Hall, the New York Pops will ring in the holidays with a performance featuring musical theatre star Megan Hilty on December 16, as well as host the Young People's Chorus of New York City for a holiday concert on December 13. For an Irish twist on the holidays, head to Carnegie Hall on December 20 for an Irish Christmas concert with Keith and Kristyn Gett complete with cultural dance, choral performances and a fusion of musical styles.
Looking for Free Group Planning Services?
Get free advice on planning your group's trip to New York.
RESTAURANTS

Beer hall casual meets craft cocktails with a healthy dose o...

THEATER

A new musical following a wannabe rock star who poses as tea...

SHOPPING

Shop or sell at this weekend bargain hunters' paradise....

SIGHTSEEING

Start by ascending to the top of the tallest building in the...
SAVINGS OPPORTUNITIES
Blue Man Group - Take $20 off ticket price use code GUIDE. -10/31/2018