NYC for Chocolate Lovers
March 14, 2017 - by Chelsey Grasso
If you've got a craving for chocolate, nothing else will do. Fortunately, if you're headed to NYC, there are plenty of havens for chocolate lovers spread out around the entire city. Rounded up below are our top five picks for chocolate fans, ranging from a Jacques Torres Chocolate Museum in his Manhattan chocolate factory to a Brooklyn Chocolate Tour that takes you through some of Brooklyn's most up and coming neighborhoods. Enjoy!
Best of NYC Chocolate: Choco-Story New York (South Village)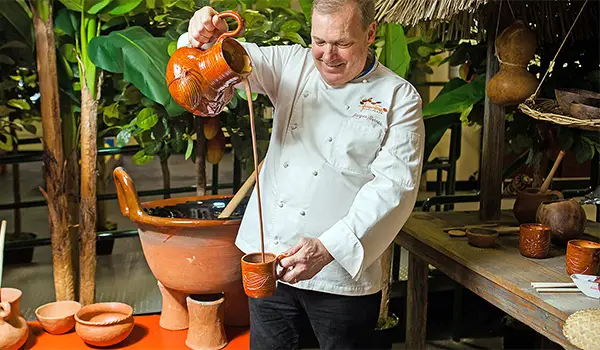 Jacques Torres has been providing NYC with high quality chocolates for nearly two decades, and his latest venture is one that's sure to have chocolate fans streaming in from all parts of the globe—Choco-Story New York: The Chocolate Museum and Experience with Jacques Torres. Choco-Story is Manhattan's first chocolate museum and an experience here provides visitors with nine premium tastings, a chocolate bar-making class, and a tour through the famed chocolatier's downtown location. 350 Hudson St., 929-337-8856, mrchocolate.com
Best of NYC Chocolate: A Slice of Brooklyn's Chocolate Tour (Brooklyn)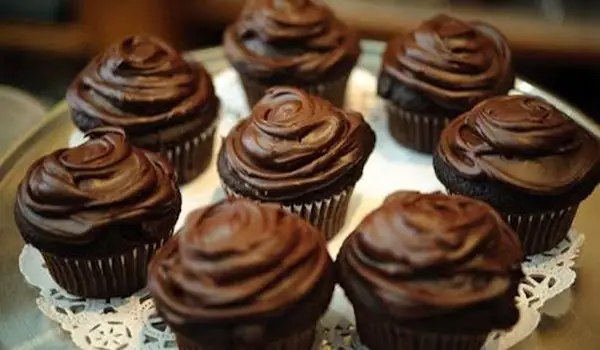 A Slice of Brooklyn's Chocolate Tour takes riders to visit four of the finest chocolatiers in Brooklyn: Jacques Torres Chocolates, The Chocolate Room, Raaka Chocolate, and LI-Lac Chocolates. At each of these renowned chocolate factories, you can enjoy samples of some of New York City's best chocolate products (from hot cocoa to chocolate chips!) while learning about the "bean to bar" strategies used to create such fresh-tasting, rich desserts. Tours leave from Manhattan. 145 Fourth Ave., 212-913-9917, asliceofbrooklyn.com
Best of NYC Chocolate: M&M's World (Midtown West)
Head to the heart of Manhattan to find the city's greatest claim to the beloved candy M&M's. In M&M's World Times Square you'll find two stories packed from wall to wall with thousands of milk, peanut, pretzel, and specialty M&M's candy. There's even a Color Mood Analyzer to keep you entertained as you shop to your chocolate-loving heart's content. From accessories and apparel to, of course, the candy itself, M&M's World is like stepping into a chocolate-filled dream that you won't ever want to wake up from. 1600 Broadway, 212-295-3850, mmsworld.com
Best of NYC Chocolate: Vosges Haut Chocolat (SoHo)
You can't call yourself a fan of chocolate and not stop by Vosges Haut Chocolat when you're in New York City. While there is an assortment of top-quality chocolate bars to pick through, it's Vosges' truffles that make them a standout chocolate shop on our list. Specifically, make sure to try their Exotic Truffle Collection, which uses out-of-the-norm ingredients such as Hungarian paprika, wasabi, Indian curry powder, and first-press extra virgin olive oil. 132 Spring St., 212-625-2929, vosgeschocolate.com
Best of NYC Chocolate: Hershey's Chocolate World (Midtown West)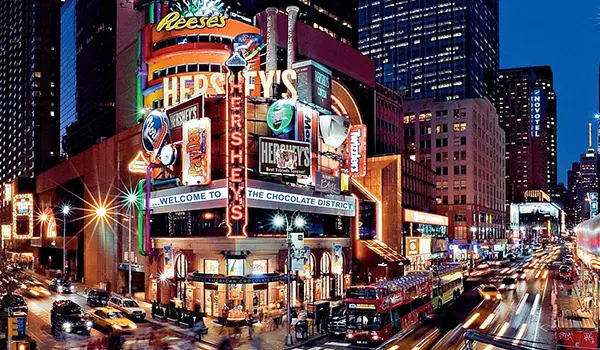 When it comes to chocolate bars, Hershey's Chocolate is the king—even in NYC! Hershey's Chocolate World can be found in Times Square, and it's nearly impossible to miss thanks to its iconic light-up signage. As if the outside isn't impressive enough, you'll find fresh Hershey's Cookies delivered straight from Hershey, Pennsylvania inside, along with a slew of other classic Hershey products ranging from Reese's Peanut Butter Cups to Hershey's Kisses. 1593 Broadway, 212-581-9100, hersheys.com
Looking for Free Group Planning Services?
Get free advice on planning your group's trip to New York.
RESTAURANTS

Burke's dual-concept restaurant opened in 2005 and spans the...

THEATER

An epic love story about the relationship between John, an A...

SHOPPING

The world's only NHL store is located in the heart of Manhat...

SIGHTSEEING

Introducing NFL EXPERIENCE TIMES SQUARE! The only attraction...