There's never been a better time to be a Harry Potter fan in New York. What with Broadway's Harry Potter and the Cursed Child, the Off-Broadway parody Puffs, the November opening of Fantastic Beasts: The Crimes of Grindelwald, and now Harry Potter: A History of Magic, the much-anticipated exhibit at the New-York Historical Society that celebrates the 20th anniversary of the U.S. publication of Harry Potter and the Sorcerer's Stone, anyone who's wild about Harry has no shortage of options.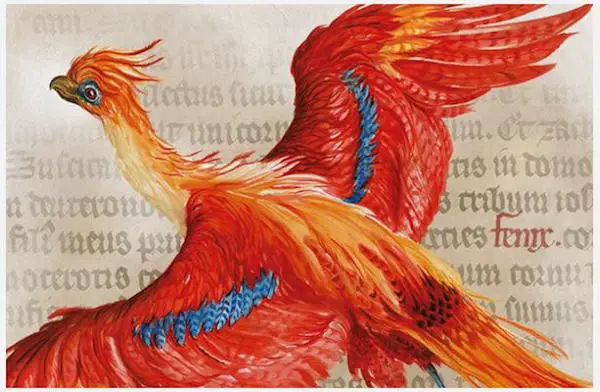 Phoenix illustration by Jim Kay. © Bloomsbury Publishing Plc 2016.

A History of Magic comes to the U.S. from the British Library, and while it's a treasure trove for Potterheads, it also provides a look at historical relics and artifacts that remind us just how deep magic's roots and people's beliefs go.
Before you even enter the exhibit, you're greeted with an enormous trunk that was used to carry a single signed copy of Harry Potter and the Half Blood Prince on the Queen Mary as part of a promotion. It's a fitting emblem of just how huge the series the series and its reach is.
The exhibit, cleverly, has been divided into Hogwarts' areas of study that will immediately be appreciated by fans of the books—but you don't just need to be a fan to appreciate much of what's on view.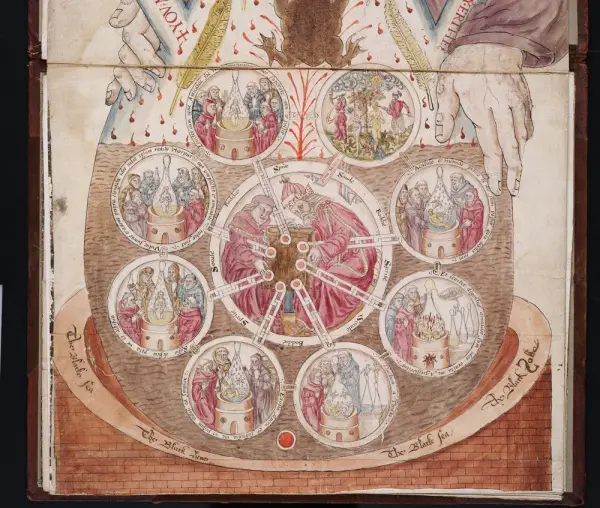 The Ripley Scroll, detail. England, ca. 1570. General Collection, Beinecke Rare Book and Manuscript Library, Yale University.
Among the most notable sections is "Potions and Alchemy," which contains the tombstone of Nicholas Flamel. While Flamel plays an important role in Chamber of Secrets, his name crops up in a number of other fantasy books as well. He was actually a real person, rumored to be an alchemist who had discovered the sorcerer's stone and the secret to immortality. (The tombstone was supposedly being used a as a cutting board in a Parisian grocery. Ah, the French.) The Ripley Scroll, on loan from Yale, is a remarkable manuscript that shows how one supposedly created a philosopher's stone. Objects like this not only highlight the books' inspirations, but also place them squarely into a larger world.
Small black crystal ball, used by Paignton witch 'Smelly Nelly' © Museum of Witchcraft, Boscastle.
While Hermione might not have thought much of the subject, "Divination" is one of the strongest mini exhibits here. lt includes a crystal ball used by Smelly Nelly, a 20th-century British witch who used perfume to supposedly attract spirits (hence her name), and an oracle bone from China that was used to answer questions about the future, on loan from the Metropolitan Museum, and dating back to 1600-1046 BCE.
In "Charms," you can gaze at the very first written record of the word abracadabra; even though it seems like it's been around forever, it actually dates to the 13th century, and was believed to be a charm with healing powers. Don't try this at home, but it was prescribed as a cure for malaria—the word had to be written out over and over, omitting one letter each time.
And of course, the exhibit contains original manuscripts, letters, and artwork. Especially notable are illustrator Mary GrandPre's pastel illustrations for the cover art for the original editions, on public view for the first time; and Brian Selznick's new artwork for the 20thanniversary edition.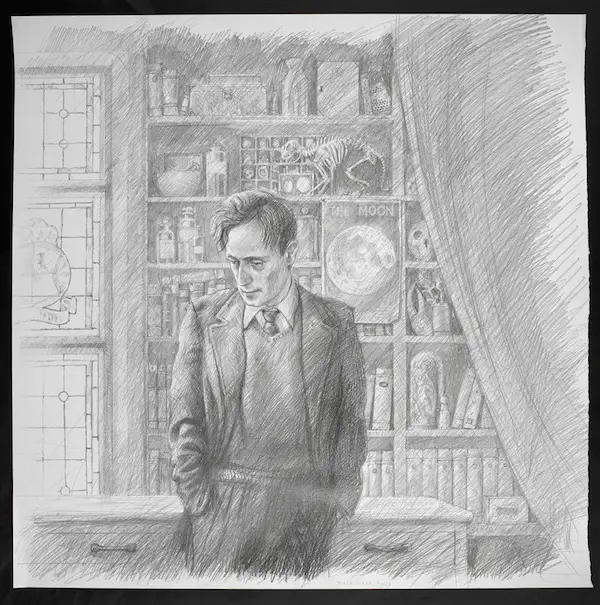 Portrait of Professor Remus Lupin by Jim Kay. On loan from Bloomsbury Publishing Plc.
The illustrations are all fascinating, since the characters' appearances are so ingrained in many of our minds; it's interesting to see what other interpretations looked like. A portrait of Remus Lupin by Jim Kay (in "Defense Against the Dark Arts") is especially arresting; he's caught in a moment of solitude, shadowed by a picture of the full moon behind him.
Astronomical notes and sketches, Leonardo Da Vinci's notebook, © British Library Board.
In "Astronomy," don't miss the page from Leonardo da Vinci's notebook, in which you'll see illustrations of the sun and the moon revolving around the earth. It's written in "mirror" handwriting, from right to left.
Want some advice? Hang around in "Care of Magical Creatures" for a bit, and you'll be rewarded with a bit of artistic magic, as silhouettes of different magical creatures appear across a series of screens. And don't miss JK Rowling's hand-drawn sketch of the Hogwarts grounds or some of her handwritten first drafts.
The exhibit is tied together with a series of archways that bring to mind Hogwarts' architecture, as well as some book-lined walls that give the connected rooms the feel of a cozy castle. It finishes with set models from Broadway's Harry Potter and the Cursed Child, the last installment in the series. Take a look at the different copies of the books that line the hallway as you leave (which will inextricably lead you to the gift shop, which happens to be quite good).
A History of Magic will only deepen fans' appreciation for Rowling's prodigious imagination and indefatigable research; seeing the resource material is fascinating. But perhaps the most notable object in the exhibit is one you might easily overlook.
The story of the series and its publication is, of course, one of the most often told and celebrated in publishing history; it's now sold 500 million copies worldwide. Eight publishers famously turned down the first book before it made its way to Nigel Newton, the founder of Bloomsbury Books. He took the manuscript home for his eight-year-old daughter Alice to read. Her sweet handwritten note is in a small glass case in the beginning of the exhibit. It starts by saying, "The excitement in this book made me feel warm inside." Suffice it to say, she liked it.
The book was accepted for publication the next day.

Cover art for the Harry Potter illustrated book series by Brian Selznick US, 2018. © 2018 by Scholastic Inc.
Harry Potter: A History of Magic runs through January 27, 2019.  For more information, visit nyhistory.org.