The Best Places to Get Oysters in NYC
June 26, 2018 - by Chelsey Grasso
You either love raw oysters or you don't, there really is no middle ground. For those in the former group, New York City will not disappoint. These restaurants make up the best selection of raw bars in the city, and as any oyster lover will tell you, you don't want to skimp on quality when it comes to oysters. (The city will be celebrating the bivalve mollusks during NYC's Seventh Annual Oyster Week (#NYOW), which runs from September 15th through 30th in 2018.)
Best of NYC Oysters: The Lobster Place (Chelsea)
Chelsea Market really has it all, including The Lobster Place, where you can hand-select your oysters and get them to go. Choose from a variety and have them shucked fresh for you on the spot—then head over to The High Line to dine and relax. Or, if you're not feeling quite so adventurous, grab a seat at The Lobster Place's restaurant, Cull & Pistol, also located in the Chelsea Market and presenting a full-service experience. Chelsea Market, 75 Ninth Ave., 877-383-1237, lobsterplace.com
Best of NYC Oysters: The Sea Fire Grill (Midtown East)
Benjamin Steakhouse moved on to create The Sea Fire Grill once they'd perfected their steak, and you can bet that the seafood here is just as delicious. There is a daily selection of both East Coast and West Coast oysters served at the raw bar, along with pink peppercorn mignonette and cocktail sauce. If you really need to get your fill, you can also order the Oysters Rockefeller ½ Dozen as an appetizer, each stuffed with spinach, parmesan, and pernod. 158 E. 48th St., 212-935-3785, theseafiregrill.com
Best of NYC Oysters: Pier A Harbor House (Battery Park)
Head over to Long Hall in Pier A Harbor House to have your choice between local East Coast oysters and West Coast oysters, both served on the half shell and shucked to order. Not only is the food here worth coming back for, but the location itself is iconic. The pier is over a century old, and the Pier A Harbor House is composed of 28,000 square feet, all of which deserves to be explored. 22 Battery Pl., 212-786-0153, piera.com
Best of NYC Oysters: Grand Banks (Hudson River)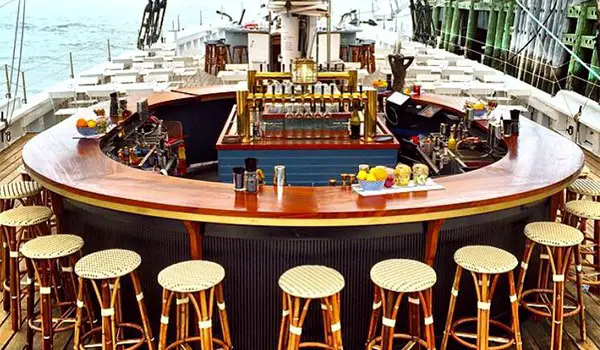 This celebrated oyster bar can be found onboard the Sherman Zwicker, a historic wooden schooner that's docked on the Hudson River. That's right, you get to eat your oysters on an actual boat. The oyster selection changes daily, but you can expect to see the likes of Blue Island No. 9 Oysters, Wellfleet Oysters, and Kusshi Oysters originating from New York, Massachusetts, and British Columbia respectively. Pier 25, Hudson River Park, 212-660-6312, grandbanks.org
Best of NYC Oysters: The John Dory Oyster Bar (Flatiron)
Any restaurant with the words "oyster bar" in its name is usually a safe bet when it comes to enjoying the beloved bivalves, and The John Dory Oyster Bar is no exception. Choose between both East Coast and West Coast, both of which are changed out daily. You'll usually find three options of oysters for each coast, and you can order a Shellfish Plateau that includes the best of both worlds. 1196 Broadway, 212-792-9000, thejohndory.com
Best of NYC Oysters: Crave Fishbar (Midtown East)

Crave Fishbar is appropriately named, because it will leave you with the craving to come back again and again for their wide assortment of raw bar oysters. East Coast oysters come from all over, including Fishers Island, NY; South Kingston, RI; Hog Island Bay, VA; and Prince Edward Island, Canada. As for your West Coast selection, it includes Pickering Passage, Washington and Vancouver Island, British Columbia. Additional location on the Upper West Side. 945 Second Ave., 646-895-9585, cravefishbar.com
Best of NYC Oysters: Blue Seafood (Hell's Kitchen)
New York is arguably the world's preeminent coastal town. Case in point? Blue Seafood Bar. This Hell's Kitchen hot spot offers fresh-as-it-gets seafood that's also sustainably sourced, from local oysters to grilled octopus to 2-lb. branzino baked in sea salt. Blue sets its standards high, drawing on the fresh, the wild, and the organically cultivated. The crowning glory is the oyster menu, where each oyster (some from the East Coast, some from the West) comes with its own flavor profile, similar to what you'd hear from a sommelier. The Wellfleet from Cape Cod, for example, is "plump, mild & slightly sweet, briny & crisp, clean finish." If you're wanting to share but less keen on raw fish, consider the mixed grill seafood platter. This bounty serves two guests easily with scallops, calamari, octopus, mussels, clams, shrimp, and a branzino filet to round it out. 856 Ninth Ave., 212-757-7511, blueseafoodbar.com.
—Additional reporting by Merrill Lee Giardeau.
Looking for Free Group Planning Services?
Get free advice on planning your group's trip to New York.
RESTAURANTS

Beloved midtown spot takes inspiration from local tradition,...

THEATER

In a heartbeat, 38 planes with 6,579 passengers were strand...

SHOPPING

PANDORA, one of the leading names in jewelry for more than 3...

SIGHTSEEING

Voted one of New York's most unique attractions, Madame Tuss...