You either love raw oysters or you don't, there really is no middle ground. For those in the former group, New York City will not disappoint. These restaurants make up the best selection of raw bars in the city, and as any oyster lover will tell you, you don't want to skimp on quality when it comes to oysters.
Oysters also play a significant role in New York's history. The waters around New York were once abundant in oyster reefs. It's said that the area once contained nearly half of the world's oyster population. Citizen-science Billion Oyster Project is on a mission to restore one billion live oysters to New York Harbor by 2035. According to the organization, New Yorkers eat up to half a million oysters every week. Billion Oyster Project collects discarded oyster shells from more than 70 New York City restaurants. Eventually the shells get reintroduced to the harbor and are used to grow new oysters. Some of the outstanding eateries below, including The Oyster House at Pier A and The Sea Fire Grill, have partnered with the Billion Oyster Project to help them fulfill their goal. 
Best of NYC Oysters: The Sea Fire Grill (Midtown East)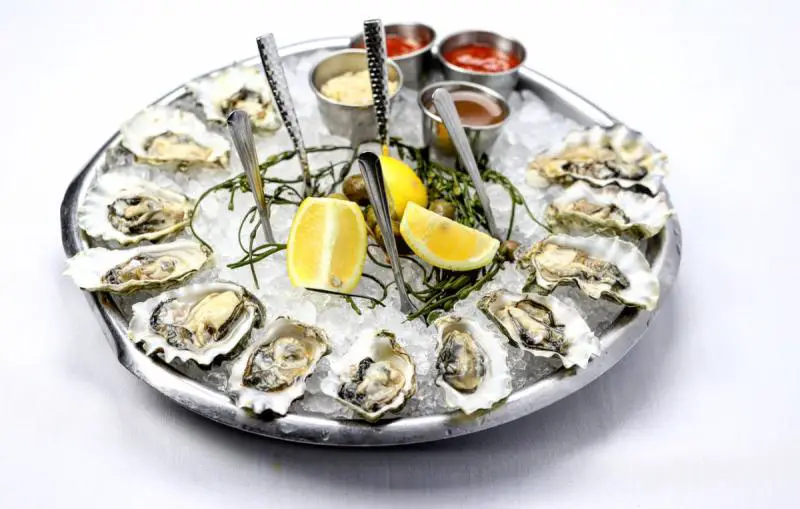 Benjamin Steakhouse moved on to create The Sea Fire Grill once they'd perfected their steak, and you can bet that the seafood here is just as delicious. There is a daily selection of both East Coast and West Coast oysters served at the raw bar, along with pink peppercorn mignonette and cocktail sauce. If you really need to get your fill, you can also order the Oysters Rockefeller ½ Dozen as an appetizer, each stuffed with spinach, parmesan, and pernod. 158 E. 48th St., 212-935-3785, theseafiregrill.com
Best of NYC Oysters: The Oyster House at Pier A (Battery Park) 
Head over to The Oyster House at Pier A to have your choice between local East Coast oysters and West Coast oysters, both served on the half shell and shucked to order. Not only is the food here worth coming back for, but the location itself is iconic. The pier is over a century old, and the Pier A house is composed of 28,000 square feet, all of which deserves to be explored. 22 Battery Pl., 212-786-0153, piera.com
Best of NYC Oysters: Patrick's Restaurant & Oyster Bar
The oyster offerings at Patrick's Restaurant & Oyster Bar revolve around a menu that changes daily.  Oysters are always shucked to order and served with a house-made mignonette sauce and traditional fixings. Patrick's sources its fresh fish from oyster fisherman and farmers who hail from Eastern Long Island, New England, Maine, and beyond. 259 W. 42nd St., 212-776-9100, patricksnyc.com
Best of NYC Oysters: Grand Banks (Hudson River)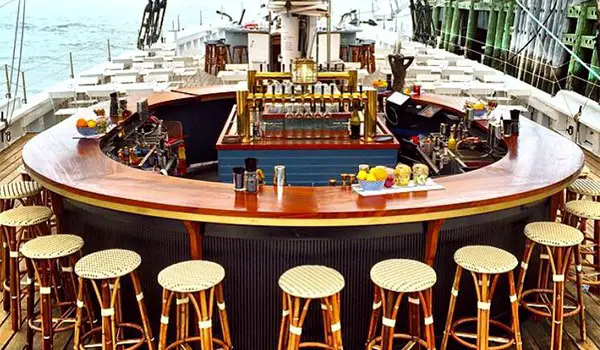 This celebrated oyster bar can be found onboard the Sherman Zwicker, a historic wooden schooner that's docked on the Hudson River. That's right, you get to eat your oysters on an actual boat. The oyster selection changes daily, but you can expect to see the likes of Blue Island No. 9 Oysters, Wellfleet Oysters, and Kusshi Oysters originating from New York, Massachusetts, and British Columbia respectively. The 2020 season starts April 20th; reservations are being accepted now. Pier 25, Hudson River Park, 212-660-6312, grandbanks.nyc
Best of NYC Oysters: The Lobster Place (Chelsea)
Chelsea Market really has it all, including The Lobster Place, where you can hand-select your oysters and get them to go. Choose from a variety and have them shucked fresh for you on the spot—then head over to The High Line to dine and relax. Or, if you're not feeling quite so adventurous, grab a seat at The Lobster Place's restaurant, Cull & Pistol, also located in the Chelsea Market and presenting a full-service experience. Chelsea Market, 75 Ninth Ave., 877-383-1237, lobsterplace.com
Best of NYC Oysters: Crave Fishbar (Midtown East)

Crave Fishbar is appropriately named, because it will leave you with the craving to come back again and again for their wide assortment of raw bar oysters. East Coast oysters come from all over, including Fishers Island, NY; South Kingston, RI; Hog Island Bay, VA; and Prince Edward Island, Canada. As for your West Coast selection, it includes Pickering Passage, Washington and Vancouver Island, British Columbia. Additional location on the Upper West Side. 945 Second Ave., 646-895-9585, cravefishbar.com
Best of NYC Oysters: Blue Seafood (Hell's Kitchen)
New York is arguably the world's preeminent coastal town. Case in point? Blue Seafood Bar. This Hell's Kitchen hot spot offers fresh-as-it-gets seafood that's also sustainably sourced, from local oysters to grilled octopus to 2-lb. branzino baked in sea salt. Blue sets its standards high, drawing on the fresh, the wild, and the organically cultivated. The crowning glory is the oyster menu, where each oyster (some from the East Coast, some from the West) comes with its own flavor profile, similar to what you'd hear from a sommelier. The Wellfleet from Cape Cod, for example, is "plump, mild & slightly sweet, briny & crisp, clean finish." If you're wanting to share but less keen on raw fish, consider the mixed grill seafood platter. This bounty serves two guests easily with scallops, calamari, octopus, mussels, clams, shrimp, and a branzino filet to round it out. 856 Ninth Ave., 212-757-7511, blueseafoodbar.com.
Best of NYC Oysters: Bluebird London NYC (Midtown West)
The iconic London-based Bluebird has landed in Manhattan's buzzing Columbus Circle neighborhood. Take a break from shopping or invite the crew to Bluebird for happy hour. Beyond the delectable oysters, the all-day cafe, wine bar, cocktail lounge, and international brasserie offers fetching views of Central Park. 10 Columbus Circle, 347-682-2100, bluebirdlondon.nyc
Best of NYC Oysters: MIFUNE New York (Midtown East)
MIFUNE New York, the progressive restaurant in Midtown East from a Michelin-starred team of young culinary talent, serves raw oysters among its original takes on Japanese cuisine. In addition to seasonally inspired specials, look for a raw oyster appetizer, prepared with a tosazu gelée (tosazu is a high-quality fermented vinegar). MIFUNE was recently recognized with a Michelin Plate. 245 E. 44th St., 212-986-2800, mifune-restaurant.com
Best of NYC Oysters: Valerie (Theatre District)
Visit Valerie for its $1 oyster happy hours, offered on weekdays from 4 to 7pm. The new bi-level cocktail bar and restaurant evokes the golden era of Manhattan with its timeless drink list, bistro-inspired menu, and Art-Deco-inspired decor. Indulge in a drink and quiet conversation under one of the murals in the Art-Deco inspired Gatsby Lounge. 45 W. 45th St., 212-302-4545, valerienewyorkcity.com
Best of NYC Oysters: Hortus (NoMad)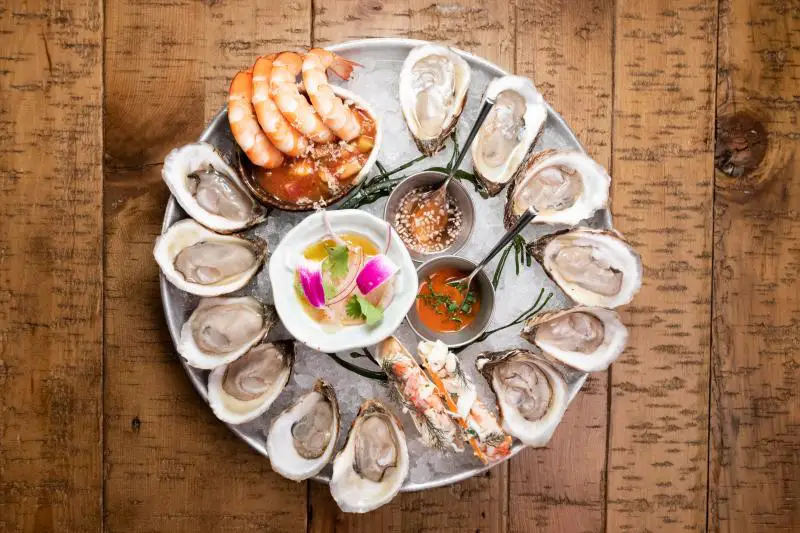 NoMad's elevated modern Asian fine dining destination Hortus offers a fresh raw selection that includes local oysters paired with gochujang—a spicy red chili paste and a lightly sweet, tart plum mignonette. The contemporary eatery is listed in the Michelin Guide 2020. 271 Fifth Ave., 646-858-3784, hortusnyc.com
—Additional reporting by Merrill Lee Giardeau.