South American Restaurant Standouts in NYC
January 24, 2017 - by Chelsey Grasso
New York City hosts a world of food, and while you might not hear as much about its South American eats as you do others (everybody knows about NYC's pizzas and bagels, but who ever talks about Venezuelan arepas and Argentinian steakhouses?), the Big Apple is home to quite a few noteworthy South American restaurants as well. Make sure you add these five dining spots to your bucket list. We promise, you won't be disappointed.
Best of NYC South American Food: Buenos Aires (East Village)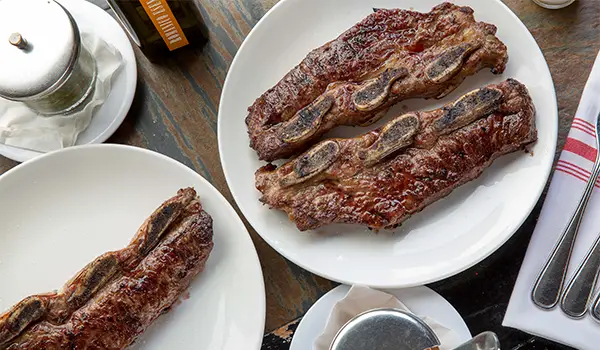 Serving up the grilled meats that made Argentina famous, Buenos Aires Restaurant has a full and authentic menu that contains everything from grilled sweetbreads to roasted chicken with Argentinean style marinade. The Pollo al Champignon (chicken breast with mushrooms and onions in light creamy sauce), Lomo Strogonoff (sautéed Filet Mignon in a white wine creamy sauce with mushrooms, onions, and Dijon mustard), and Milanesa de Lomo a Caballo (breaded tenderloin topped with a fried egg) are three of the kitchens specialty entrées. 513 E. 6th St., 212-228-2775, buenosairesnyc.com
Best of NYC South American Food: Caracas Arepa Bar (East Village)
Caracas Arepa Bar has been serving up Venezuelan dishes for over a decade, and their cozy dining room often fills up quickly, so be prepared for a wait. To nobody's surprise, it's the arepas that are drawing in the crowds. Caracas fills their 100% corn flour buns with everything ranging from shredded beef and roasted pork shoulder to guayanés cheese and pan-seared tilapia. Also available is Venezuelan's national dish, Pabellón Criollo, which consists of shredded beef, white rice, black beans, and fried sweet plantains. Additional locations in Brooklyn. 91 E. 7th St., 212-228-5062, caracasarepabar.com
Best of NYC South American Food: La Pulperia (Hell's Kitchen)
With its handcrafted floor tiles from Mexico, reclaimed wood from Brazil, and ample shelf space dedicated to displaying liquor, fresh produce, and wine, La Pulperia's interior is just as authentic as its South American inspired menu. Some menu favorites include the Albondigas De Cordero (crispy lamb meatballs, garlic mashed potato salad, grilled red pepper ceviche, creamy chimichurri) and the Black Seafood Spaghetti (mussels, clams, calamari, shrimp, tomato, green peas, spinach, truffle oil). Additional location in the Upper East Side. 371 W. 46th St., 212-960-3176, lapulperianyc.com
Best of NYC South American Food: Fogo de Chão Brazilian Steakhouse (Midtown West)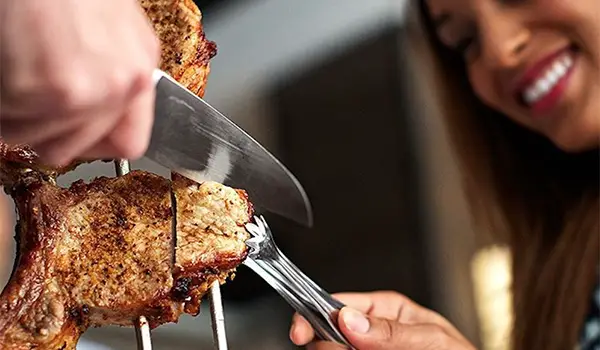 Fogo de Chão's first churrascaria (Brazilian steakhouse) in New York City offers a Full Churrasco Experience that includes their impressive Market Table (salads, cheeses, specialty meats, and fresh vegetables) and beloved Feijoada Bar (black bean stew). Also on the menu is unlimited, grilled top sirloin, beef tenderloin, rib-eye, top sirloin, bottom sirloin, and beef ribs, all hand-carved tableside for a dining experience you will never forget. 40 W. 53rd St., 212-969-9980, fogo.com
Best of NYC South American Food: Pio Pio 8 (Hell's Kitchen)
Pio Pio has expanded to include nine restaurants, but that hasn't lowered their quality of food in the slightest. You'll find delicious Peruvian dishes here that are exploding with authentic ingredients and flavor. Be sure to try their famed green sauce, along with their hallmark rotisserie chicken. Trust us, you can't go wrong ordering here. Additional locations on the Upper East Side, Upper West Side, Midtown East, Queens, Brooklyn, and the Bronx. 604 10th Ave., 212-459-2929, piopio.com
Looking for Free Group Planning Services?
Get free advice on planning your group's trip to New York.
RESTAURANTS

Multi-concept restaurant offering modern Japanese cuisine, a...

THEATER

Gaston Leroux's famous period thriller is now one of Broadwa...

SHOPPING

The sweetest experience in Times Square!...

SIGHTSEEING

Sweeping, unobstructed, open-air views of NYC from the top o...