November 3, the city will be overrun with the TCS New York City Marathon. This annual event draws tens of thousands of runners, supportive friends, and curious spectators to the city streets. Whether you're running 26.2 miles or just watching people run 26.2 miles, a marathon's bound to make you hungry. Here are 11 places to celebrate endurance and indulge in some well-earned carbs. Restaurants are located near the finish line on the Upper West Side and a little farther afield in Midtown and the Upper East Side.
The Ribbon
The original location of The Ribbon brings the Bromberg brothers' undeniable brasserie experience to the Upper West Side. This one is a great brunch pick for those looking for food near the finish line (especially marathoners whose legs are giving out!). Order the famous fried chicken and some deviled eggs, and relish your victory. There are also plenty of egg dishes, burgers, and a Blueberry and Pineapple Loaf for something sweet. 20 W. 72nd St., 212-787-5656, theribbonnyc.com
Benjamin Steakhouse Prime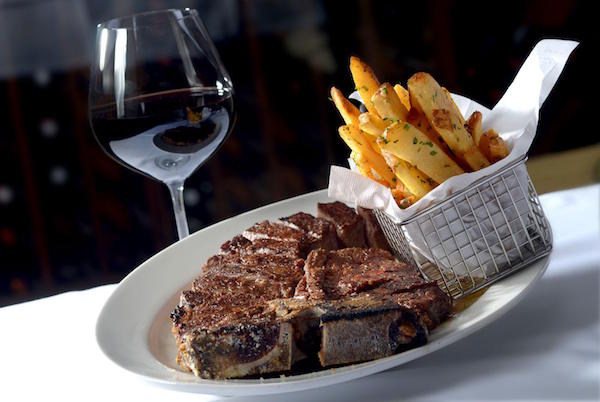 Benjamin Steakhouse Prime combines modern elegance with traditional steakhouse classics. This year they'll be saluting the Marathon with a special prix fixe menu. Start with appetizer options like lobster bisque, Caesar salad, or imported buffalo mozzarella. USDA Prime bone-in rib-eye, bone-in New York strip steak, or organic Scottish salmon follow. You can choose one veggie side (steak fries and Prime home fries are among the options) and there's tea, coffee, and a chef's choice for dessert. 23 E. 40th St., 212-338-0818, benjaminsteakhouse.com/prime


Ashford and Simpson's Sugar Bar
Unwind with dinner and a show at Ashford and Simpson's Sugar Bar on the Upper West Side. This restaurant and club holds live musical performances every night, inspired by the married songwriting duo Nickolas Ashford and Valerie Simpson (whose hits include "Ain't No Mountain High Enough"). Feast on catfish fingers, seafood stew, and pork chop with apple chutney, and don't forget a tropical cocktail. 254 W. 72nd St., 212-579-0222, sugarbarnyc.com
Le Vain Bakery
For a celebratory sweet, head straight to Le Vain. This storied bakery makes some of the best—and biggest—cookies in the city. Their flavors, always warm and gooey, include dark chocolate with chocolate chips and oatmeal raisin. Other baked goods include sticky buns, muffins, loaves of bread, and pizza. They have two locations on the Upper West Side, one in Harlem, and now the Upper East Side as well. 74th: 167 W 74th St., 917-464-3769; Amsterdam: 351 Amsterdam Ave., 917-464-3782; Harlem: 2167 Frederick Douglass Blvd., 917-464-3789; UES: 1484 3rd Ave., 917-464-5578; levainbakery.com
Russ & Daughters
The runners will be headed down Fifth Avenue on their last few miles of the race. Cheer them on, then head inside the Jewish Museum for the brunch classic that is Russ & Daughters. This is the place for bagels with lox and cream cheese on this beautiful fall Sunday. You might also like the trio of pickled herring or shakshuka with Shissel rye. Book a table in advance; this one gets booked up fast! 1109 Fifth Ave., 212-475-4880, russanddaughters.com
David Burke Tavern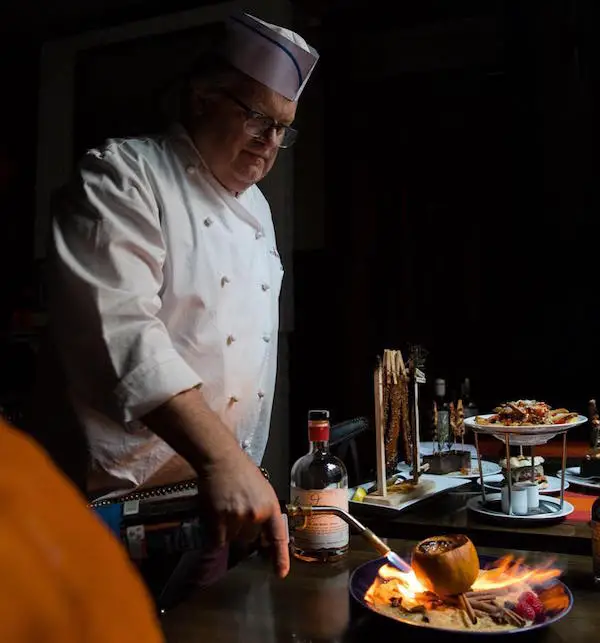 If you find yourself viewing the race on the Upper East Side, take a short walk to David Burke Tavern for seasonal eating with comfort and quality. The well-known chef and restaurateur has converted a lovely townhouse into this upscale new American eatery. Signature dishes include Angry Lobster Dumplings and Clothesline Bacon, both on the appetizer menu. The wholesome dinner entrees include branzino with artichoke puree and Ricotta & Squash Agnolotti with white pepper cashews and apple butter. At brunch, look forward to Titanic French Toast and Pretzel Crab Cake Benedict (plus 50% off all bottles of wine on Sundays!). 135 E. 62nd St., 212-988-9021, davidburketavern.com
Masseria dei Vini
Settle into an Italian farmhouse with a great wine cellar at Masseria dei Vini. Located near Columbus Circle, this Southern Italian restaurant and wine bar is convenient to the marathon's finish line and a fine pick for anyone who likes great pizza. Their Neapolitan pies, made with Italian ingredients, include classics like margherita and signatures like the Mamma Mia with mushrooms, eggs, and prosciutto. Other dinner entrees include pork chop with black truffle sauce. 887 Ninth Ave., 212-315-2888, masseriadeivini.com
Patsy's Italian Restaurant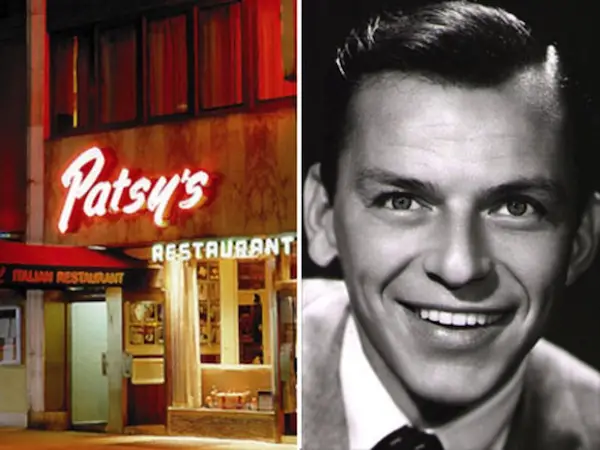 Ol' Blue Eyes, Frank Sinatra, was a regular at Patsy's.
Celebrating family is the heart of Patsy's Italian Restaurant. This 75-year staple in Hell's Kitchen was once Frank Sinatra's home away from home (his favorite table is still in use on the second-floor dining room). Its time-honored recipes, preserved over three generations of Scognamillo chefs in the kitchen, will have you singing down the street. Replenish your energy with eggplant parmigiana and spicy Rigatoni Fra Diavolo. For dessert, go for the tiramisu! 236 W. 56th St., 212-247-3491, patsys.com
Le Privé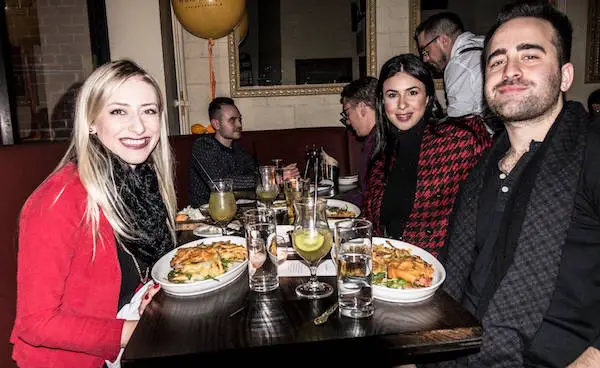 A Veuve Cliquot party at Le Privé. Facebook.
A bottle of Veuve and some pommes frites sound ideal for post-run relaxation. Le Privé serves excellent French food in Hell's Kitchen. Brunch or dinner, you can't go wrong on marathon day. The brunch menu boasts several spins on eggs benedict and a croque monsieur sandwich, along with brunch cocktails and a deal on champagne for those in a celebratory mood. At dinner, indulge in the escargots and roasted chicken with potatoes au gratin. 626 10th Ave., 212-837-2795, lepriveny.com
The Long Acre Tavern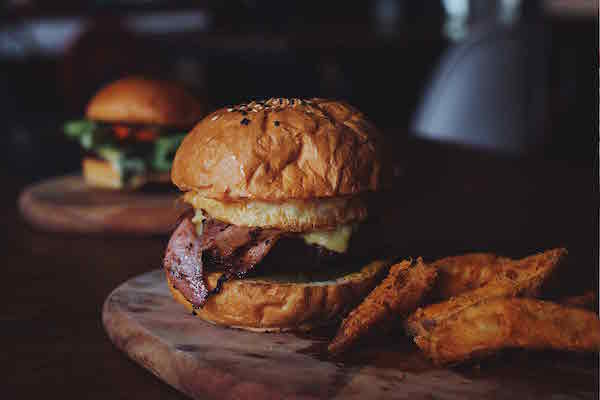 If your food mood is excellent pub fare, you'll find it at The Long Acre Tavern. This new entry into the Times Square food scene offers a welcome mix of quality eats and sports-bar diversions, with a host of games screening all day. Go with one of their signature burgers—like the Burger Au Poivre with brandy peppercorn sauce—and buffalo wings confit. Brunch dishes run the gamut from a breakfast burger to Coconut Cream Pancakes with lime butter. Take advantage of the long draft list, particularly the local brews from Brooklyn and the Bronx, and enjoy watching some basketball or football. 146 W. 47th St., 646-649-3587, longacrenyc.com