Where to Eat Near the Empire State Building
August 24, 2017 - by Chelsey Grasso
The Empire State Building is a rite of passage for anyone visiting New York City, and if the experience takes up some energy, don't wory: there are plenty of great restaurants nearby. You can fuel up at any of the dining establishments below after your visit to the top of the ESB and know you'll be dining well. Located near the heart of Koreatown, you'll find quite a few culinary options by the Empire State, ranging from Asian-inspired cuisine to American classic dining.
Best of Empire State Building Dining: Royal 35 Steakhouse

Once you've traveled to the top of the Empire State Building and back down, why not treat yourself to a hearty steak and Empire State Margarita at Royal 35 Steakhouse? The eats at this steakhouse are phenomenal, including the filet mignon, petite filet, prime New York strip steak, and porterhouse steak, all U.S.D.A. prime and dried in the restaurant's own aging box. As for that Margarita, it's pretty special in its own right: Casamigos Tequila Blanco, Cointreau, lime juice, agave nectar, and a salt rim. 1 E. 35th St., 212-804-7276, royal35steakhouse.com
Best of Empire State Building Dining: Galata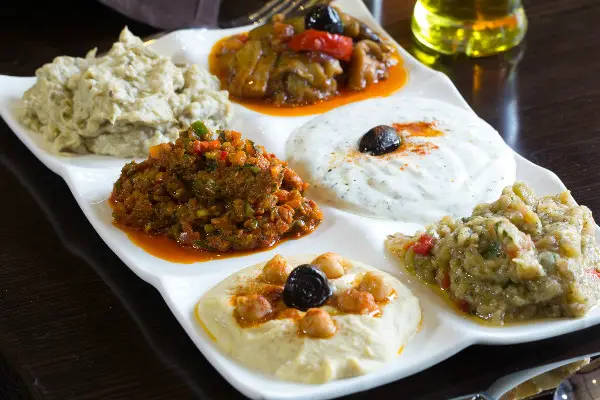 Some restaurants in New York City can open a door to another world. Galata is just such a place, where hospitality and authenticity come together for a transportive experience. Just down the block from the Empire State you can access the best of Turkish and Mediterranean cuisine. The quality of the food belies the moderate prices. Signature entrées show off grilling skills, in kebabs, fresh seafood like shrimp or bronzini, and house "meatballs," which bring lamb and beef together into smoky patties that are packed with flavor. Worth noting is the weekday lunch special, which attracts local office workers for a two-course $12.95 prix fixe, or set meals combining wraps, French fries, and a soda for $9.25. 212 E. 34th St., 212-683-9206, galatany.com
Best of Empire State Building Dining: Ben & Jack's Steakhouse
Students of the famed Brooklyn steakhouse Peter Luger, the eponymous Ben and Jack opened Ben & Jack'sin New York City in 2005. (There are two central locations, one near the Empire State Building and one at 219 E. 44th St. that's about to open.) Famous for beef, patrons can indulge in the house's beloved Midwestern prime and Porterhouse cut. For seafood lovers, the Chilean sea bass and grilled Norwegian salmon are standouts. Jumbo shrimp cocktail, Maryland crab cakes, and baked clams also make their way onto the favorites list. 255 Fifth Ave., 212-532-7600, benandjackssteakhouse.com
Best of Empire State Building Dining: Turntable Chicken Jazz
It's all about the chicken at Turntable Chicken Jazz, well, that and the music. Have your pick of wings, drums, boneless breast, or any combination of all three, then choose the flavor you want all that meat drenched in—soy garlic, hot, or half & half. The appetizers at this establishment are just as exciting, including the Twister, which is a spiral shaped potato served with parmesan cheese, spicy mayo, and ketchup. 20 W. 33rd St., 212-714-9700, turntablenyc.com
Best of Empire State Building Dining: Xi'an Famous Foods

If you're looking for a quick order at the counter establishment that's still pumping out dishes you'll want to write home about, then Xi'an Famous Foods is your stop. The menu includes hand-ripped noodle dishes, including Stewed Pork, Concubine's Chicken, and Stewed Oxtail. The Stewed Pork and Spicy Cumin Lamb Burgers are also big hits at this beloved New York City chain. 14 E. 34th St., xianfoods.com
Best of Empire State Building Dining: Heartland Brewery and Rotisserie Empire State Building
Of course, you could also have an amazing meal without even leaving the building! Heartland Brewery and Rotisserie Empire State Building isn't joking around when it comes to having a full and eclectic menu. After your visit to the ESB, stop by right downstairs to enjoy the barbecue chili-rubbed half chicken straight from their rotisserie, the grill Angus steak skewer with baked mac 'n' cheese directly from their grill, or the buffalo chicken salad made with only the freshest ingredients. The Heartland-brewed beer is every bit as fresh and refreshing! 350 Fifth Ave., 212-563-3433, heartlandbrewery.com
Best of Empire State Building Dining: Poketeria

Ever wanted to try a sushi burrito? How about a sushi donut? If so, Poketeria has you covered. Famed for their full, fresh, and colorful poké bowls, you can't go wrong no matter what you order at this raw seafood haven. The Spicy Classic is an all-time favorite, including tuna, green onion, sweet onion, masago, ogo seaweed, crab salad, and tempura flakes in Sriracha aioli. As for sides, be sure to try the Fisher's Nachos. 3 E. 36th St., 347-773-0598, poketeria.com
Looking for Free Group Planning Services?
Get free advice on planning your group's trip to New York.
RESTAURANTS

Multi-concept restaurant offering modern Japanese cuisine, a...

THEATER

Gaston Leroux's famous period thriller is now one of Broadwa...

SHOPPING

The sweetest experience in Times Square!...

SIGHTSEEING

Hop aboard these environmentally friendly twin-hulled catama...