The life of legendary rock concert promoter Bill Graham is presented in a new timed-entry exhibit, Bill Graham and the Rock & Roll Revolution, now open at the New-York Historical Society.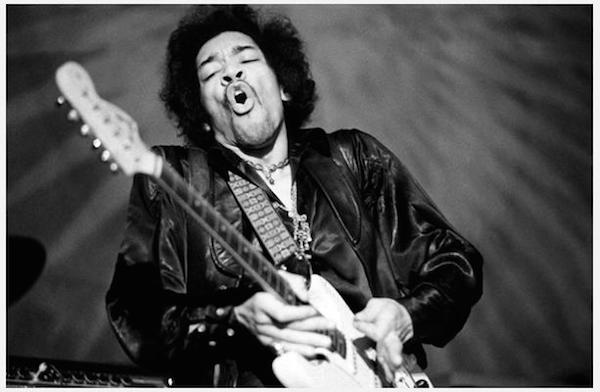 Baron Wolman. Jimi Hendrix performs at Fillmore Auditorium, San Francisco, February 1, 1968. Gelatin silver print. Iconic Images/Baron Wolman.


Hendrix. Joplin. Santana. The Grateful Dead. The Who. The Rolling Stones. Live Aid. Bill Graham's name is attached with some of the greatest musicians, festivals, and tours in rock history; in some instances, such as with 19-year-old Carlos Santana, he saw something and helped launch a career, promoting shows for rising stars at The Fillmore in San Francisco and Fillmore East in New York. (Santana didn't even have a record yet. Graham later managed him.) Organizing his first concert with Jefferson Airplane and The Fugs at age 34—Graham was helping the San Francisco Mime Troupe Graham raise money for legal fees—gave him his first taste of how he could be an agent of social change, bringing together people and live shows, sometimes mixed with a message (world hunger/Live Aid, human rights/Amnesty International, anti-drugs/Crack Down campaign.)
Bill Graham—a name he chose from a phone book—was born Wolfgang Grajonca. In 1939, his Jewish family fled Berlin, Germany to France to escape the Nazi regime; his dad died immediately after his birth, his mother died at Auschwitz. Only 11 years old, newly orphaned Grajonca came over to New York by boat. He was eventually taken in by a foster family in The Bronx, later serving in the Korean War and earned a Bronze medal and a Purple Heart. During summers, he'd work as a waiter in the Catskills, dancing and making friends with the likes of Tito Puente. He moved to San Francisco during the '60s, during the height of "flower power," anti-war demonstrations, and increasingly experimental music.
Striking Yardbirds/Doors poster for show at The Fillmore in San Francisco, drawn by Wes Wilson.
The New-York Historic Society exhibit includes some 300 artifacts spanning Graham's career, including dozens of striking concert posters (many created with artist Wes Wilson), a Jimi Hendrix costume, Janis Joplin's tambourine, concert photos, and even Graham's office phone, which was destroyed in an office bombing, when he'd spoken out against former president Ronald Reagan's decision to visit Bitburg, Germany, a cemetery for Nazis.
One of the highest points of Graham's career was organizing the American portion of 1985's Live Aid concert, which saw some 100,000 people pour into JFK Stadium in Philadelphia for live performances by The Rolling Stones, Tina Turner, Hall & Oates, Madonna, Bob Dylan, Joan Baez, and many others. The concert was televised worldwide, seen by some 1.9 billion people, and raised $125 million for famine relief in Africa. Said Graham, "What Live Aid did was prove that rock & roll was the new means of international communications."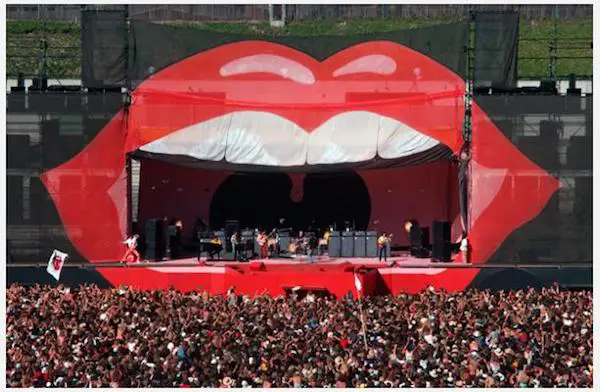 Baron Wolman. View from the audience: The Rolling Stones at Day on the Green Oakland Coliseum Stadium, Oakland, California, July 26, 1978. Gelatin silver print. Iconic Images/Baron Wolman.
As the demand for arena tours continued to grow in the '80s, Bill Graham created Bill Graham Presents, which put together shows for David Bowie, U2, Madonna, Jane's Addiction, and Prince. Graham was killed in a helicopter crash west of Vallejo, California on October 25, 1991.
At the exhibition, visitors will be given an audio handset upon entry that once they put on will automatically cue musical to each specific section, immediately transporting you to that time.
Bill Graham: Rock & Roll Revolution, organized by the Skirball Cultural Center, runs at the New-York Historical Society through August 23. #billgrahamrocks