Everyone knows The Blue Man Group, a performance act playing stages all over the world, every night of the week. But their origin story may be less well known. In fact, it all happened right here in New York City. Learn about the start of Blue Man Group, and immerse yourself in their wacky world at the exhibition Blue Man Group: Ready…Go! at the Museum of the City of New York. This brand-new exhibition, up for just six weeks, is open now.
Blue Man Group: Ready…Go! runs at the Museum of the City of New York through Sept. 2. Instagram.
At last you'll have the chance to stand behind an actual Blue Man Group instrument, a percussion piece made of multicolored PVC pipe, and play it like a Blue Man. The exhibition space is also filled with LED screens and splatters of brightly colored paint, just like a Blue Man Group show. Visitors are encouraged to interact with the environment through a variety of participatory elements throughout the exhibit. 
You'll learn how The Blue Man Group started: as the cobalt brainchild of Matt Goldman, Phil Stanton, and Chris Wink. These friends, faces painted blue, staged "happenings" (spontaneous performance art) on the streets of New York in the late 1980s. Wink, Goldman, and Stanton created a "Funeral for the 80s" in Central Park and "Club Nowhere," in which participants entered behind a velvet rope and danced on the sidewalk, before the three took to the stage at Astor Place Theatre in 1991. Now, 28 years later, The Blue Man Group plays on this stage every night of the week. They can also be seen in Boston, Chicago, Las Vegas, Orlando, and Berlin. 
Today's show is filled with light, color, and music to dazzle all ages. The Blue Men, mischievous and silly, do plenty throughout the show—utilizing a simple Twinkie to great effect, for example—but never speak a word. "They are anonymous yet instantly recognizable. They make statements, yet they are silent," said Chief Curator and Deputy Director of the Museum of the City of New York, Sarah Henry, in a press release.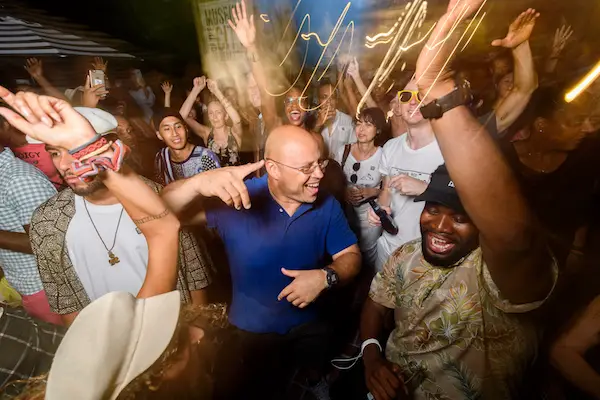 MCNY's summer weekly block party series Uptown Bounce returns. On August 7, Blue Man Group will give a special performance. Photo: Filip Wolak.
In just a few weeks, The Blue Man Group itself will play live at the museum! In conjunction with the exhibition, the museum will hold a summertime Uptown Bounce festival, with The Blue Man Group performing live on August 7. This block party will not only celebrate these blue hometown heroes, but also feature '80s-inspired tunes from Operator Emz. Kids can make their own maracas and take a little of the Blue Man spirit home during this free event. 
Before you leave The Museum of the City of New York, stop by the gift shop for Blue Man merch. Branded items include a water bottle, t-shirt, and a black mug that reveals an image of the Blue Men when you fill it with tea or coffee! It's inscribed with the Blue Man Group tagline, "Hard to Describe. Easy to Love." 
---
Blue Man Group: Ready…Go! opened July 19 and will close September 2. The Museum of the City of New York is located at 1200 Fifth Ave. Call 212-534-1672 or visit mcny.org for tickets and more.