Après the Tonys…Thrill? Relief? Letdown? Opportunity? The latter, of course, has much to do with taking on uncharted Broadway by scoring tickets to the 2019-2020 season's first wave of shows.
Audra McDonald and Michael Shannon embrace a Frankie and Johnny revival. Photo by Deen van Meer.
Of these, only one has officially opened: Frankie and Johnny in the Clair de Lune, a formidable revival of Terrence McNally's 1987 play about a waitress and a short-order cook whose first date unfolds from candid sex into a poetic revelation, to both them and the voyeuristic "us," as we pass night-into-morning in Frankie's depressing studio apartment. As the two actors—six-time Tony winner Audra McDonald as Frankie and two-time Oscar nominee Michael Shannon as Johnny—unpack their middle-aged characters' baggage, vulnerabilities, and tender pin-pricks of hope, the radio becomes an episodic backdrop of classical music, in particular Debussy's wistful piano composition, "Clair de Lune" (moonlight).


The chemistry between McDonald and Shannon runs from quirky to beautiful and despite its vintage pedigree (its original Off-Broadway run starred Kathy Bates and
F. Murray Abraham), the show still resonates through a kind of universal emotional core. And no, McDonald doesn't sing…but this first arrival on the new season scene absolutely does.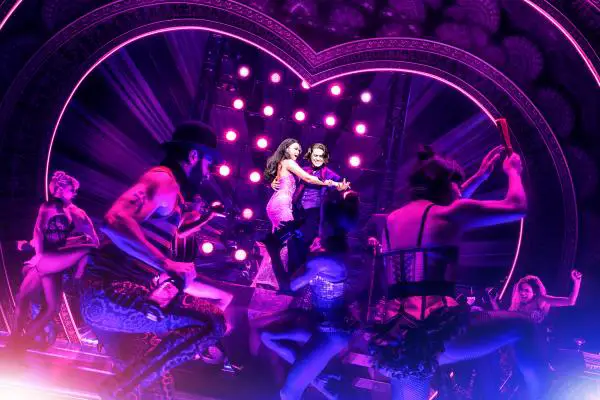 Karen Olivo as Satine and Aaron Tveit as Christian (center) and company in the Boston run of Moulin Rouge! The Musical. Photo by Mathew Murphy. 
Broadway's second arrival is a musical—explosive, dark, romantic, and French with an iconic exclamation point. Based on Baz Luhrmann's groundbreaking 2001 film, Moulin Rouge! The Musical's preview starts June 28th (official opening July 25th) having sparked acclaim during its record-breaking run in Boston. Taking over the Al Hirschfeld Theatre, Moulin Rouge! boasts a primo list of Tony winners and nominees, including actors Karen Olivo, Danny Burstein, Sahr Ngaujah, and director Alex Timbers. Joining them are leading man Aaron Tveit, leading villain Tam Mutu, and leading Latin lover Ricky Rojas. As for the music, expect songs from the movie as well as a smattering of more recent hits.
Checking in on a couple long-running Broadway shows that recently announced noteworthy cast changes: at Beautiful, three-time Grammy Award-nominated singer/songwriter Vanessa Carlton ("A Thousand Miles") is taking on the lead role of Carole King for 10 weeks beginning June 27th. In this, her Broadway debut, Carlton will be thrilling fans with her take on such King classics as "You've Got a Friend," "Will You Love Me Tomorrow," and "Natural Woman."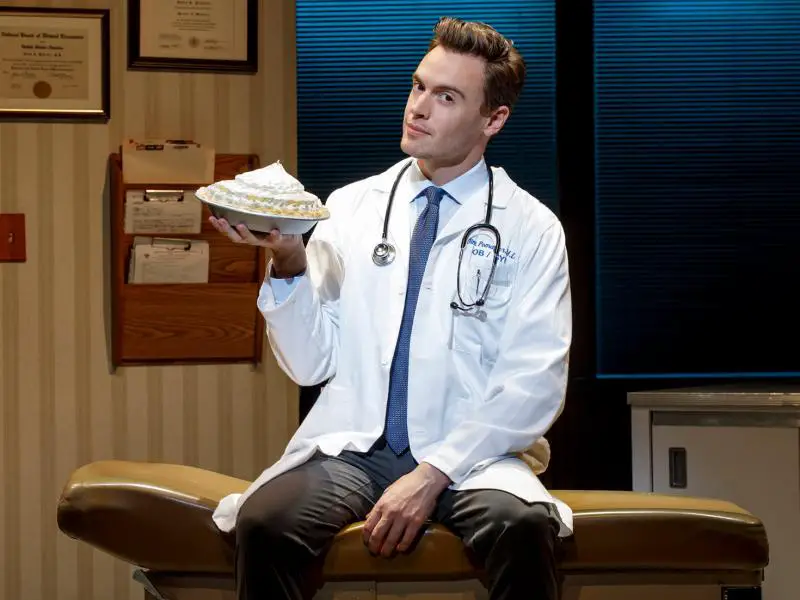 Erich Bergen returns to Waitress. Photo by Joan Marcus.
Erich Bergen recently returned to the company of Waitress as Dr. Pomatter. The versatile actor—who played Bob Gaudio in the film version of Jersey Boys—is known for playing Blake Moran on the CBS drama Madam Secretary. Meanwhile, Bergen's costar, Shoshana Bean, has extended her run as pie-baking mom-to-be Jenna through July 7th. (Bean's latest album, "Spectrum," just placed #1 on the Billboard jazz charts.)
On the Off-Broadway front, there's a new arrival well worth checking out: the wildly fabulous jukebox musical Rock of Ages, which catapults audiences back to the 1980s rock scene. Last seen here during its six-year Broadway run, during which it broke the Helen Hayes Theatre's box office record 10 times, the show offers a score comprised of gotta-sing-along rock anthems. Worth noting: the re-up at New World Stages—the same Off-Broadway stomping ground where it premiered in 2008—includes original Broadway cast members Mitchell Jarvis and Katie Webber reprising their roles of Lonny and Waitress #1.
Best WorldPride Onstage Bets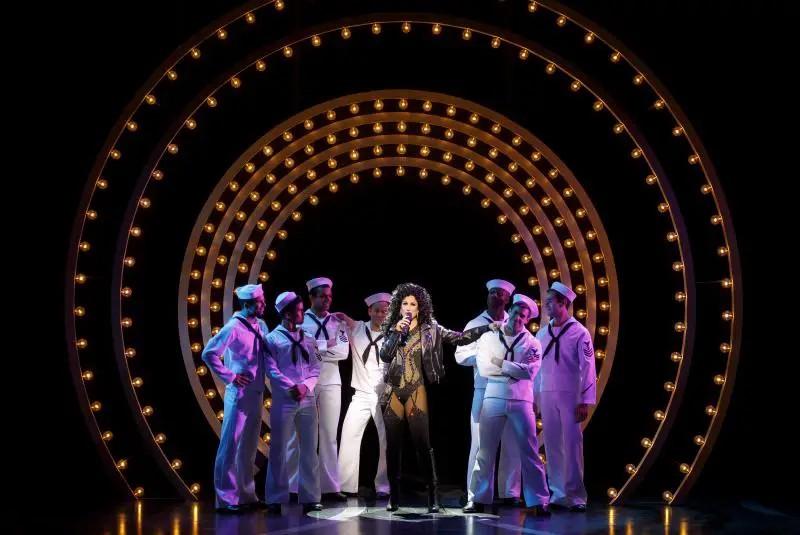 Stephanie J. Block as "Star" in The Cher Show. Photo by Joan Marcus.
Cutting to the LGBTQ chase, Broadway, Off-, and Off-Off offer a delectable feast of gay-centric productions. On Broadway: The Cher Show (Cher x 3 + Bob Mackie costumes); The Prom (a lesbian teen meets with resistance re: taking her girlfriend to the prom, until Broadway's brassiest and campest arrive on the scene); Tootsie (straight guy in drag smitten by beautiful actress who comes to question her own sexuality); Taylor Mac's Gary: A Sequel to Titus Andronicus starring Nathan Lane; and Burn This, a powerhouse revival of the Lanford Wilson play starring Keri Russell and Adam Driver. And then there's all the musicals with memorable gay characters: Mean Girls, Be More Chill, and Come From Away among them. Stop by tdf.org/tkt for info on scoring TKTS by TDF Pride buttons at one of the three TKTS booths in Manhattan.

Bearded Ladies Cabaret is throwing a pageant for the ancestors called Contradict This! A Birthday Funeral for Heroes, through June 29 as part of Stonewall 50 at La MaMa.
Off-Broadway, four shows (see Theatre Listings) top the list: Camp Morning Wood: A Very Naked Musical; The Rolling Stone>; A Strange Loop; and Naked Boys Singing. Finally, do check out Stonewall 50 at La MaMa (lamama.org/stonewall), where a legendary East Village venue invites you to "join multiple generations of queer performers as they pose questions, honor legacies, and ignite the present."