Previews, Mega-Stars & Opening Nights
October 7, 2013 - by Griffin Miller, Theatre Editor
Every fall, Broadway hits its prime-time stride: New shows launch, long-running hits (Chicago, The Lion King, Mamma Mia! and Wicked) celebrate double-digit birthdays, and acclaimed film and TV actors tweak their London and Hollywood schedules to perform exclusively for New York theatregoers.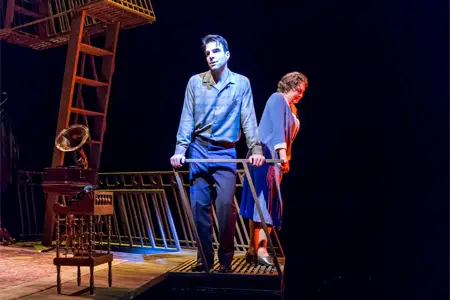 Quinto & Jones in The Glass Menagerie. Photo: Michael J. Lutch
And you can expect to see plenty of big names gracing marquees this season — including several legendary playwrights and directors. Take, for example, Tennessee Williams' The Glass Menagerie: It stars Zachary Quinto (Star Trek; Heroes) and Tony winner Cherry Jones. Their director, John Tiffany, won a Tony Award last year for the currently running must-see Once — which, incidentally, scored the 2012 Tony for Best Musical.

Mary-Louise Parker. Photo: Jason Bell
As it happens, the new play The Snow Geese reunites Mary-Louise Parker with director Daniel Sullivan; both won Tony Awards when they collaborated on Proof in 2001.
Meanwhile, on the Brit front, Harold Pinter's acclaimed drama Betrayal not only stars Oscar winner Rachel Weisz and real-life husband Daniel Craig, it was directed by Tony/Oscar/Emmy/Golden Globe winner Mike Nichols.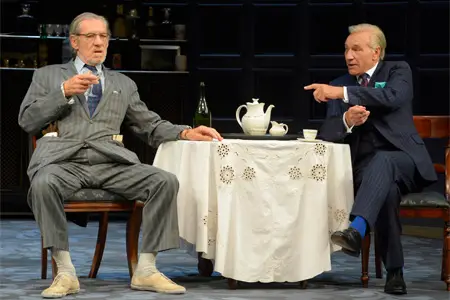 Ian McKellen and Patrick Stewart in Waiting for Godot. Photo: KevinBerne.com
A couple other famed Brits — Sirs Patrick Stewart and Ian McKellen, known for facing off in their on-screen sci-fi personae of Professor X and Magneto in the X-Men films — are making an impressive return to Broadway in both Pinter's No Man's Land and Samuel Beckett's Waiting for Godot (performed in repertory). Joining them are Tony winners Billy Crudup and Shuler Hensley.

Stephen Fry and Mark Rylance in Twelfth Night. Photo: Geraint Lewis
Which brings us to the wealth of Shakespeare being mounted on Broadway over the next few months. The first to arrive was Romeo and Juliet, which stars cinema heartthrob Orlando Bloom and two-time Tony nominee Condola Rashad (daughter of actress Phylicia Rashad and sportscaster Ahmad Rashad) in the title roles. Other works by the Bard showing up this fall include Macbeth, starring Ethan Hawke, John Glover, and Graceland's Daniel Sunjata, and another repertory duo, Richard III and Twelfth Night, featuring an all-male cast and starring two-time Tony winner Mark Rylance as both ruthless Richard and the love-struck Olivia in Twelfth Night. Notably, this presentation of these two works marks the Broadway debut of the celebrated Shakespeare's Globe Theatre.
---
SCARE AFFAIRS - HALLOWEEN AT THE THEATER

While Broadway may be the logical jumping off spot, the more ghoulishly inclined look to Off- and Off-Off-Broadway for their spine-tingling needs. As you can see from the sampling below, 2013's "Festivities That Go Bump in the Night" are disarmingly provocative.
The Dead Dream Machine - Described as "an interdisciplinary horror anthology," this Brooklyn-based show pumps the horror genre through a mad-scientist's dream-extracting device, spinning out musical numbers, a zombie dance, aerialists, puppetry and assorted luminaries from the City's alternative stages – all profoundly nightmarish. Thru 10/13. deaddreammachine.com
Dracula - RadioTheatre's original, live audio-theatre production of Bram Stoker's classic (adapted by the late Orson Welles and the living Dan Bianchi) performed in fiendishly horrifying detail by a disturbed (and disturbing) cast of storytellers and featuring original orchestral music and sound effects guaranteed to unnerve even the most intrepid. Thru 11/10. radiotheatrenyc.com
Nightmare: Killers 2
Proving that when the subject is haunted houses, a successful theme deserves — no needs — a sequel, last year's heart-pounding trek through a world of serial killers, both real and fictional, has returned with a follow-up gallery of coldblooded sickos and psychos: Say "hi" to Charles Manson, Aileen Wournos, Harrison Graham, and others. But wait, there's more: seeing as this is the 10th anniversary of creator Timothy Haskell's immersive experience, you'll be able to bide your waiting time in the lobby, where The Killer Acts Stage, a showcase for "artists of the Grand Guignol and beyond," will be serving up a gallery of different acts every hour. Thru 11/2. hauntedhousenyc.com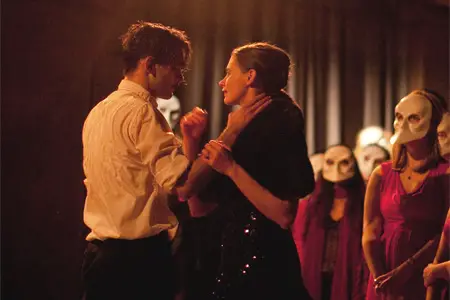 Unlike the other productions listed, this inspired eerie-retro-addictive theatrical event — part cabaret, part Macbeth, part hands-on museum, part interactive film noir experience — unfolds at the labyrinthine McKittrick Hotel year-round. The actors appear in 1930s attire while you navigate a warren of rooms and peer into dusty crannies from behind commedia-inspired white masks. Absinthe. Champagne. Sultry and seminal musical performances. And then there's Halloween and Halloween eve, the Hotel's two most coveted nights…the details are in the secrets. sleepnomorenyc.com
Looking for Free Group Planning Services?
Get free advice on planning your group's trip to New York.
RESTAURANTS

Multi-concept restaurant offering modern Japanese cuisine, a...

THEATER

Gaston Leroux's famous period thriller is now one of Broadwa...

SHOPPING

The world's largest source of cameras, camcorders, and more ...

SIGHTSEEING

Opened to the public in 1913 thanks to the ingenuity and amb...