Butterfly Conservatory Returns to the American Museum of Natural History
September 2, 2015 - by City Guide News Desk
On Saturday, Sept. 5, The Butterfly Conservatory returns to the American Museum of Natural History with "Tropical Butterflies Alive in Winter." This New York favorite sets hearts fluttering for millions of visitors annually. Celebrating its 18th year at the Museum, this cool weather sensation transforms the iciest day into a summer escape, inviting visitors to mingle with up to 500 iridescent butterflies among blooming tropical flowers and lush green vegetation in 80-degree temperatures. The Butterfly Conservatory will be on view through May 29, 2016.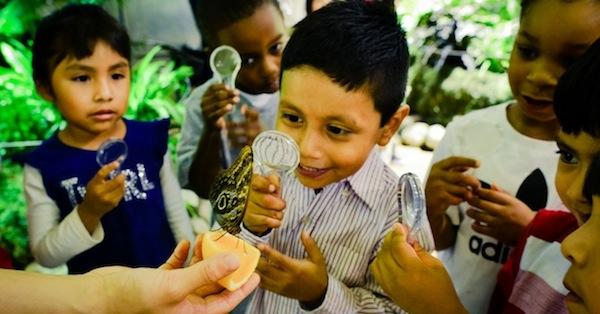 Photo: ©AMNH/D. Finnin
"The Butterfly Conservatory is a joyful, enchanting, and educational exhibition for both children and adults, and truly transports visitors out of their everyday lives into a magical setting teeming with color and flourishing life," said Ellen V. Futter, President of the American Museum of Natural History. "That's why it's one of our most popular exhibitions. We are proud to present this magical and beautiful exhibition that offers an instructive interactive experience and a unique opportunity to observe the diversity of nature in a re-created tropical forest environment filled with butterflies."
The Butterfly Conservatory
Visitors interact with butterflies inside a 1,200-square-foot vivarium, a freestanding structure aflutter with activity, while strolling along a winding pathway surrounded by tropical plants and vibrant blossoms including pentas and ixora. Powerful halide lamps shine down from the ceiling, simulating the sunlight that streams through a rain forest. Outside the vivarium, visitors can watch through transparent walls as monarchs, zebra longwings, paper kites, and other butterfly species flutter among people and plants.
The conservatory's butterflies come from farms in Florida, Costa Rica, Kenya, Thailand, Malaysia, Ecuador, and Australia. Featured species include iridescent blue morpho butterflies, striking scarlet swallowtails, large owl butterflies, and beautiful green birdwings. Because the average life span of a butterfly is only two to three weeks, roughly 500 butterfly pupae will be shipped to the Museum weekly for the duration of the exhibit, and the butterflies will be released into the vivarium after emerging. Other pupae hang in a case in the vivarium, giving visitors a firsthand look as adult butterflies leave the chrysalis and fly away only hours after adjusting to their new surroundings. Video screens outside the vivarium will also display a short film about this process.
Colorful educational displays outside the vivarium explain the life cycle of butterflies, the worldwide efforts to protect their diverse habitats, and the variety of butterfly species in New York State. Visitors can learn about interesting adaptations, from the colored scales that form butterfly wings' intricate designs, to the intriguing relationships between butterflies and other animal species (monarchs, for example, are toxic to birds). Other panels explain how scientists rely on wild butterflies to gauge the health of an ecosystem and how the Museum's specimens offer a wealth of information to butterfly and moth researchers around the world.
The Butterfly Conservatory returns to the American Museum of Natural History on Saturday, Sept. 5th.
Looking for Free Group Planning Services?
Get free advice on planning your group's trip to New York.
RESTAURANTS

The home of decadent desserts like the famous Frrrozen Hot C...

THEATER

Gaston Leroux's famous period thriller is now one of Broadwa...

SHOPPING

Find the right gear for your workout. ...

SIGHTSEEING

Enjoy a narrated harbor tour including views of the Statue o...