Cher Unleashed: Singer…TV star…Bob Mackie muse…Oscar-winning actress… Goddess warrior…Wife and mother…It's unlikely that anyone coming to see The Cher Show on Broadway hasn't met up with some version of the iconic diva at some point during her 50 years as a public figure. So it's quite understandable that the electricity begins from the very first note of "The Beat Goes On" in the story of Cherilyn Sarkisian as translated into words, song, dance, and elaborate costumes.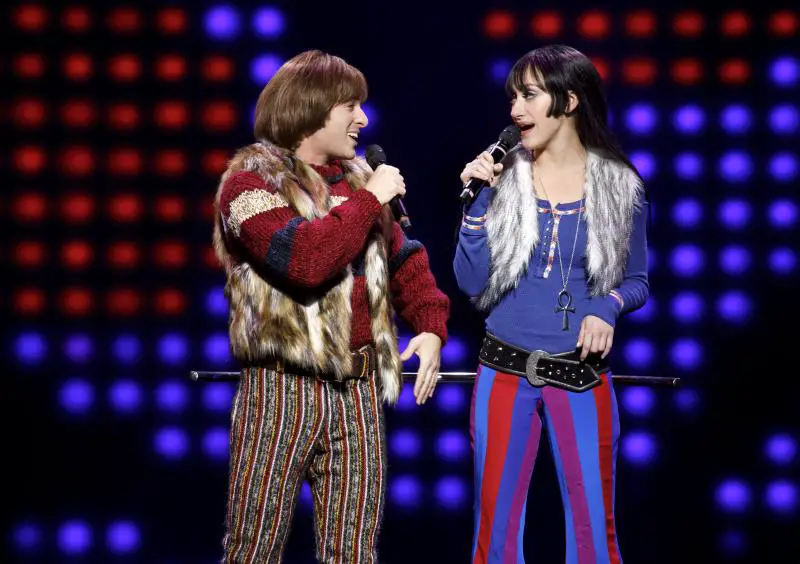 And the beat goes on: Jarrod Spector (Sonny) finds harmony with Micaela Diamond ("Babe"-era Cher). All photos by Joan Marcus.
The powerhouse that is Cher looms so much larger than life that it was determined it would take three actresses to embody the various aspects of her life, from "Babe," the shy, teenaged Cher (Micaela Diamond in her first Broadway role); to"Lady," the sassy, on-the-move Cher of Sonny & Cher and post-Sonny Cher (Teal Wicks); to "Star," the mature Cher who continues to reinvent herself regardless of obstacles, played by Stephanie J. Block in a tour de force performance that earned Block this year's Best Actress in a Musical Tony Award.


With this story of strength and empowerment, and the ever-present support of strong females like Cher's mother Georgia Holt (Tony nominee Emily Skinner, who also pops up as a spitfire muse in Lucille Ball), it's easy to forget that without the motivation of first husband Sonny, Cher might have become someone very different.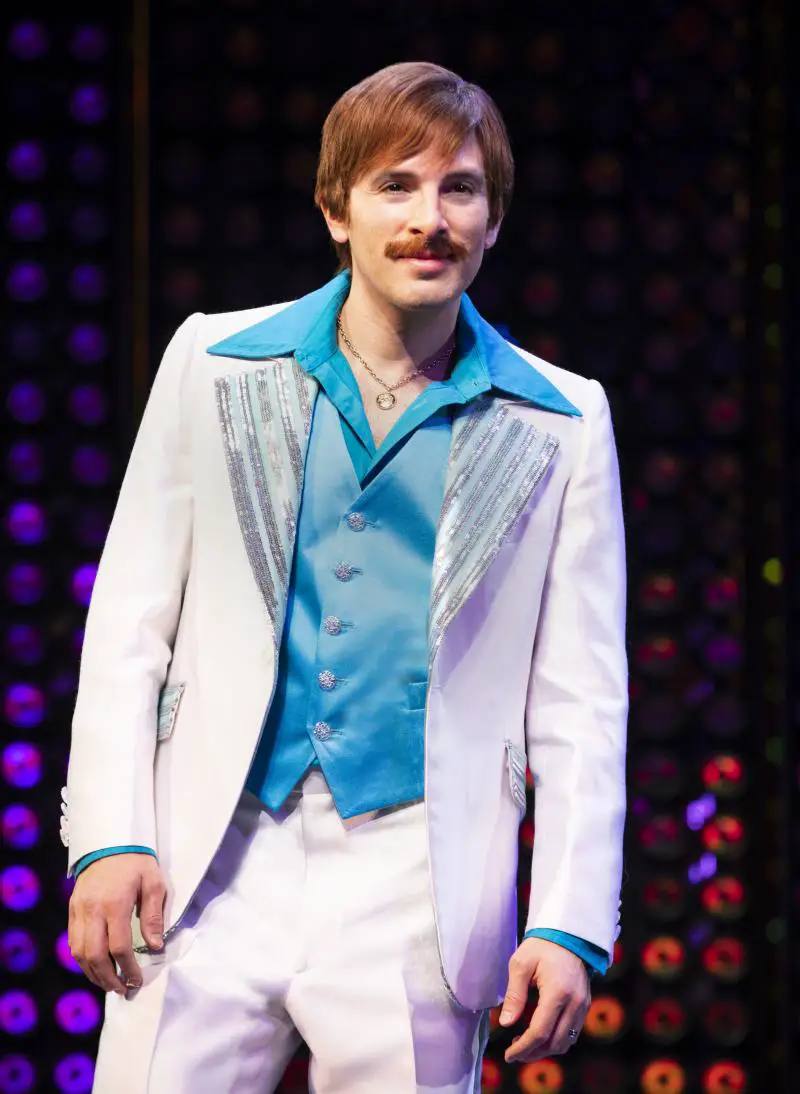 "Sonny is the complicated partner that launches Cher on her upward and sometimes downward track," says Jarrod Spector, who plays Sonny—Cher's husband, manager, and comedic foil—as she overcomes her early insecurities and transforms into a superstar.
"Sonny is an important part of this loving couple, but it's ultimately his manipulation that propels Cher into independence," continues Spector. "Sonny & Cher's first hit, 'I Got You Babe' says it all: it's tender and loving and it's all about the relationship they have even as it changes throughout Cher's career. The song is the moment in the show when the entire audience gasps with nostalgia and connection."
It was almost a given for Spector to play Sonny in The Cher Show. His cabaret act with songstress-actress wife Kelli Brant, This Is Dedicated: Music's Greatest Marriage, celebrates couples in music, including Sonny & Cher. "To prepare, I listened to just about every one of their songs and watched every Sonny & Cher Comedy Hour episode," he recalls. "I have a knack for mimicry. I've been playing Sonny for quite a while."
Mastering Bono's distinctive mannerisms, inflections, and vocal nuances has paid off nicely for Jarrod, particularly when Cher told him that Sonny would have loved his performance. It's a crowning compliment for the Philadelphia-born actor, who made his acting debut at age nine playing Gavroche in Les Miserables, which included some stage time on Broadway. (Although by the time he headed to college his priorities had changed.)
"I had sworn off professional acting when I went to Princeton to study economics, finance and Chinese," he says. "But I knew I wasn't having fun except when I was doing musical comedy with the Triangle Club."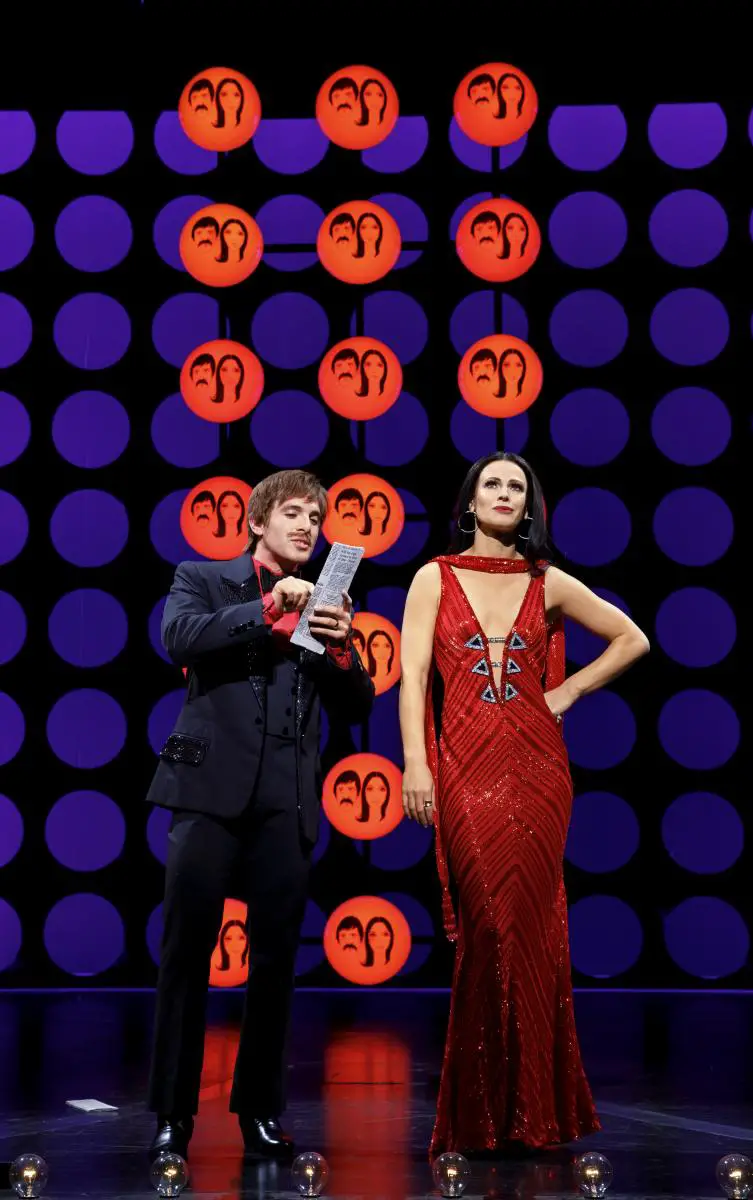 Jarrod Spector as Sonny Bono and Teal Wicks as Lady-era Cher.
Spector, who would pick up a Tony nomination originating the role of Barry Mann in Beautiful, returned to the professional stage performing in Hamlet and Jersey Boys. The latter led him back to Broadway where he assumed the role of Frankie Valli, embracing the singer's high falsetto—early training for what he calls the "singular, bizarre voice" of Sonny Bono.
In many respects, The Cher Show is to Broadway what Cher's musical residency is to Las Vegas. Her celebrated songs "Believe," "If I Could Turn Back Time," and "Strong Enough" showcase the ability to transcend time through music…and to serve as an inspiration through it all.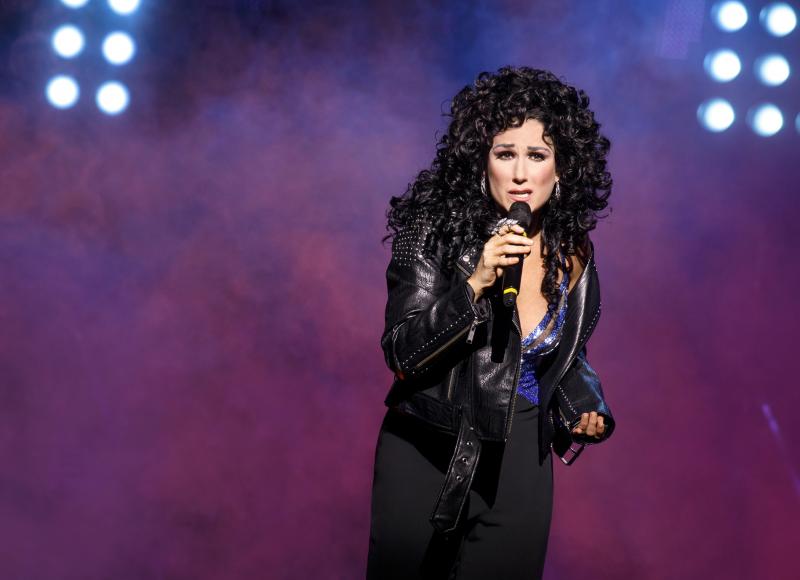 Stephanie J. Block as Star-era Cher.
As Star proclaims near the end of the show:
Point is, being a goddess warrior isn't not being scared. It's being...scared and facing it anyway. And the strength to do it, to run your own show? That's gotta come from you. God knows, if a girl who's always been shy and afraid of people can do it, you can do it, too.
---
The Cher Show is playing at the Neil Simon Theatre (250 W. 52nd St.) through August 18th only. For reservations call 877-250-2929 or visit TheCherShowBroadway.com.