Brooklyn operates on a lower gear than Manhattan, but it's still New York. It's fast, it's loud, and it can certainly be expensive. If you're planning a trip to Brooklyn and sticking to a budget, we have some tips to get your itinerary in working order. Whether you're staying deep in the borough or touching down in Brooklyn Heights for a day, there are a multitude of free and cheap activities for you to enjoy if you know where to look.
Visiting Brooklyn on a Budget: Stay in an Undersung Neighborhood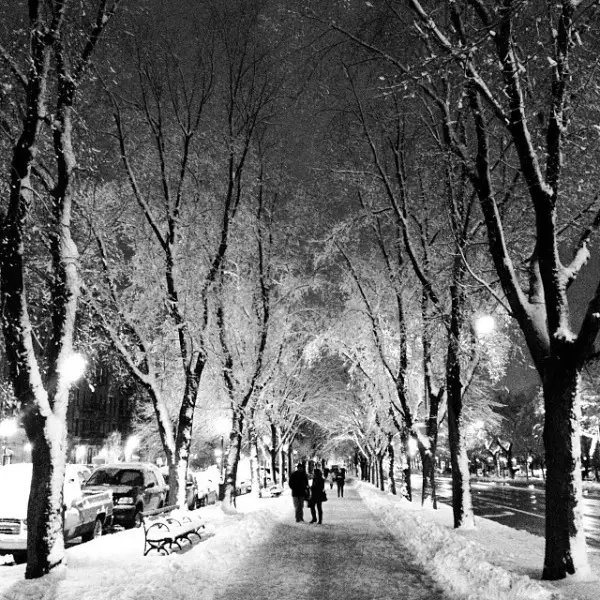 You can find the romance of Brooklyn even in less well known neighborhoods like Crown Heights. Image: Michael Tapp/Flickr.
Although it's typically cheaper to stay in Brooklyn than Manhattan, not all Brooklyn locales are created equal. A stay in the hip area of Williamsburg may cost just as much as you'd pay for a night at a downtown Manhattan hotel. Expand your search to a neighborhood like Prospect Heights near Prospect Park or an area like Greenpoint, just north of Williamsburg. Crown Heights or Prospect Lefferts Gardens might also yield promising results. Not only will lodging be more affordable, but food and other expenses in these areas will probably be cheaper as well. If you're striking out on hotels, don't forget to look for hostels and homestay options.
Visiting Brooklyn NYC on a Budget: Take a Dive
Some of the best dive bars can be found in Brooklyn. Try out High Dive in Park Slope, which runs a tad pricey for craft beers but has great deals during happy hour ($3 drafts). They also serve free popcorn 24/7. Among Bed-Stuy's many great drinking establishments is Tip Top Bar & Grill, providing funky Christmas lights, an Obama montage behind the bar, and soul on the jukebox. Drink a DareDevil at Bushwick's Gotham City Lounge, a comic book fanboy's dive bar for the aspiring Wonder Woman in you. High Dive: 243 5th Ave., 718-788-0401; Tip Top Bar & Grill: 432 Franklin Ave., 718-857-9744; 1293 Myrtle Ave., 718-387-4182
Visiting Brooklyn NYC on a Budget: Take a Ferry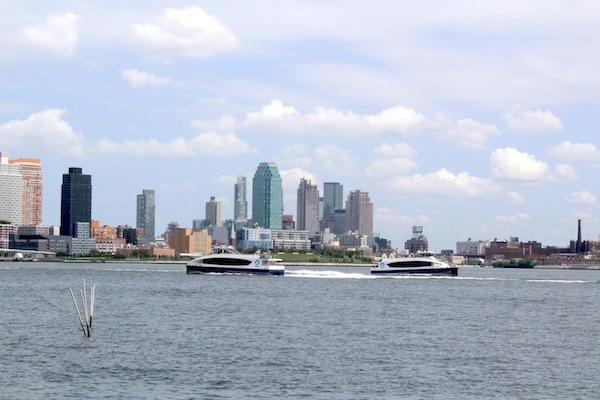 Take a note from Brooklynite Walt Whitman, and have your own "Crossing Brooklyn Ferry" moment. New York Water Taxi offers regular ferry service to Brooklyn, leaving from three piers in Manhattan (42nd Street in midtown and Battery Park and the South Street Seaport downtown) and connecting to Dumbo on the Brooklyn waterfront. As a bonus, the ride from midtown features up-close views of the Statue of Liberty! If you're looking for more great views—and a little shopping thrown in— New York Water Taxi also runs a daily shuttle from Wall Street's Pier 11 in Manhattan to IKEA Brooklyn in the Red Hook neighborhood.
The NYC Ferry costs the same as subway or bus fare at $2.75 for a one-way ticket, and it's a great way to catch a glimpse at the Statue of Liberty, Brooklyn Bridge, and New York skyline from the water. The NYC Ferry to South Brooklyn can take you to from Wall Street to DUMBO, Red Hook, Sunset Park, and Bay Ridge. The East River route docks at Greenpoint, North Williamsburg, South Williamsburg, and DUMBO. Both route take passengers to Governors Island on weekends!
Visiting Brooklyn NYC on a Budget: Rent a CitiBike
See Brooklyn like a local, and bike it! Citi Bike has a multitude of docks throughout Brooklyn, and 24 hours of rides costs just $12. You can bike from Park Slope to Coney Island, or Bushwick to Greenpoint, or take the big loop around Prospect Park. To get to Manhattan, just bike the Brooklyn Bridge. Biking is environmentally friendly and healthy for your body. Grab a blue bike, and enjoy!
Visiting Brooklyn NYC on a Budget: Visit Parks
Visit a park for free while you're in the borough. There's the massive Prospect Park—which hosts free yoga, concerts, and row boat rides in summer—as well as Sunset Park, Domino Park, and Marine Park, the salt marshes brimming with birds and butterflies. Brooklyn Bridge Park on the waterfront of the East River is a convenient choice as well, as its DUMBO location is close to Manhattan. Not only can you walk the Brooklyn Bridge (a fantastic free activity in its own right), but the green lawns on the Brooklyn side provide a great resting place near the skyline. Green-Wood Cemetery is both a park and home to the dearly departed, complete with antique grave markers and famous residents from New York history. Here's our list of great Brooklyn backyards.
Visiting Brooklyn NYC on a Budget: Target First Saturdays at Brooklyn Museum
The first Saturday of every month, Brooklyn Museum gives free admission from 5 to 11pm as part of Target Free Saturdays, a twenty-year tradition at the museum. You can tour the Brooklyn Museum's wide expanse of art objects, which range from ancient Egyptian artifacts to 20th-century feminist sculptures like Judy Chicago's Dinner Party. First Saturdays also offers live music, dance performances, talks, and other free live entertainment. 200 Eastern Pkwy., 718-638-5000, brooklynmuseum.org
Visiting Brooklyn NYC on a Budget: Ride a Carousel
Jane's Carousel. Photo: Julienne Schaer.
Brooklyn is home to at least two great carousels, both with cheap admission. One you can spot from the Q train on the Manhattan Bridge: Jane's Carousel in DUMBO. Located on the shore of the East River in this popular waterfront neighborhood, Jane's Carousel was built in 1922. Take a ride in this lovely carousel in its jewel-box enclosure, open throughout the year. Prospect Park also has a carousel, a 1912 model with horses, a giraffe, and dragon-pulled chariots. It's located in the Children's Corner of Prospect Park adjacent to Prospect Lefferts Gardens and is open year-round. Jane's Carousel: Old Dock St., 718-222-2502, janescarousel.com; Prospect Park Carousel: near Willink entrance to the park, 718-965-8951, prospectpark.org
Visiting Brooklyn NYC on a Budget: See Cherry Blossoms for Free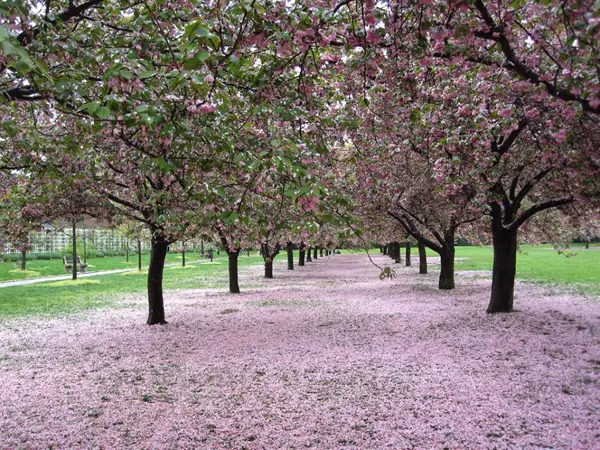 Brooklyn Botanic Garden next door to Brooklyn Museum boasts a world-class Cherry Blossom Esplanade. Come in March to see these pink trees in all their glory, which you can enjoy for free on Fridays before noon. If you'd like to see the gardens in winter, admission is free on weekdays from December to February. 445 Flatbush Ave., 718-623-7200, bbg.org
Visiting Brooklyn NYC on a Budget: Explore Under-the-Radar Museums
Step inside a vintage token booth at New York Transit Museum.
If you're looking for culture, Brooklyn's got it. Go to the New York Transit Museum in Brooklyn Heights, operated out of a decommissioned subway station. A $10 ticket gives you access to new exhibitions, plus 100+ years' worth of buses, subways, and turnstiles from the most famous public transit system in the world. Free exhibition spaces, coffee, and more can be found at the Brooklyn Navy Yard's BLDG 92. This state-of-the-art facility features three floors of exhibitions about the historic waterfront space it calls home. The longest-standing structure in the city, The Wyckoff House was built in 1652, when Brooklyn was still called Breuckelen. The house runs as a museum, offering tours for just $5 from its location in Canarsie. NY Transit Museum: 99 Schermerhorn St., 718-694-1600, nytransitmuseum.org; BLDG 92: 63 Flushing Ave., 718-907-5932, brooklynnavyyard.org/visit/bldg-92; Wyckoff House Museum: 5816 Clarendon Rd., 718-629-5400, wyckoffmuseum.org
Visiting Brooklyn NYC on a Budget: Shop Vintage
Beacon's Closet. Photo: Rigel Hellas Photographer.
On your list of Brooklyn-y things to do, shopping vintage and second-hand clothing should be close to the top. Not all stores are wallet-friendly, but you can find some great deals on Coach bags from the 90's and Alexander Wang tees from the present if you look hard enough. If you're looking to save money, you can find great stuff for days at the flagship Beacon's Closet in Bushwick (there's a solid location in Park Slope too). Antoinette and About Glamour both carry items at a decent price point in Williamsburg. In Bed-Stuy, The Meat Market sells vintage clothing from an old butcher shop, while spot-on street style lives at Installation Brooklyn. There are many, many more options throughout the borough, perfect for a fashion treasure hunt. Beacon's Closet: 23 Bogart St., 718-417-5683, beaconscloset.com; About Glamour: 310 Grand St., 718-599-3044, aboutglamour.net; Antoinette: 119 Grand St., 718-387-8664, antoinettebrooklyn.com; The Meat Market: 380 Tompkins Ave., ilovemeatmarket.com; Installation Brooklyn: 437 Nostrand Ave., 917-330-2199, installationbk.com