It's a city getaway without leaving the city! Governors Island, a short ferry ride from Brooklyn or downtown Manhattan, is New York's summer playground. A former strategic battle site in the Revolutionary War, the island now hosts visitors during the warm months for outdoor activities like biking, kayaking, picnics, and much more. This summer, mainstay activities like the Jazz Age Lawn Party have returned, along with new offerings like the Island Oyster restaurant and a future-focused architecture exhibition. Find below some ways to spend your weekend on NYC's Governors Island!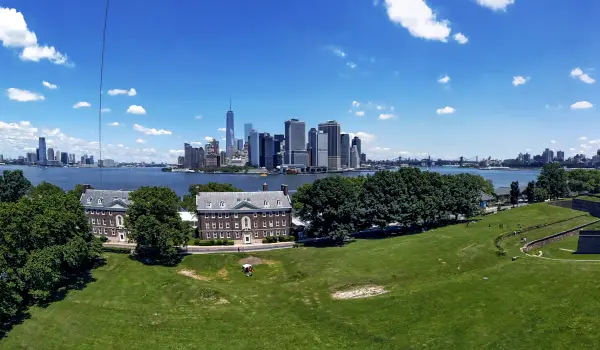 Image: Nestor Rivera Jr/Flickr
Kayaking
Get a free kayak lesson and a ride through New York Harbor this summer on the island! The Downtown Boathouse offers instruction, safety equipment, and kayak time for Governors Island visitors every Saturday, 11am-4pm. Season ends September 14. downtownboathouse.org
Biking
Rent a bike, or bring your own, and enjoy Governors Island's seven miles of bike track. Local bike rental company Blazing Saddles is located on the island and offers a wide range of bicycles, pedal cars, and scooter rentals for the whole family. Citi Bike also has three docks full of blue bikes on the island near Soissons Landing, Yankee Pier, and Picnic Point.
Play:GroundNYC's The Yard
Timothy Schenck/Governors Island.
Every summer, play:groundNYC creates a huge, incredible play area for kids visiting Governors Island. This year, the 50,000-square-foot playground is called The Yard, a place for kids to build, explore, and use their imaginations. Set your child loose in The Yard, open weekends from 12pm to 4pm. Nolan Park, play-ground.nyc
New York Virtual Volcano Observatory
Located near The Yard, this is another offering for adventurous kids (and adults!). While there's no real volcano on Governors Island, you'll feel like there is when you experience the virtual-reality simulation of volcano exploration at New York Volcano Observatory. NYC scientists have helped design this exciting experience for kids, who can also touch volcanic rock from New Jersey and hear recorded volcano sounds from inside one of the houses at Nolan Park. Nolan Park 4A, nyvolcano.org
Yale School of Architecture: …And More
Governors Island has lived many lives; centuries ago, local Native Americans valued the area for its incredible oyster population. What could the island become in the future? This exhibition displays ideas for future developments on the island, created by students from the Yale School of Architecture. The drawings and models in the exhibition run the gamut from designs for memorials to public green space. The exhibition is open Saturdays and Sundays, 11am-5pm. govisland.com
Jazz Age Lawn Party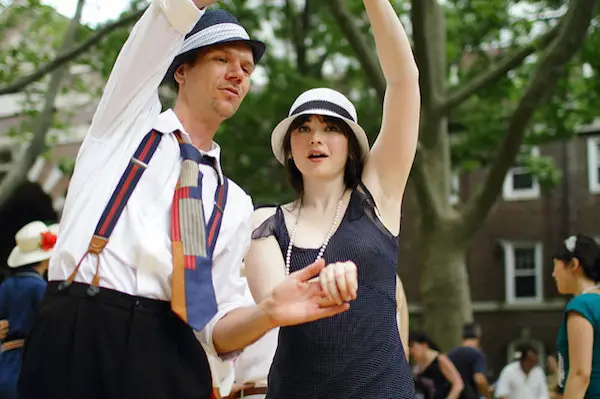 Put some swing in your step at the popular Jazz Age Lawn Party. Hear live jazz, and experience a taste of Prohibition-Era New York at this two-day event. Event founder Michael Arenella will conduct his Dreamland Orchestra, and you can even get a dance lesson to perfect your Charleston. There will be bars serving custom cocktails, a motorcar exhibition, magic show, and family-friendly features like carnival games at Kidland. Period-appropriate attire is encouraged. Tickets are going fast, so buy ASAP! Colonels Row, jazzagelawnparty.com
Outdoor Film Series
Jim Carrey and Kate Winslet star in Eternal Sunshine of the Spotless Mind.
Visit the parade ground for free film screenings on Governors Island. This monthly series will recur on July 12 and August 9. The July film is Martin Scorcese's After Hours, set in an otherworldly Soho. August 9, it's Michel Gondry's moving, mind-bending Eternal Sunshine of the Spotless Mind. DJs will start the party on both evenings at 6pm, and films will begin at sundown. Ferries will also run during and after the screenings.
New York City Poetry Festival
Get lyrical the last weekend in July with the annual New York City Poetry Festival. Organized by The Poetry Society of New York, this two-day event brings together a host of poetry-related organizations for a celebration of verse. There are plenty of readings on offer, including one by former poet laureate Robert Pinsky, and a Youth Poetry Festival for young Whitmans-in-the-making. The fest will happen July 27-28 on Colonels Row. newyorkcitypoetryfestival.com
10th Annual NYC Unicycle Festival
Hop on the one-wheel wonder that is the unicycle at the 10th Annual NYC Unicycle Festival. This event not only showcases experienced performers but also gives amateurs the chance to try unicycling as well. Organized by Bindlestiff Family Cirkus, the fest also hosts unicycle-based sports like basketball, hockey, and sumo wrestling (?!). The event will come to the Castle Williams' Parking Lot on Governors Island, August 31 and September 1. nycunifest.com
NADA House
See 34 rooms full of diverse artworks, courtesy of the New Art Dealers Alliance. The large NADA House exhibition showcases pieces from 45 contemporary artists that draw on the history of Governors Island itself. Three antique houses on Colonels Row will be open to the public from 11am to 5pm every Friday, Saturday, and Sunday until August 4. newartdealers.org
Food & Drink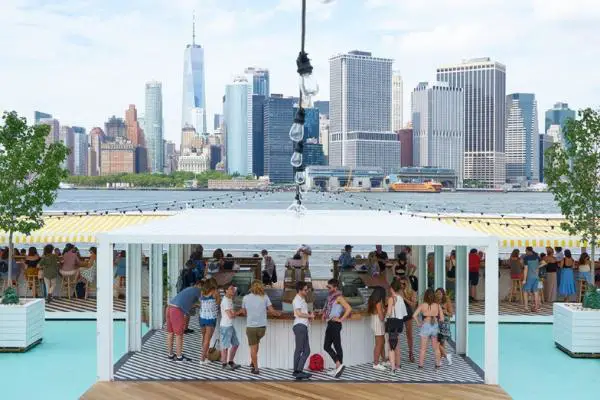 There's truly something for everyone on Governors Island, whether you're in the mood for oysters, tacos, craft beer, or vegan eats. Get nautical at the waterfront restaurant Island Oyster, serving shellfish, cocktails, and island-inspired plates like jerk chicken. Powerhouse Brooklyn brewer Threes Brewing has a beer garden on the island this summer, if you're looking for a great local IPA. Find a caffeine boost at Joe's Coffee, Mexican food and margs at Taco Vista, and more options at the link below.
---
For more information on summer activities, events, and more, visit govisland.com.