After the terrorist attacks on the World Trade Center, hundreds of canine helpers assisted with the emergency response and recovery efforts. The 9/11 Memorial & Museum in downtown Manhattan presents the stories of these dogs in its newest exhibition, K-9 Courage, currently on view in the South Tower Gallery.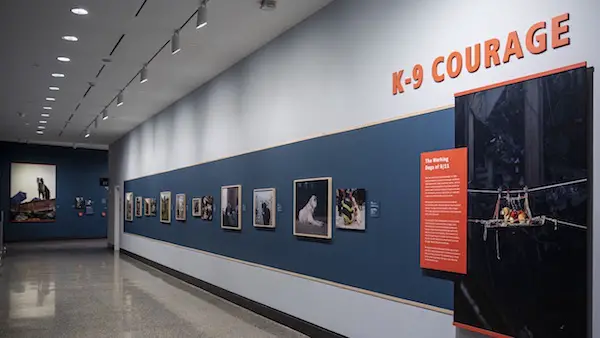 Amidst the destruction and chaos of 9/11, emergency teams used dogs' incredible sense of smell to find missing people. Specially trained dogs like Ohlin of FEMA, pictured in a Michael Rieger photograph featured in K-9 Courage, marched into the wreckage with their handlers to perform this critical duty. These dogs were also on hand to encourage those affected by the tragedy.
Dr. Cynthia Otto, the Executive Director of the University of Pennsylvania Penn Vet Working Dog Center, speaks on the exhibition audio guide about the tremendous value of dogs for emergency efforts. On the guide, Otto says, "On the 11th, we saw the value of the dogs. We saw that there was nothing as effective as the dogs for searching wide areas, for clearing spaces." She also describes the unique connection between humans and dogs and how well they work as a team. Dr. Otto's Penn Vet Working Dog Center colleague Pay Kaynaroglu is also featured on the audio tour.
Among the artifacts and photographs on view will be portraits of recovery dogs a decade after their heroic work in 2001. Photographer Charlotte Dumas found and took portraits of 15 dogs who served in the 9/11 emergency response, including a golden retriever named Bretagne and a weathered black dog named Merlyn.
Relevant to both K-9 Courage and the current 9/11 Museum exhibition Revealed: The Hunt for Bin Laden is an upcoming event on Tuesday, April 21. That evening, U.S. Navy SEAL Team Six member Will Chesney will speak about handling the military working dog Cairo during the fateful raid of Osama bin Laden's compound in May 2011. This event, which will show a live military dog in action, will draw on Chesney's book No Ordinary Dog: My Partner from the SEAL Teams to the Bin Laden Raid.
The 9/11 Memorial & Museum is located at 180 Greenwich Street. For tickets and more information, call 212-312-8800 or visit 911memorial.org.