With giant-sized Christmas trees, snowflakes, and menorahs lighting up the month of December all over the Big Apple, it's good to know that Broadway and Off-Broadway are keeping up Great Festive Expectations, from music to intimate interactive holiday gatherings to family-fabulous fun stuff.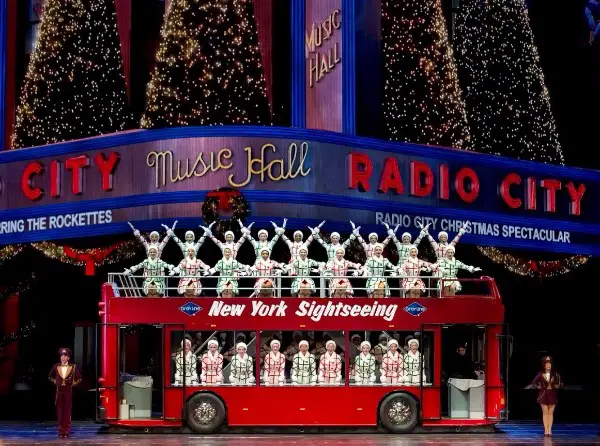 Hop aboard a holiday legend: the Christmas Spectacular Starring the Radio City Rockettes®.
Naturally, annual New York traditions bring their special glow to the season—I refer, of course, to the Christmas Spectacular Starring the Radio City Rockettes® (rockettes.com/christmas) and New York City Ballet's George Balanchine's The Nutcracker® (nycballet.com)—but there is another wide and whirling winter constellation of exciting and surprising shows to add to your seasonal wish list, beginning with the only official holiday show on Broadway: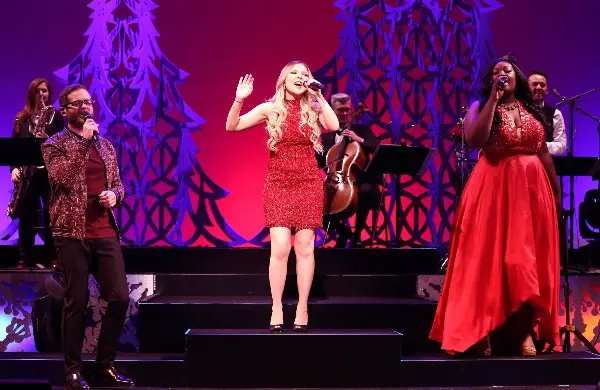 Pictured: Josh Kaufman, Bianca Ryan, and Candice Glover in Home for the Holidays. Photo credit: Carol Rosegg.
Home for the Holidays. Imagine three reality TV music show winners (Candice Glover, Josh Kaufman, and Bianca Ryan) filling the August Wilson Theatre with the songs of the season, alongside Oscar-nominee Danny Aiello and YouTube sensations Peter Hollens and Evynne Hollens, all hosted by The Bachelorette's Kaitlyn Bristowe. Act fast, however, since this show, like the holidays, ends too soon (holidaysonbroadway.com; thru 12/30)!
As for Off-Broadway, here's a selection for everyone: naughty and/or nice!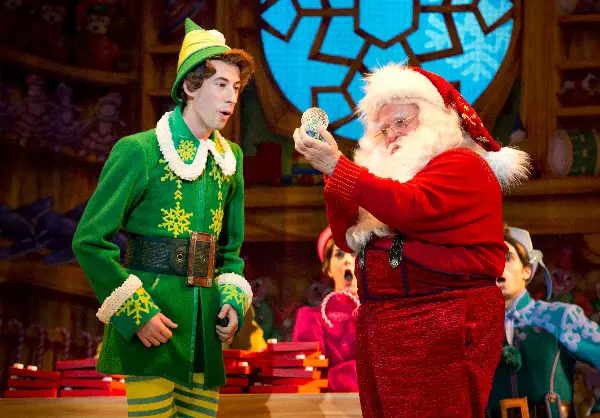 KID STUFF: ELF the Musical. From Will Ferrell film to The Theater at Madison Square Garden stage, this lovable tale of a real kid raised as an elf is a multi-generational pleaser, for sure (theateratmsg.com/elf; 12/13 to 12/29). Seven in One Blow, or the Brave Little Kid, now in its 16th year, follows the Kid across snow, encounters, and a loving surprise twist (axiscompany.org; 12/1 to 12/17); A Christmas Carol—The Musical brings the Dickens' classic to life, Scrooge, ghosts, Tiny Tim, and all! (scroogeinthevillage.com; thru 12/30)
ADULTS ONLY: Oy Vey in a Manger: The Kinsey Sicks. A delicously blasphemous musical involving a 2,000-year-old manger and Jewish-Gentile mayhem in outrageous drag and four-part harmony (sohoplayhouse.com; 12/7 to 12/24). Who's Holiday: in this irreverent parody, Lesli Margherita plays a middle-aged Cindy Lou Who reflecting on her Grinch-ian encounter and life thereafter (telecharge.com; thru 12/31). In The Imbible: Christmas Carol Cocktails, Scrooge time travels with acapella accompaniment to mix cocktails with Christmas Spirits (imbible.nyc; thru 12/30). And we can't leave out This Is Real: A Christmas Nightmare, i.e., Psycho Clan's ho-ho-horrifying interactive kidnapping in which Santa and Krampus are the evil perpetrators. Yuletide yikes (thisisreal.nyc; thru 12/23). 
EVERYONE: It's a Wonderful Life is a stage adaptation of Frank Capra's beloved holiday film about despondent George Bailey's Christmas journey to a future in which he'd never been born (irishrep.org; thru 12/31). Winter Rhythms 2017 is a 12-night celebration of 22 different shows and 100+ performers, including Chita Rivera and Jim Dale (urbanstages.org; 12/12 to 12/23). A Christmas Carol at the Merchant's House Museum: John Kevin Jones reprises his popular solo Charles Dickens performance inside a 19th-century New York home (summonersensemble.org; thru 12/31). THE RIDE: 6th Annual Holiday Edition: original seasonal music, videos, and hilarious hosts support dazzling holiday performances that audiences watch from their motor coach's floor-to-ceiling glass windows. A magical must-do (experiencetheride.com; thru 1/7)!
NOW & THEN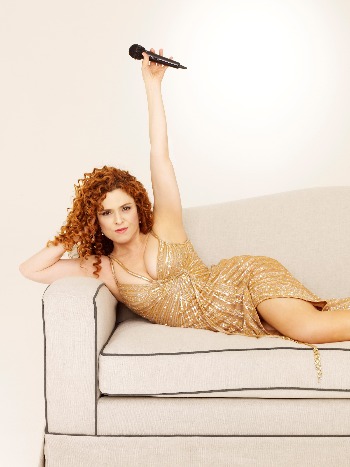 Image by Andrew Eccles
Hello, Dolly! Tony-winner Bette Midler may be departing the role of Dolly Gallagher Levi on January 14th, but don't expect tickets to this hit-and-a-half musical to be any easier to come by, since her replacement is the crème de la crème of Broadway superstars: two-time Tony recipient Bernadette Peters.
"I cannot imagine leaving Dolly Levi in better hands…" says Midler. "[Bernadette] has created more historic roles in more legendary musicals than any living Broadway star, and most of the dead ones, too." Peters begins performances January 20th, prior to a February 22nd opening night.

Once on This Island. Kicking off December in style (opening night being 12/3) is the first-ever Broadway revival of the Olivier-winning/Tony-nominated musical by the Tony-winning team of Lynn Ahrens and Stephen Flaherty (Ragtime, Anastasia). Unlike anything else on Broadway this season and a totally different production from the original, the show stars Tony winner Lea Salonga as one of the island gods.
---
GIFTS FOR THEATRE FANS FROM BROADWAY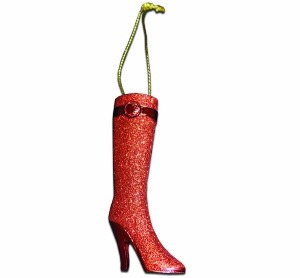 Manhattan is peppered with pop-up markets for Christmas/Hanukkah/Kwanzaa shoppers. But if your list includes those with a passion for Broadway, first-rate goodies can be found on show websites. For instance…
…Wicked's sartorial collection of Ozian fashion statements, like show-stopping dresses and leggings; Two Witch Gloves; and green wire-rim glasses.
wickedthemusicalstore.com
…School of Rock "sticks it to the man" with a couple of production-specific items: official show drumsticks and guitar picks. Nice.
schoolofrockthemusical.com
…finally, for fans of Kinky Boots, scoop up a pair of Red Kinky "Boots" socks or a glitz-a-liscious Boot Ornament (above).
kinkymerch.com