Holiday Markets NYC: what could be better than an evening stroll with snow drifting down, drinking hot cider, and snagging gifts to the sound of Christmas carols? Vendors have been congregating in European town squares at Christmastime since the Middle Ages, selling gifts and refreshments to merrymakers. It took about 1,000 years for outdoor holiday markets to reach America, but thankfully we finally caught on to this festive tradition. New Yorkers and visitors alike can now enjoy the scents and sounds and dazzling array of shopping at holiday markets around the city. Dates and hours vary, but from Thanksgiving through Christmas you're guaranteed to find holiday cheer throughout Manhattan (and beyond).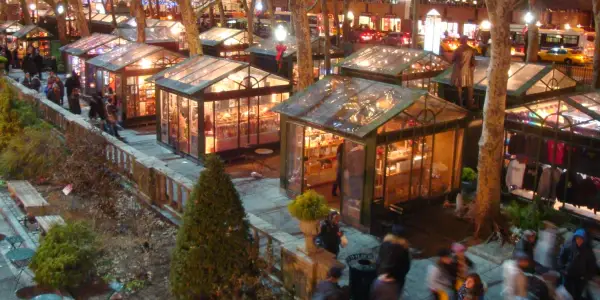 Holiday Markets NYC: Bryant Park
Bryant Park (behind the landmark New York Public Library) is appealing any time of year, and magical during the holiday season. The centerpiece of Bank of America Winter Village is a free skating rink open through Feb. 29, 2020. No need to try to get your own skates past a TSA checkpoint—rentals are available. Now through January 5, 2020, more than 125 vendors line the park, offering items ranging from practical (stocking caps) to whimsical (puppets) to luxurious (gourmet chocolate). Graze your way through the market, or try Celsius, a two-story ice cube of a restaurant overlooking the rink.
Holiday Markets NYC: Upper West Side
(11/24-12/22) Every Sunday on the Upper West Side you can find Grand Bazaar NYC, the city's largest curated market—and most distinctive. On Sundays from Nov. 24-Dec. 22, enjoy the Grand Holiday Bazaar, an incredible source for handmade holiday decoration and fashion, vintage watches and collectibles, art and photography, antique silverware, handmade jewelry and furniture, and spectacular artisanal foods. This year they'll  have a German stand selling authentic German sausages, hot glühwein (an alcohol-free version of mulled wine), and hot chocolate. Shopping form 150+ local independent artisans and dealers never felt this good as 100% of Grand Bazaar NYC's profits benefit over 4,000 local public school children.
Holiday Markets NYC: Times Square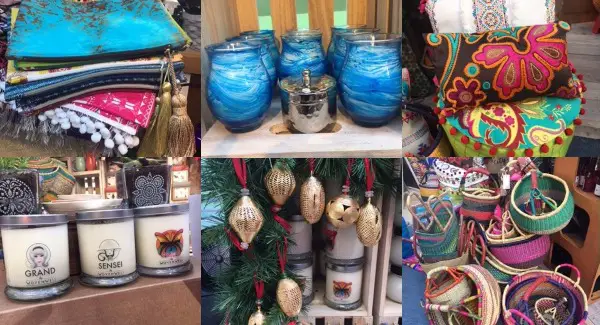 The seasonal Gifted TSQ MKT holds down a prime spot on Broadway along the 43rd/44th Street plaza in Times Square. A curated group of more than a dozen vendors, all of whom got their starts in NYC and bring the spirit of New York, are set up here 11am-9pm, seven days a week. Buzzy gift possibilities include Limegreen, all-natural multi-use skincare products, and legendary bookstore The Strand. 
Holiday Markets NYC: Columbus Circle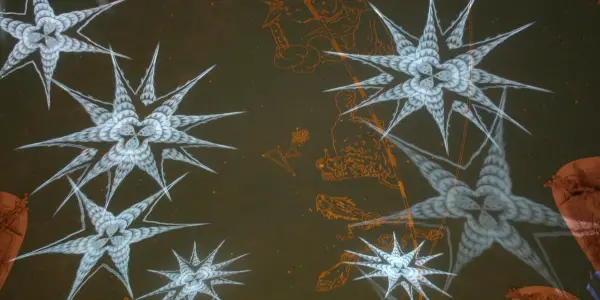 Nestled into a corner of Central Park, in the shadow of the glittering Time Warner Center, the Columbus Circle Holiday Market, now in its 15th year, may be the most festive New York holiday market of of all. Horse-drawn carriages clip clop past, and if you're still hungry after browsing the market's 100 vendors, you can indulge in a Michelin-starred dinner at nearby Jean Georges or Per Se.  Open Dec. 4-Dec. 24, Monday-Saturday, 10am-8pm, Sunday, 10am-7pm. 
Holiday Markets NYC: Turnstyle Holiday Market
Turnstyle is NYC's first and only retail and culinary market located in the NYC subway! It will showcase 18 of the city's best independent merchants for holiday retail, who will welcome holiday shoppers and sell alongside Turnstyle's 38 permanent tenants. The market is located under Columbus Circle in the subway corridor between 57th Street and Eighth Avenue.
Holiday Markets NYC: Grand Central
No need to brave the elements for holiday shopping. Visit the Grand Central Holiday Fair from Monday, November 18 through Christmas Eve and browse in warmth. The terminal's Vanderbilt Hall is home to 40 artisans that sell art and home goods; holiday-themed items; bath and body products; toys; and clothing and accessories for men, women, and children. Commuters take note: you can check off all the items on your list without missing your train (the terminal has plenty of great shopping even beyond the Holiday Fair.) The Holiday Fair is open Monday through Friday, 10am-8pm, until 7pm Saturdays, and 11am-6pm Sundays. Closed Thanksgiving and open 10am-6pm on Christmas Eve.
Holiday Markets NYC: Union Square

You can double dip so to speak at Union Square, where the city's largest farmer's market (Monday, Wednesday, Friday, and Saturday) meets the Union Square Holiday Market held November 21–December 24 (weekdays 11am-8pm, 10am opening on Saturdays, 11am-7pm Sundays; closed Thanksgiving). Look for past-year hit fragrant Persian soup, perfect for sipping while browsing the extensive selection of handmade items.
Holiday Markets NYC: Lower Manhattan
Deck the Stalls Holiday Market is coming to the Fulton Stall Market from 11am-5pm on Sunday, Dec. 8. This holiday market will be a multi-cultural event filled with the best produce New York's farmers have to offer. 
Holiday Markets NYC: Brooklyn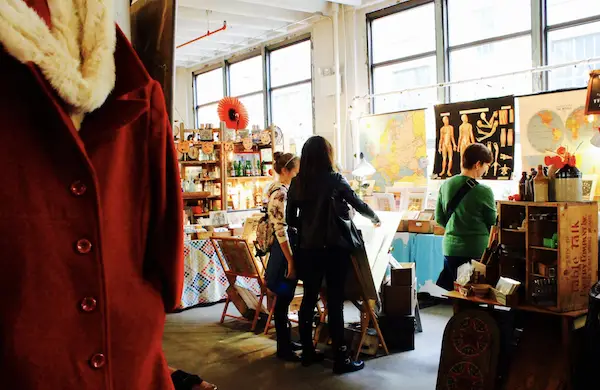 Another winning combination of shopping and sustenance is Brooklyn Flea's Winter Flea +Smorgasburg, held this year indoors every Saturday and Sunday (beginning Nov. 2-3) at 25 Kent Ave. in Williamsburg, Saturdays-Sundays, 10am-6pm. You'll find dozens of vintage/antique/other vendors, with holiday shopping running right up into Christmas. City Guide Insider Tip: Food trends are always emerging at Smorgasburg, and today's pop-up will blow up into tomorrow's successful restaurants. Get in on the ground floor!
Holiday Markets NYC: Brooklyn
Artists & Fleas Williamsburg Market features talented indie designers, vintage clothing and jewelry vendors from NYC showcasing their unique designs. The market offers a balance of items ranging from jewelry, handbags, clothing, art, tapestry, ceramic to boutique bath products. Adding to the mix will be a collection of unique artisan food and vegan vendors! Nestled in the heart of North Williamsburg and easily accessible by both train (L or G) and car (BQE), at 275 N 8th Street, (corner of Havemeyer St). Open every weekend from 10am-7pm.