JR is a consummate 21st-century artist. As a young man, he began taking pictures of his fellow street-artist friends and posting them around his native France. Later, his photography projects expanded in scope and deepened in tone without losing their populist flair. Now, this celebrated artist will receive the first major North American retrospective on his work, JR: Chronicles at the Brooklyn Museum. The exhibition, named after the artist's new mural of New York City, will debut October 4.
What makes JR such a distinct voice is the way he displays his photographs, often wheat-pasting large-scale versions of his portraits in public spaces as if they are advertisements. His work, displaying a zeal for justice and a great facility for connecting people around the world, makes art for everyone to enjoy, both as audience members and as participants. For his project Portrait of a Generation (2004-6), JR traveled to a housing project in Paris called Les Bosquets, the site of rioting at that time, to photograph residents there. He then pasted giant prints of these photographs on walls throughout Paris. In another notable project, JR photographed men and women on either side of the Israeli-Palestinian divide in Jerusalem and surrounding cities. He then pasted pairs of images beside each other in these communities: one subject would be Israeli, the other Palestinian, but both would share the same profession. The project, called Face 2 Face (2007), was the largest-scale illegal photography showing in Israel's history. Documentation of both Portrait of a Generation and Face 2 Face will appear in JR: Chronicles. 


JR's photography work takes him around the world and sees him collaborating with a wide range of artists and community leaders. After receiving the TED Prize in 2011, JR invited the world to take portraits and post them in public in a massive initiative called Inside Out: The People's Art Project. JR made a film about this project called Inside Out that premiered at the 2013 Tribeca Film Festival.
His 2017 film Faces Places, which JR co-created with legendary filmmaker Agnes Varda, received an Oscar nomination for Best Documentary Feature. The film depicts Varda and JR photographing and pasting images of subjects in rural France. Other notable projects are JR's exhibition on a public plaza at the 2016 Rio de Janeiro Olympics and a trompe l'oeil creation that obscured The Louvre's  famous glass pyramid from view. These and other projects from the past 15 years of JR's career will be depicted with film footage, dioramas, and photography throughout the exhibition.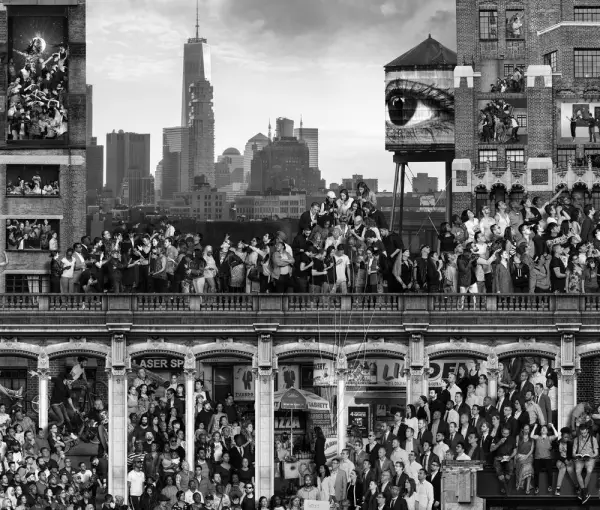 JR (French, born 1983). The Chronicles of New York City, 2018–19 (detail). Dimensions variable. © JR-ART.NET
For this exhibition, the artist's mural of New York City will debut in October. The Chronicles of New York City, which will appear in the Great Hall of Brooklyn Museum, is the result of scores of interviews and photography sessions with New Yorkers from summer 2018. JR and his team sat in locations throughout the five boroughs during that time and recruited passersby for the project. The resulting mural features more than 1,000 subjects. A similar creation, The Chronicles of San Francisco, appears on a large LED screen at the San Francisco Museum of Modern Art and debuted in May 2019. 
JR: Chronicles will open October 4 at Brooklyn Museum and run through May 3, 2020. It is curated by Sharon Matt Atkins, Director of Exhibitions and Strategic Initiatives, and Drew Sawyer, Phillip Leonian and Edith Rosenbaum Leonian Curator, Photography, at Brooklyn Museum. 
---
Brooklyn Museum is located at 200 Eastern Parkway. Call 718-501-6354 or visit brooklynmuseum.org for tickets and more. #jrbkm