The Morgan Library & Museum presents 117 original works by one of the world's most beloved authors, J.R.R Tolkien, in the exhibition Tolkien: Maker of Middle-earth, now open in New York City. The exhibit is in collaboration with the Bodleian Libraries, University of Oxford (where Tolkien studied English literature and later became a professor). It's the first time this exhibit is being shown in the United States—and it's also the largest of its kind.
J.R.R. Tolkien, then 19. Photo: Tolkien Trust
If you haven't read The Hobbit, or the Lord of the Rings trilogy, or have only seen the films, the exhibition will most likely inspire you to go back to the text. Learning about John Ronald Reuel Tolkien's (1892-1973) formative years, you soon understand why he created the Middle-earth world, filled with such rich, universally loved characters, and with fully developed languages (multiple Elvish languages alone!). "I do not remember a time when I was not building it," Tolkien once said.


Born in South Africa, Tolkien's mother Mabel thought he resembled a fairy/elf as an infant, and instilled in him a love for writing. When he was four, he joined his mother and siblings to visit family in England. His father, hoping to join them soon after, tragically passed away. Eight years later, his mother also passed away from diabetes, then incurable. Growing up, the young Tolkien was taken with the beauty of the English countryside. He displayed a proficiency in languages and studied at Oxford; he was later called to serve during WWI. When he was 17, he fell in love with Edith Bratt, also an orphan. Both longed for family; they married and had four children. 
Enduring tragedy and serving in WWI, combined with a talent for making maps and a knack for Old and Middle English, created a unique combination of circumstance and craft. This is what gave Tolkien the ability to write epic literary works. Entertaining his children was his inspiration.
The exhibition, curated by John McQuillen, Associate Curator of the Printed Books and Bindings Department, is broken down into six sections: Elvish Origins, Home & Family, Sheer Invention, The Hobbit, The Lord of The Rings, and The Silmarillion, the latter three Tolkien's main literary works. "It's as if we are looking over his shoulder while he composes and illustrates his vision of Middle-earth," explains McQuillen.
The original dust jacket artwork for The Hobbit, with Tolkien's notes. It was story he'd told his children and written down. Friends encouraged Tolkien to get it published. Photograph: Bodleian Libraries, © The Tolkien Estate Limited, 1937
The show is indeed a feast for the eyes, mind, and heart: family photos, teenage doodles on newspapers, meticulously handwritten letters, and artwork he'd made for his children, as Father Christmas; illustrations from The Hobbit; the original LOTR map, created from an accumulation of sheets taped together; a handwritten timeline of events for the LOTR trilogy, and dozens of illustrations, deftly using pencil, ink, and watercolor.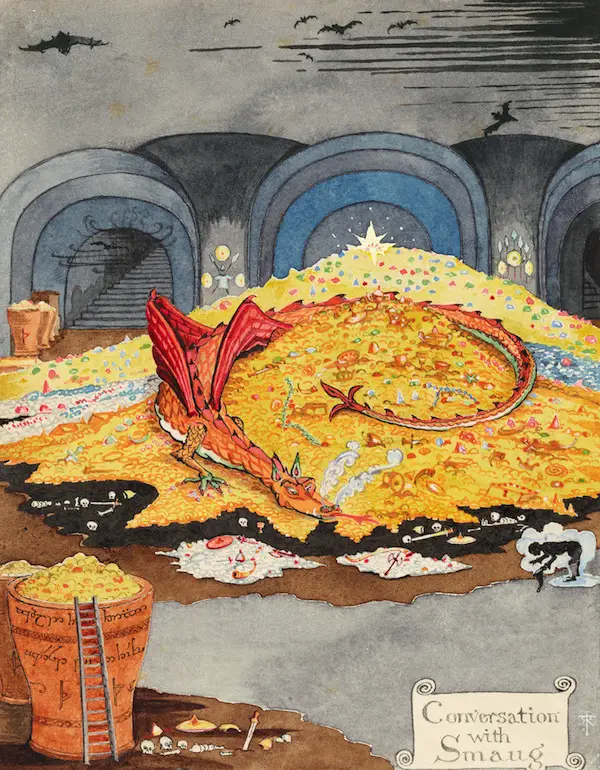 Conversation with Smaug, a Tolkien illustration from The Hobbit. Photograph: Bodleian Libraries, © The Tolkien Estate Limited, 1937
Lord of the Rings, written as a sequel to The Hobbit, was a kind of surprise to both Tolkien and the publishers. It was created by making the map first, and illustrations informed the text. Said friend, author C.S. Lewis, "it's like lightning from a clear sky." 
Twelve years in the making:Tolkien's map of Middle-earth, for the Lord of the Rings trilogy.  Photograph: Bodleian Libraries,  1937-1949. ©The Tolkien Trust, 1992, 2015
In addition to the exhibit, there will be a series of complementary events at The Morgan. On Jan. 31, it's "Tolkien and the Visual Image," where scholars Wayne G. Hammond, Chapin Librarian at Williams College, and Christina Scull, former Librarian of Sir John Soane's Museum in London, will examine how Tolkien's writings and art influenced each other, at 6:30pm ($15). There will be a Gallery Talk on the exhibit on Feb. 1, at 6pm, again on April 12, at 1pm. There will be "A Long Expected Party" on April 4, with drinks and live music with after museum hours access to the exhibit. On April 26, there will be a "Fantasy Watercolor Landscapes Workshop," where NYC surrealist artist Max Greis will guide participants in using watercolor techniques and materials. There is even a two-part map-making workshop, "Living Landscapes, Map Your Own Fantasy World," for children ages 8-14; Feb. 9, "Ink Into Existence," and April 13, "Watercolor Your World." 
Tolkien: Maker of Middle-earth, runs at the Morgan Library and Museum from Jan. 25 through May 12. For more information, visit themorgan.org.