A morning visit to one of New York's wonderful museums demands a refueling lunch break. Some museums have simple cafes, but several have great restaurants that are worthy destinations in themselves. (Note: all can be visited without museum admission and most are located enticingly near the gift shop.) Our picks include city legends like the Museum of Arts and Design, the Cooper Hewitt, Smithsonian Design Museum, The Jewish Museum, and the Morgan Library & Museum.
Museum Dining: Robert at the Museum of Arts and Design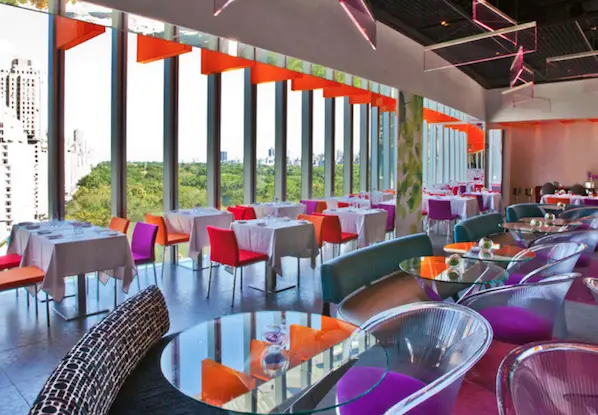 Robert, an aerie topping the Museum of Arts and Design, has a drop-dead view of Central Park and Central Park West. The restaurant is sleek and sexy with a mobile-like chandelier, video art on a plasma screen, and stylish, comfy Vladimir Kagan seating. There is a complete bar with jazzy cocktails and a large wine list. Sparkling water arrives graced with both lemon and lime slices. Food is beautifully plated, be it mussels with chorizo ($18); a salad of thin-sliced yellow and red Chioggia beets, radishes, and "crispy roots;" or salmon tartare with red caviar. Mains include many pastas in the mid-$20 range; luscious scallops bedded on sweet potato puree ($27) or sandwiches including a chicken/avocado/spinach wrap ($19) or a burger—ranging from Kobe beef ($25) to salmon. Excellent desserts run about $14.
This "new" American restaurant is stylishly casual, quiet enough for comfortable conversing, and boasts a highly professional staff down to the black-clad, blue-tied busboys. Even the large loo is chic. Lunch is 11:30am–2:30pm weekdays; weekend brunch from 10:30 am–2:30pm. Robert is a splendid dining spot on its own, as polished as the art below. 2 Columbus Circle, madmuseum.org
Museum Dining: Morgan Restaurant at Morgan Library & Museum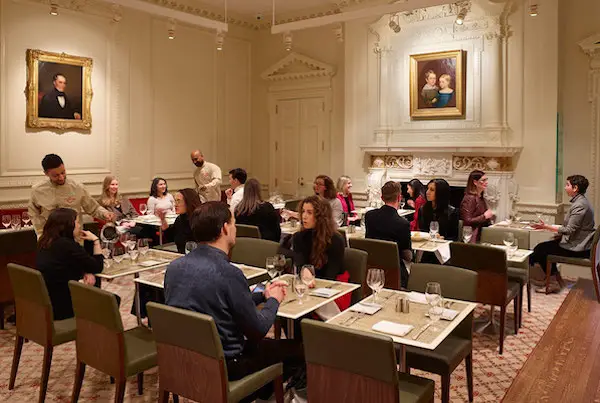 Madison Avenue in Manhattan in the east 30s is something of a restaurant wasteland so cozy, sophisticated Morgan Restaurant in the Morgan Library & Museum hits a needed midday note. Eat there pretending you were a robber baron, as the restaurant is in the revamped Morgan family dining room. The pear salad appetizer sits on a bed of greens ($13); a 50/50 mushroom/beef burger boasts a roasted tomato ($19); entrée salads include one with roasted Bell & Evans chicken and spiced acorn squash ($19.50.) The flourless chocolate cake with vanilla ice cream, cherries, and a pistachio tuile ($10) is a stand-out.


The restaurant is informal, but a place elegant enough for a menu featuring a "symbol in Dante typeface that speaks to the Morgan's duel mission of library and museum" is probably not for the younger set. Although the room is fairly small, a carpeted floor and generous table spacing keeps noise under control.
Beverages include imaginative cocktails like pomegranate gin fizz ($14) as well as upscale soft drinks, i.e. pear tonic soda or blackcurrant lemonade ($8); there are many beers, wines by glass, quartino or bottle, single malt Scotches, and a full bar.
Closed Mondays, on weekdays lunch runs from noon to 2:30pm and begins at 11am on the weekends. The unisex bathrooms are in the museum hallway. 225 Madison Ave. at E. 36th Street, morganlibrary.org 
Museum Dining: The Norm at the Brooklyn Museum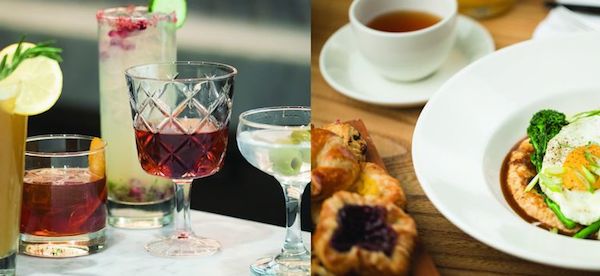 The Brooklyn Museum is enormous, demanding a lunch break. The Norm, with "food inspired by the cultural diversity of Brooklyn," has reimagined the menu during the Frida Kahlo exhibit, running through May 12, showcasing Mexican ingredients, flavors, and techniques.
A classic margarita ($14) from the full bar paves the way for guacamole and chips ($18). A vegetarian budin (tortilla) with grilled corn, nopales cactus, and Chihuahua cheese ($23) is a fine south-of-the-border nod, as are the Oaxacan–inspired enchiladas with the requisite rice and beans ($24) or non-Mexican French-toast atop berries. Desserts include excellent flan and a $12 tres leches cake. The restaurant and museum are as democratic as the borough housing them, so folks arrive in anything from jeans to onesies. The Norm features museum-like packing cases lining one wall, Frida-connected art in glass cases, and colorful pillows on banquettes.
Most days the place is crowded and noisy, not great for intimate conversation, but much quieter than the adjacent museum café. Service is helpful. Lunch starts at 11am weekdays; weekend brunch begins at 1:30pm and runs to 6pm. 200 Eastern Parkway, brooklynmuseum.org
Museum Café at Cooper Hewitt, Smithsonian Design Museum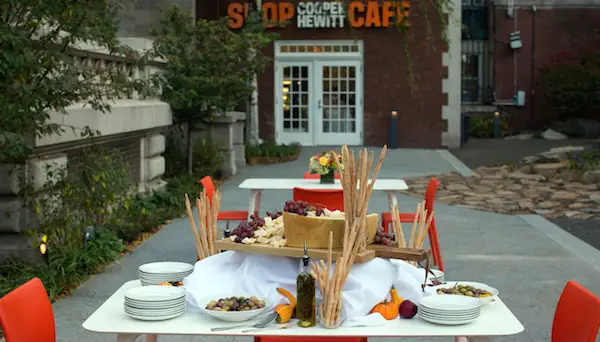 Housed in the Upper East Side's landmark Andrew Carnegie Mansion, the Cooper Hewitt, Smithsonian Design Museum is devoted entirely to historical and contemporary design, with many interactive opportunities. Have lunch in the cheery, ground-floor Museum Café ,operated by Italian restaurateur Tarallucci e Vino. In good weather take your meal outside to the beautiful garden to sit amidst sculpture, trees, and birdsong in a great area for active kids. The café is a DIY operation employing "greenware" so every glass, dish, and utensil is 100% sustainable/disposable. Pastries and desserts are made in-house; seasonal flowers adorn the pick-up counter.
Grab salads like the spring seasonal with baby spinach, goat cheese, walnuts, dried cranberries, and apricots ($12) or chicken with blue cheese on greens ($14); hot or cold sandwiches: a veggie version with mushrooms, spinach, peppers, and avocado dressing ($14); ham and cheese with truffle mayo ($14); or pizza by the slice. Kids can order special grilled cheese ($7). There are red, white, and rose wines averaging $12 per glass as well as beers, coffees, teas, sodas, and fresh lemonade, orange ,and grapefruit juices ($4.25), as well as packaged chips and sweets.
Locals drop in for lunch and it's a great place for families. The Café is open weekdays 8am–5PM; Saturdays, 10am–7pm, and Sundays from 10am-6pm. Unisex bathrooms are steps away. 9 E. 90th St., cooperhewitt.org
Museum Dining: Storico at the New-York Historical Society
 
The New York Historical Society is the city's oldest museum, with a vast collection of artifacts and documents–everything from George Washington's camp bed to Audubon's watercolors from Birds of America. When hunger calls, head to seasonally inspired Storico where locally sourced, Italian-inspired food comes in a setting lined with 19th-century china from the museum's collection. Tables are well-spaced, although hard surfaces yield a certain degree of noise; service is attentive and helpful. The bar is a great spot for a solo diner. Portions are generous. Weekday lunch runs 11:30am to 2:30pm; weekend brunch is 11am to 4 pm; closed Mondays.
Cauliflower and kale salad is liberally laced with ricotta salata, cashews, and dried cranberries ($19); sandwiches include a tuna panini with hardboiled egg on ciabatta ($17) and chicken/apple sausage with Brussels sprouts and celery root slaw ($18); lots of pastas are in the mid-$20 range. Indulge a sweet tooth with a warm, very chocolaty tarte with hazelnut gelato, or fancy donuts, both about $10. A kids' menu is available. Storico has a full bar with an extensive wine list, teas, coffees, and sodas. Individual, unisex bathrooms are just outside the restaurant. 170 Central Park West at 77th Street, nyhistory.org
Museum Dining: Russ & Daughters at The Jewish Museum
Russ & Daughters, an icon on the lower East Side for over a century, has a modern restaurant at The Jewish Museum, in the elegant Warburg mansion on Museum Mile. Tucked into the wheelchair-accessible basement, the hostess sign asks that you "Be a mensch and wait to be seated." Once you are, polite, (not grouchy) waiters offer classics, including all manner of smoked fish (with at least six kinds of salmon), herring, bagels, bialys, and sweets including babka and black-and-white cookies. Lighting is subdued and conversation flourishes as lunchers tuck into whitefish and baked salmon salad bagel toast ($15); soups including borscht with dill, sour cream, and pumpernickel bread ($11); or Eggs Benny on challah with Scottish smoked salmon ($23). The challah bread pudding with dried apricots and caramel sauce is outstanding, as is the honey cake with caramelized apple ice cream ($12).
R & D has white marble tables and vintage photos. You can begin lunch with a fancy cocktail ($15), wine by the glass or bottle, or go back in time with a real chocolate egg cream ($6.50) or a Dr. Brown's Cream Soda ($3). A group of four might opt for one of the groaning platters of smoked fish served with cream cheese, onion, tomato, capers, pickles, and the signature bread basket ($120). Visitors can converse comfortably and pick up fish, breads, and other goodies at the appetizing counter on the way out. The restaurant is kosher, gratuity-free, and open weekdays 9am-10pm; weekend hours are 8am–10 pm (Saturday brunch requires advance reservations). Fine with kids; restrooms for men and women are at the back. 92nd Street and Fifth Avenue, jewishmuseum.org
---
Want free advice on what to do and see in New York? Join our Facebook group Everything to Do NYC, a place for people to ask questions and get tips on how to make the most of the city.