Every week new shows arrive in Off- and Off-Off Broadway houses throughout New York. The difference? Off-Broadway theatres are home to 100 seats or more; Off-Off can be any number below this. Any number at all.
Here is a sampling of some Off- and Off-Off-Broadway in the current mix—just check out their websites to learn more and reserve tickets!
Ablaze (8/16 thru 8/24). Subtitled "An a cappella musical thriller" about teens, an abandoned high school, a fire and, ultimately, a fight for survival. prismhousetheatre.org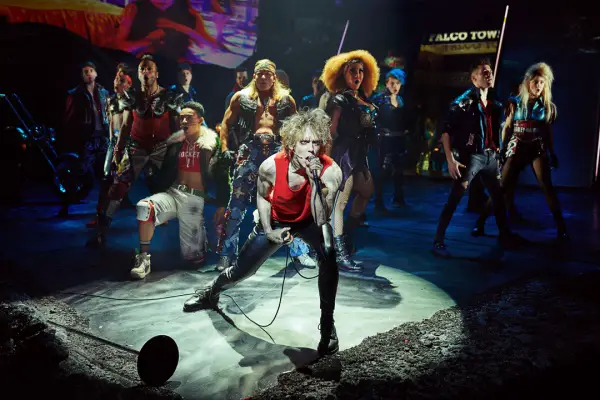 Andrew Polec as Strat and the cast of Bat Out Of Hell. Photo by Specular.
Bat Out of Hell: The Musical (Thru 9/8). Jim Steinman has spun his Meat Loaf rock anthems into a 21st-century high voltage musical! batoutofhellmusical.com
Contact High (Thru 9/7). A new musical tackling tough high school issues like gun violence, mental health, and the heroin epidemic. contacthighmusical.com


Douglas (Thru 9/14). The mastermind behind Netflix's Nanette, Hannah Gadsby's latest solo project serves up the unexpected about a very specific dog! ticketmaster.com
The Exes (Thru 10/5). Comedy chaos as relationships, snakiness, and a sharp-tongued butler take the stage. theexestheplay.com
Fiddler On the Roof in Yiddish (Open). Directed by Joel Grey, this new adaptation offers an authentic look into the world of Shalom Aleichem's characters. With English and Russian supertitles. fiddlernyc.com
Gazillion Bubble Show (Open). Family friendly and full of amazing effects—especially bubble-related, but with some awesome techno, too! gazillionbubbleshow.com
Humanity's Child: A Musical for Today (Thru 9/1). Real-life experiences of young women as they navigate the complexities of gender relations in the #MeToo era theplayerstheatre.com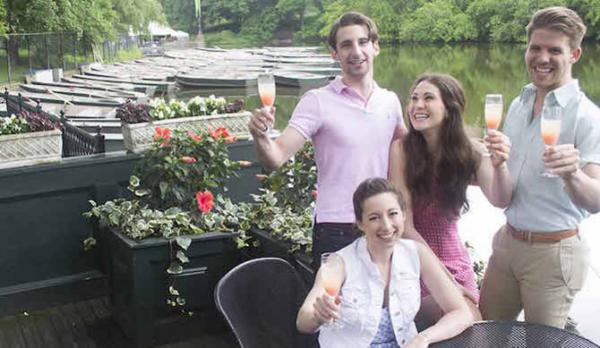 The Imbibe (Open). Two shows—A Spirited History of Drinking and Day Drinking: The Brunch Musical—each serving up three drinks and endless fun. imbible.nyc
Jersey Boys (Open). The Tony-winning story behind Frankie Valli & the Four Seasons is now a bona fide Off-Broadway hit! jerseyboysinfo.com/newyork
Love, Noel (Open). Cabaret legends Steve Ross and KT Sullivan enthrall audiences with Noel Coward's songs, letters, and friends. irishrep.org
Make Believe (Thru 9/15). Bess Wohl's look into the minds of four siblings 32 years after the inexplicable disappearance of their parents. 2st.com
Native Son (Thru 8/24). A drama taking on racism and class on the South Side of Chiccago in the 1930s. DukeOn42.org
The Office! A Musical Parody (Thru 1/19). Musical comedy based on the long-running TV series. theofficemusicalparody.com
Pip's Island: The Lighthouse Rescue (Open). An acclaimed interactive mystery for young audiences to solve, guided by live actors, video, puppets, and more! pipsisland.com
Rock of Ages (Thru 1/12). After 10 years, this Tony-nominated jukebox musical is back in New York bringing romance to the Sunset Strip during the 1980s. rockofagesmusical.com
Stomp (Open). Ingenious percussion created by an exuberant company of dancers armed with brooms, garbage cans, matchboxes, and other cool things. stomponline.com
That Chemistry Show (Open). Science class laced with showmanship…including (I swear), a genie in a bottle. sciencetheatercompay.com
Who Killed Edgar Allan Poe – The Cooping Theory 1969 (8/19 Thru 11/2). A modern-day Poe story meets a 1960s horror flick in this interactive work. knock3xs.com, Facebook