History is happening in Manhattan this summer at the New-York Historical Society. Following the incredible success of Hamilton on Broadway, the N-Y Historical Society is launching the Summer of Hamilton, a packed slate of programming devoted to our nation's first Secretary of the Treasury. With events, historical artifacts, film screenings, and more, you won't want to "throw away your shot" and miss out. Read on for some excellent ways to celebrate Alexander Hamilton's New York.
On display throughout the N-YHS museum will be treasured artifacts from Hamilton's life and career, including his writing desk, life-sized bronze statues of Hamilton and Burr at the moment of their infamous duel, and a monumental case clock given to Hamilton by the Bank of New York. Also on display are nine key documents from Hamilton's life, including a letter to his wife Eliza; the destructive Reynolds Pamphlet, in which he described his affair with Maria Reynolds; and his letter supporting Thomas Jefferson over Burr in the 1800 election. To give a better idea of how this history is now being interpreted on stage in Hamilton, video clips from the show will be interspersed throughout the exhibition.


Each Friday over the summer from 6 to 8pm, the N-Y Historical Society will offer 'Hamilton Fridays.' Museum admission during this time is pay-what-you-wish, and visitors will be able to enjoy special activities and events centered around Hamilton and the influences behind the musical. In addition to special conversations with historical personalities and storytellers on Hamilton's role in our nation's founding, the museum will screen movies of musicals that inspired Hamilton writer Lin-Manuel Miranda, including Jesus Christ Superstar and Evita.
Families also have plenty of opportunities to join in the Hamilton festivities. The historical society will celebrate July 4 with a full day of Hamilton. Independence Day visitors can take part in crafts workshops, hear from storytellers and reenactors, participate in a scavenger hunt, and even play some Revolutionary-era trivia with The Big Quiz Thing. Reenactors will also be stationed at the museum every weekend throughout July and August to help bring Hamilton's stories to life; children can enjoy a special interactive pavilion at the DiMenna Children's History Museum on Hamilton's Caribbean childhood. Middle school-aged children who want to learn even more can take part in the museum's Camp History summer camp, which will be devoted to the "$10 Founding Father."
On the eve of the 212th anniversary of the famous Hamilton-Burr duel, N-YHS will be hosting a reenactment. Actors will read the escalating letters that lead to the conflict, followed by a recreation of the duel and an exploration of the repercussions. Sunday, July 10th, at 1pm and 3pm.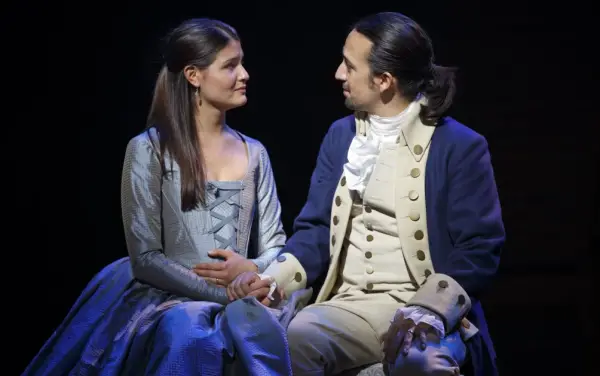 Image: Joan Marcus
The N-Y Historical Society won't be the only place to learn about in New York. Visitors to the Museum of the City of New York can see John Trumball's portrait of Alexander Hamilton at the museum's Picturing Prestige: New York Portraits exhibition (through September 18), which captures the city's early beginnings through the portraits of the day. The exhibition also gives Hamilton fans a second chance to see the Founding Father, as the museum offers free admission to anyone who unsuccessfully entered the musical's daily Ham4Ham ticket lottery (through October 11). On June 26, one of the musical's stars, Philippa Soo, will be on hand at the museum for Elizabeth Hamilton: A Living Legacy with Philippa Soo. The event will bring together Soo, Hamilton dance captain Morgan Marcell, and scholar Carol Berkin to discuss Eliza Hamilton's work and her lasting legacy, which includes founding New York City's first private orphanage.
New York of course also has many sites connected with Hamilton's life. Hamilton's office was down on Wall Street, but Hamilton Grange, the only home he ever owned, is uptown in Harlem. At the time Harlem was largely forested (the house has been moved twice, but is still on property Hamilton once owned).
Hamilton's final resting place is on Broadway in Lower Manhattan, at Trinity Church, where he and his family worshipped. Hamilton is buried in the bucolic churchyard, which is surreally located in the midst of Financial District bustle. You can visit Hamilton's grave daily from 8am to sunset.
In addition to the New-York Historical Society exhibition, the New York Public Library, Stephen A. Schwarzman Building will be playing host to Alexander Hamilton: Striver, Statesman, Scoundrel this summer (from June 24 through December 31). The library will present a selection of its holdings which illuminate the many facets of Hamilton's life.
The Summer of Hamilton begins over the July 4th weekend; visit the New-York Historical Society's website here.