Cold weather and snow storms in New York City make visitors shiver and turn the streets a little treacherous. November through March, temperatures can drop below freezing. Here are some benefits to traveling to NYC during the colder months, including lowered costs, special events (NYC Restaurant Week, Westminster Kennel Club Dog Show, a Hot Chocolate Festival), and tips on winter gear. Suit up, sled down a hill, and get ready to shop!
Visiting NYC in the Cold: It's cheaper*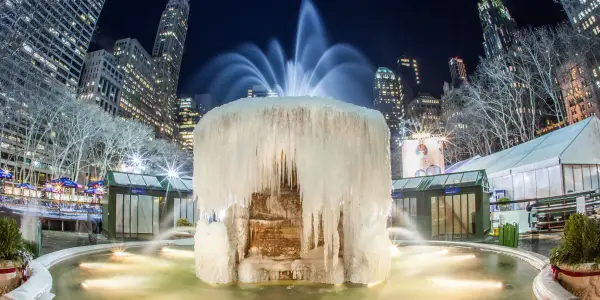 *In January and February, that is. Because of the cold weather, the post-New Year season in January and February offers the cheapest rates in hotels and other lodging, as well as less expensive flights. If you're looking to save money on a New York trip and avoid the crowds, consider a trip in the cold. You won't get a discount in November and December, though: holiday season is prime travel time, regardless of the weather.
Visiting NYC in the Cold: Fun events!

Churrascaria Fogo de Chao participated in last year's ever-popular NYC Restaurant Week.
Sure, tourism slows down after the new year, but New York events never, ever stop.
Winter NYC Restaurant Week occurs yearly in late January and early February at over 380 restaurants throughout the city. Discounted prix-fixe menus make fine-dining establishments more accessible for all during this exciting event.


Two-for-one Broadway tickets? Yes please! NYC Broadway Week drives shivering theater fans to their favorite shows with this unbeatable deal applying to a wide range of Broadway shows. It's typically available from mid-January to early February.
The Chinese New Year occurs in late January or early February, erupting in an exciting parade through Chinatown, fireworks, and many other events. It's a great reason to indulge in dim sum and to visit museums like the China Institute as well.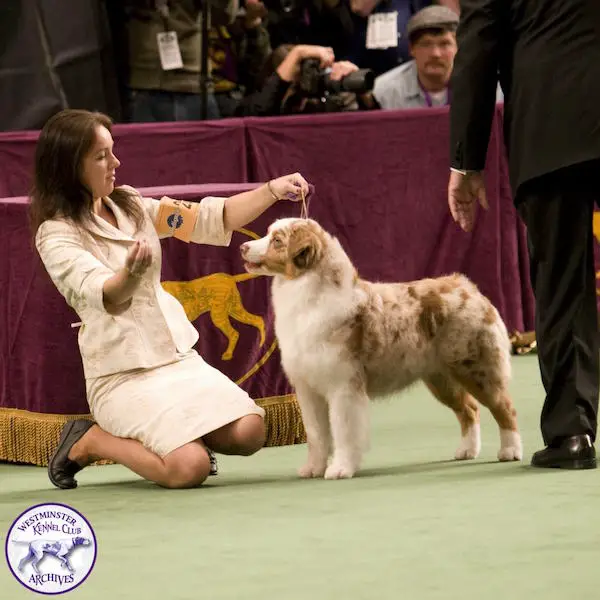 For some puppy love, attend The Westminster Kennel Club Dog Show at Madison Square Garden, which occurs around Valentine's Day every year! There are over 3,000 dogs competing for Best in Show in breed groups like Sporting, Hound, Toy, and Terrier.
Warming up is best accomplished with hot chocolate—that's just science. Each year, the City Bakery hosts a Hot Chocolate Festival with a new flavor of cocoa for each day of February.
Visiting NYC in the Cold: Plan activities close together
Needless to say, you probably don't want a lot of time outside if you're in the middle of a polar vortex. Study your map of Manhattan before you start the day, and plan an itinerary of events located within easy walking distance of each other (or build in extra money in the budget for cabs). If you're planning a day at the Met, for instance, check out a great restaurant nearby on the Upper East Side for lunch, or eat in one of the museum restaurants if you don't care to venture outside. We made this list for hot weather, but here's a list of destinations where you can eat and shop under one roof to help you avoid stepping into the elements.
Visiting NYC in the Cold: Go sledding & ice skating

Bryant Park Winter Village. Photo: Colin Miller
Whether you buy a sled for the season or use a makeshift piece of cardboard for surfing the snow, you have a lot of options for sledding spots in the city. Central Park's Pilgrim Hill gets a lot of traffic during snow days, while other parks like Riverside Park and Inwood Hill Park are slightly less hectic locales—though just as steep. Here's our list of where to go sledding in New York. Ice-skating is a much more popular activity, especially for visitors, at rinks from Central Park to Rockefeller Center to Bryant Park. Want a definitive list? Here's ice skating rinks in NYC!
Visiting NYC in the Cold: Look for sales
Whether you're shopping at Bloomingdales or Brookfield Place, you'll likely run into special sales while stores offload excess inventory after the holidays. This is a great time to stock up on winter gear, accessories, home goods, and gifts for upcoming holidays like Valentine's Day, Mother's Day, and Father's Day.
Visiting NYC in the Cold: Find cozy bars & cafes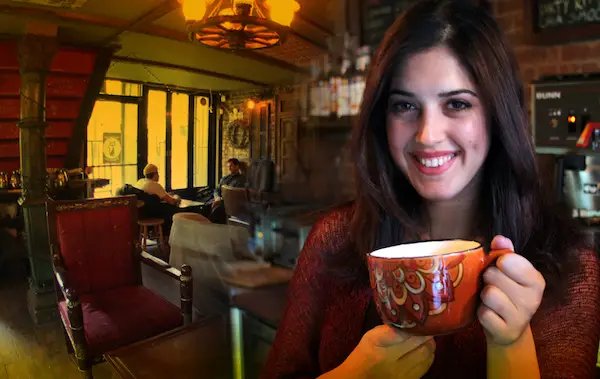 Black Cat LES
Local businesses want to make it through the winter just like you do. Luckily, many of them serve hot drinks to help us all enjoy sweater weather. Search City Guide for establishments where you can sit for awhile with a hot cocoa or coffee (here's a list of seasonal coffees to get you started). Bars like The Lodge at Gallow Green, Art Bar, and Brooklyn's Clover Club have both fireplaces and hot toddies for a soul-warming night out.
Visiting NYC in the Cold: Keep your phone warm
If you're carrying a phone or mobile device through the city—and we know you are—they don't last as long in the cold. Phone batteries don't typically last in cold temperatures and may die unexpectedly as part of the device's attempts to regulate internal temperatures. There are many ways to protect your phone or mobile device, including buying a case with thermal protection and keeping the device close to your body in an inside pocket of your coat. But we know you'll need it outside in some moments, so be sure to bring a charger with you.
Visiting NYC in the Cold: Get quality winter boots & coat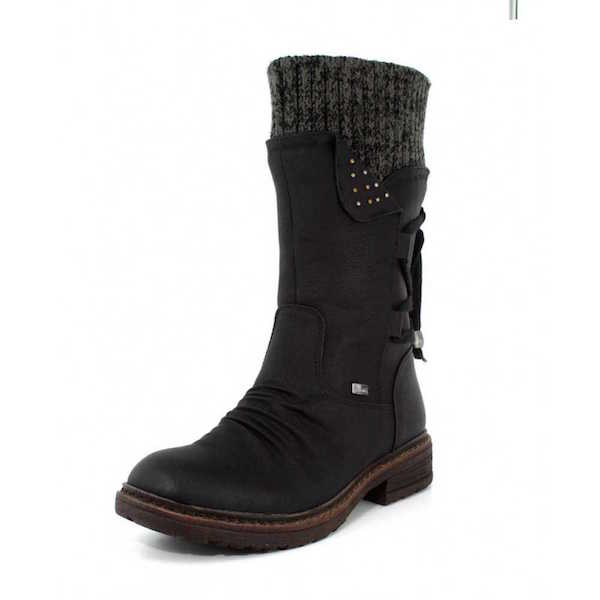 Stock up on women's, men's, and children's winter boots at Shoe Parlor. Pictured: Women's Rieker Women's Damen Langschaft Stiefel Winter boot.
Never underestimate the value of warm, durable winter gear—especially in a crowded city. Get a weatherproof, insulated coat with a hood if you can (pockets help too). Discount department store Century 21 has a great selection of quality coats. Your winter boots should have textured soles for navigating slick, slushy sidewalks, as well as weatherproof material on the rest of the shoe. Fur-lined interiors make winter boots even better. You can find plenty of boot options at Shoe Parlor near Columbus Circle and Dave's New York in Chelsea.
Visiting NYC in the Cold: Invest in extra layers
Don't just count on shoes and coat to keep you warm. Be sure to have a hat, scarf, and gloves for further insulation. If you need long underwear, bring that too. Protect the skin on your hands with warm gloves and portable hand cream as you travel through the cold. Many gloves have smartphone-friendly finger pads now too so you don't have to take off your gloves to text or use your device.