When the weather grows blisteringly hot, you might want to minimize your time on the famous shopping venues and stay inside at New York malls and department stores where the A/C stays on high. Luckily, NYC has you covered for indoor shopping locations with clothes, shoes, accessories, and even some food when you need to refuel. Read on for nine stores and malls where you'll spend a dog day afternoon inside, cool, and in style.
NYC Places to Eat & Shop Indoors: Bloomingdale's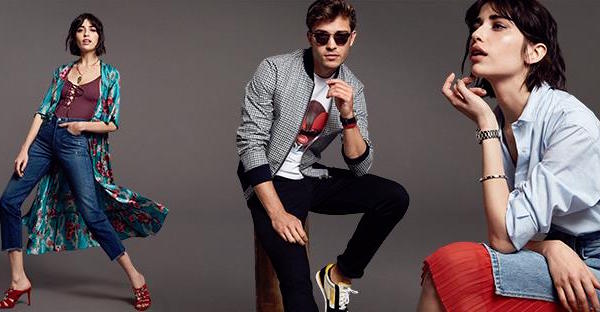 Bloomingdale's is America's department store. From Marc Jacobs handbags to Citizens jeans to Hugo Boss blazers to home goods galore, you and your friends could easily spend a whole day there. If that wasn't enough, now the fifth floor is 40,000 square feet devoted entirely to shoes! While you're at Bloomies, have a burger at Flip, a frozen yogurt or salad at Forty Carrots, and one of Magnolia Bakery's famous cupcakes. There's also a Forty Carrots at Bloomingdale's Soho, FYI. Although it's a smaller version of the original store, we're thinking you can kill an afternoon there too!
59th Street location: 1000 Third Ave., 212-705-2000; Soho: 504 Broadway, 212-729-5900, locations.bloomingdales.com
NYC Places to Eat & Shop Indoors: Bergdorf Goodman
A makeover and high tea? Yes, please! Bergdorf Goodman offers a retreat from the heat for the fashionistas among us. Shop Chanel, Alexander Wang, Jimmy Choo, and Maison Margiela, among other top-tier designers. You can also visit the famous John Barrett Salon for a cut-and-color and the Bobbi Brown counter for a fresh new makeup look. The store restaurants are Palette and BG, the latter of which serves a stellar afternoon tea from 3 to 5 pm on the top floor, overlooking Central Park.
754 Fifth Ave., 800-558-1855, bergdorfgoodman.com
NYC Places to Eat & Shop Indoors: Chelsea Market
The appeal of Chelsea Market can be summed up with one word: Anthropologie. Shop this powerhouse in female fashion, in addition to quirky jewelry, clothes, and gifts at Artists and Fleas and your next great read at Posman Books. The dining options are seemingly endless, from Asian fusion at Buddakan to wine and cheese at Corkbuzz to lobster rolls at Lobster Place. Once you're finished relishing the A/C, take a step outside and walk the High Line park just outside Chelsea Market. It's worth it! 75 Ninth Ave., 212-652-2121, chelseamarket.com
NYC Places to Eat & Shop Indoors: City Point Brooklyn
If you venture to Brooklyn, you have plenty of reasons to celebrate. One is City Point, the newest shopping structure in the downtown area of New York's hippest borough. City Point is a multilevel facility with food court on the bottom, stores on the middle levels, and a movie theater at the top. Shop Target, Century 21, Flying Tiger Copenhagen, and Little Giants for kids. The bottom level has stands like Katz's Delicatessen, Han Dynasty, BK Jani, Paella Shack, and Nobletree Coffee. (There's even a Trader Joe's down there if you're looking for cheap groceries.) On the topmost level, Alamo Drafthouse shows blockbuster and indie films, with food and drink served directly to your theater seat. 445 Albee Sq. West, 718-673-8800, citypointbrooklyn.com
NYC Places to Eat & Shop Indoors: Macy's & Manhattan Mall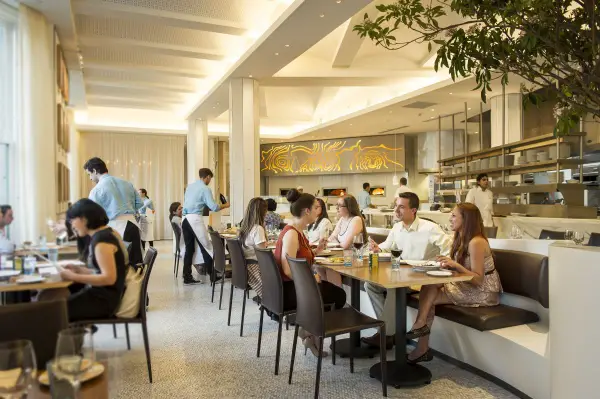 Macy's is the ultimate all-in-one department store. The fixture of Herald Square in Midtown, Macy's occupies an entire city block and contains multitudes. Pick up a Lacoste polo, a Clinique mascara, a pair of Levi's, a trinket for your home, a wedding gift, or all of the above! You can spend hours and hours on these nine floors, so it's a good thing many of them have food and drink to tide you over. Caff up at Starbucks on the third floor, grab a healthy bowl of greens at Just Salad on 4, a slice at Pizza Bar New York on 3, and Auntie Anne's Pretzels on 7. (There's even sit-down Italian at Stella 34 Trattoria up on the sixth floor, pictured above.) The new Manhattan Mall is just across the street, with stores like JCPenney, Victoria's Secret, Aeropostale, and LensCrafters. Macy's: 151 W. 34th St., 212-695-4400, l.macys.com, Manhattan Mall: 100 W. 33rd St., 212-465-0500
NYC Places to Eat & Shop Indoors: Queens Center
A massive mall in Rego Park, Queens, Queens Center is worth a visit if you're in the borough on a hot day. Their stores run the gamut from Adidas to Zales. Check out Sephora, Pandora, Macy's, the Disney Store, and so much more. While you're there, go to Chick-fil-A for waffle fries and a chicken sandwich, The Cheesecake Factory, or Red Mango for frozen yogurt. 90-15 Queens Blvd., 718-690-3222, shopqueenscenter.com
NYC Places to Eat & Shop Indoors: The Mills at Jersey Gardens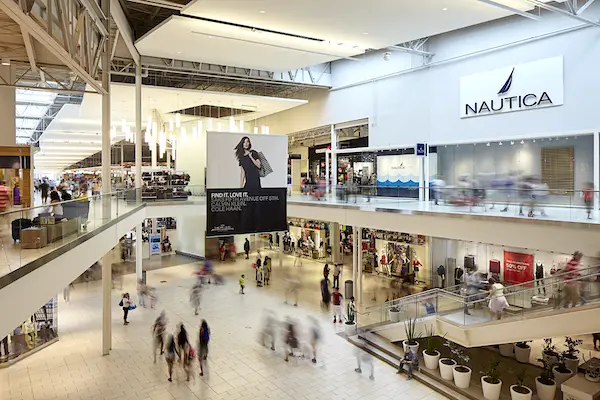 Just a half-hour drive from Times Square, The Mills at Jersey Gardens has outlets galore! Check out Saks Off Fifth, Century 21, and Neiman Marcus Last Call for major deals. Banana Republic, Loft, True Religion, Zales, ALDO, Levi's, Brooks Brothers, and Coach also have outlet stores at this mall. Cool off even more with a movie at the AMC Theaters at Jersey Gardens. Dining options include Moe's Southwest, Starbucks, and a mall classic, Cinnabon. 651 Kapkowski Rd., Elizabeth, NJ., 908-354-5900, simon.com/mall/the-mills-at-jersey-gardens
NYC Places to Eat & Shop Indoors: The Shops at Columbus Circle
At the southwest corner of Central Park, shop and eat at Columbus Circle. The indoor complex near the subway station is a sleek collection of favorite retail stores. Go to Tumi for luggage, Williams-Sonoma for a stainless saucepan, Madewell for women's jeans, and Sephora for makeup. The bottom floor is home to a gigantic Whole Foods with plenty of space to eat. For a more upscale dining experience, go to Per Se for the ultimate in fine dining, Bar Masa for cocktails and tapas, and Porter House for steaks. Enter at the intersection of Broadway, Eighth Ave., Central Park West, & Central Park South, 212-823-6300, theshopsatcolumbuscircle.com
NYC Places to Eat & Shop Indoors: Westfield World Trade Center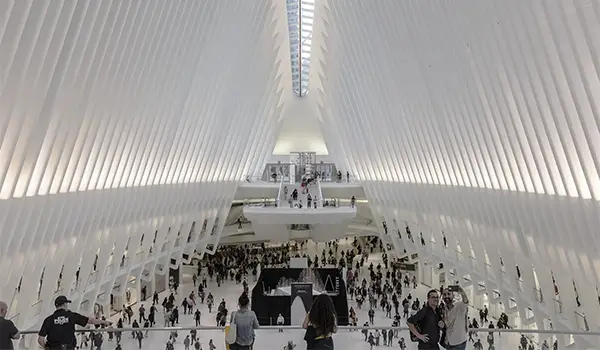 Image: Billie Grace Ward/Flickr
When you visit the 9/11 Memorial downtown, the sight of The Oculus will stop you in your tracks. Like a gigantic set of ribs emerging from the ground, the complex designed by Santiago Calatrava is one of a kind. Inside The Oculus itself contains retail stores like the Apple Store, M.A.C. Cosmetics, & Other Stories, and Hugo Boss. Walk past the PATH trains to New Jersey for more retail stores and Brookfield Place, the indoor food court that overlooks the Hudson River (all connected via indoor tunnel, P.S.). Have a coffee at Irving Farms, a banh mi sandwich at Num Pang, or Southern barbeque at Mighty Quinn's. These shopping and eating destinations are collectively called Westfield World Trade Center. You can also access One World Trade Center and grab your ticket to the sky from inside The Oculus. 185 Greenwich St., 212-284-9982, westfield.com