What's good to do on a day in Soho? New York City has a tons of neighborhoods for you to explore. That's some of the appeal of the city, which often is the reason people come back for another visit, since they couldn't cover everything the first time around. No matter if this is your first time visiting the city, or your second, third, etc, a neighborhood you should be exploring is SoHo, if you haven't already! What's to see in Soho? From shopping to dining and drinking, here are a few fun suggestions.
1. Do the obligatory walk up the shopping street, Broadway
When you're in New York City, you are bound to spend some serious money shopping. There is absolutely nothing wrong with that. And if you're in SoHo, you'll have endless of opportunities to burn some money, considering the street Broadway is located in SoHo and its home to stores such as Topshop, Pandora, H&M, Nike, Victoria's Secret PINK, and so many more.
2. Go for tapas at Boqueria
Who doesn't love tapas? If you haven't tried it, you definitely should. While it probably won't be as special as having tapas in Spain, it is pretty close. Boqueria has several locations throughout the city, including SoHo. The decor and interior is stylish and sleek and it is the perfect place for a night of snacking away on various dishes while chatting with friends over great wine.
3. Or milkshakes at Black Tap
The shakes at Black Tap are incredible and it should be a sin leaving the city without having one, or two, before heading back on that flight. While the restaurant and the food itself is also spectacular, it is the milkshakes that brings all the boys to the yard (and everyone else.) Full disclosure: Black Tap does not have a yard but they do have the most decadent milkshakes around.
4. The Handy Liquor Bar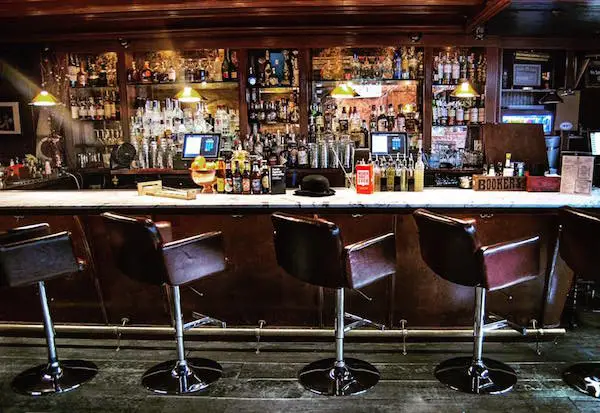 If you are looking for a cool, hip place to go out that is just screaming New York City, look no further than The Handy Liquor Bar. I know I've mentioned the restaurant Chalk Point before, but this is something else. The bar is located underneath Chalk Point and it is probably the best cocktail bar in SoHo. You'll be dazzled by the interior but you would want to stay because of the drinks and the atmosphere.
5. Brigadeiro Bakery
There will always be that one person in the group with a sweet tooth. Say no more, it is completely understandable. That's why this is such a great tip for things to check out in SoHo. The Brigadeiro Bakery will have tons of sweets for you to devour! The bakery has been open since 2014 and they offer the freshest baked goods. Remember to ask for their famous brigadeiros.
6. David Burke Kitchen

With an interior that's inspired by the SoHo neighborhood that it's situated in, and a menu that's all things American cuisine, David Burke Kitchen is a must-visit in SoHo. The interior is inspired by the neighborhood, built into different levels of the James New York – SoHo Hotel. The lunch menu has favorites like the Kitchen Burger, classic grass-fed Angus beef, aged cheddar, bacon, bread and butter pickles, challah bun, and special sauce. If you want a taste of America at its freshest, this is the place to check out.
---
About the author: Nina is the Engagement and Corporate Communications Analyst for RentHop, a national apartment rental site based in New York City. She moved overseas from Norway three years ago and has since been living and working as an expat in New York, enjoying everything the city has to offer.