Everyone thinks of Chinatown when the confetti-filled Chinese Lunar New Year parade rolls down Mott Street every year. But outside dim sum, firecrackers, and dragon dances, Chinatown remains a mystery to most New Yorkers. In fact, many locals are unaware of The Original Chinatown Ice Cream Factory, to-die-for roast pork buns, and beloved food tours that the area offers. Whether you want to pick up some snacks at Aji Ichiban, mosey Columbus Park, or practice your tai chi, there's no place in the United States quite like NYC's Chinatown to do it.
Since the late 1870s, Chinatown has been a pillar of downtown Manhattan. With an entrenched cultural imprint on the area, whose main thoroughfare is Canal Street, Chinatown is filled with signs in Chinese, advertising everything from restaurants to grocery stores to banks. While other areas have gentrified, with longtime businesses forced to close and corporate interests overtaking neighborhoods, Chinatown has endured as a testament to the strength of the immigrant spirit and the diversity of Chinese culture.  
The Museum of Chinese in America is the perfect place to begin an exploration of Chinatown. Dedicated to preserving and interpreting the history and culture of Chinese and their descendants in the Western Hemisphere, MoCA is a repository of unusual and unique items, from rare papers to priceless artifacts, which are indispensable for understanding this community.


Tucked in a small storefront at 64 Mott Street is the Eastern States Buddhist Temple of America. Founded in 1962, it is the oldest Chinese Buddhist temple on the East Coast. Leave a $1 donation to get a small fortune scroll. Across from the Manhattan Bridge at Canal Street is the Mahayana Buddhist Temple, the largest Buddhist temple in Chinatown. Inside is a 16-foot-high golden Buddha that may be the largest in NYC.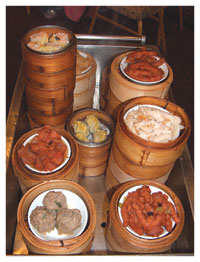 Chatham Square, at the intersection of East Broadway and Bowery, is home to the Kim Lau Memorial Arch, erected in 1962 in memory of the Chinese Americans who died in World War II, along with a statue of Lin Zexu, whose antidrug policies helped spark the Opium War in Fujian Province. Just north of Chatham Square at Canal St. and Bowery is Confucius Plaza, where a statue of the famous philosopher displays some of his sayings in both Chinese and English.
Of course, food is the major attraction of Chinatown. Restaurants abound, offering dim sum, Chinese and Vietnamese noodle soup, Szechuan cuisine, delicate tea, and other delectable dishes. Shanghai Cuisine offers the best Shanghai soup dumpling in the city, while the classic Hwa Yuan serves cold sesame noodles so good you'll want to order them twice. Not only that, but markets throughout Chinatown peddle fresh fish, vegetables, herbs, and candy unique to Chinese culinary culture. 
What's old is new again at Canal Street Market, bordering Soho at its new location. This indoor market features a wide range of food and fashion from local makers. 
On the southeast edge of Chinatown is the area newly dubbed Two Bridges. This neighborhood, located at the bases of the Brooklyn and Manhattan Bridges and bordered on the north by East Broadway, features some great lesser-known businesses. Have exceptional Portuguese fare at Cervo's and a Salty Plum Old Fashioned under the Manhattan Bridge at Mr. Fong's. 
For more information on Chinatown, visit Explore Chinatown. For more information on adjacent neighborhoods, read our guides on The Lower East Side and Little Italy.
Dining in Chinatown: For our list of the best places to eat in Chinatown, click here.
Museums in Chinatown: Museum of Chinese in America
Featured Restaurant: Hwa Yuan
Contributors: Alan Binenstock and Merrill Lee Girardeau