If you're visiting the Big Apple from Down Under, you want a mix of what's most New York, plus a hint of the familiar. From shopping to shipping, with some art and culture along the way, here are our suggestions for the must-sees in New York for visitors from Australia.
Australian Visitors in NYC: Shopping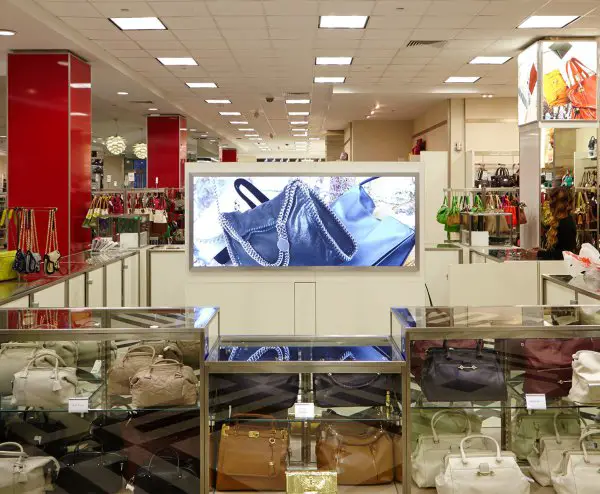 Century 21 in Lower Manhattan

You'll definitely want to do some shopping in the city. Clothes run the gamut in terms of price, but let's go for something splurge-worthy that justifies your having just traveled halfway around the globe. Although it's sort of like bringing the proverbial coals to Newcastle, check out NYC's gorgeous wool sweaters. Head to the ever-cool Barneys and browse established as well as trendier designers. (Be prepared to pay dearly for the privilege of carrying one of those Barneys bags.) Be sure to check out the carefully curated beauty area as well; they carry brands like Givenchy, By Terry, and culty Deborah Lippmann nail polish. For additional on-trend looks, head to one of the city's Scoop stores; they carry their own label as well as trendier ones like Iro and Tess Giberson. Plus you can pick up a handbag, a scarf or sunglasses—you and all the other chic shoppers. Be warned: there goes your shopping bdget.
For a more affordable splurge, head to Century 21 for seriously marked-down designer duds, or Midtown Comics, with three locations chock-full of collectible sci-fi and comic-book goodies. If you want lots of fun shopping in one place, head to Chelsea Market. You'll find stores where you can get a snack, like the Doughnuttery or Fat Witch Bakery, as well as places to get souvenirs, from Anthropologie (home goods, candles, cute clothes) to Bowery Kitchen Supply (high-quality kitchen equipment.)


Australian Visitors in NYC: Entertainment
Want to partake of some good old American popular culture? Look out for Discovery Times Square. Currently, you can see Star Wars and the Power of Costume, which includes 70 hand-made costumes from the first six movies, as well as seven costumes from The Force Awakens. Go, team! For basketball, head to the new-ish Barclays Center (pictured above) to see the Nets play (and often, the celebs hang out). Madison Square Garden is the place for the Knicks (NBA), the Rangers (NHL), and of course, concerts, from Iron Maiden to Billy Joel. They also offer a behind-the-scenes tour; it includes the locker rooms, VIP areas, and the Chase bridges—high-up seating attached to glass walls. To check out one of the most famous arenas in the world, point yourself to the Bronx and Yankee Stadium. Yankee Stadium Tours run on season and off and provide access to the stadium itself, plus World Series trophies and rings, and the famed (in America at least) Monument Park.
Australian Visitors in NYC: Food and Drink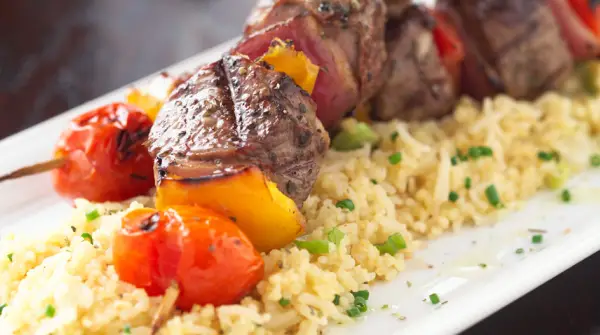 Elevated souvlaki from Molyvos
Spring in New York (and all through the year) means excellent lamb dishes at a lot of restaurants. The Indian restaurant Darbar does lamb a dozen ways, including the house's pasanda ($16) with ginger, garlic, and apricot. Molyvos puts a Greek spin on things, with a lamb shank yuvetsi combining orzo, tomatoes, and kefalotyri cheese. For some fine flavors inspired by Turkey and the Mediterranean, head to Pera Mediterranean Brasserie, which serves Moroccon-marinated baby lamb chops, a prune-braised lamb shank, and a signature lamb adana, hand-ground daily. (Gotta love New York.)
Australians like their coffee. Many people swear by Abraco, in the Village; it was inspired by Spanish and Italian bars, and offers great coffee and music. Irving Farm coffee bar is having a moment or three; it now includes a Green coffee-buying program, several cafes, a training and Education Loft, and some darned good coffee. We like the Sleepy Hollow decaf. If you want an iconic New York dining experience that isn't trendy but harks back to gentler days, head to Tavern on the Green on the threshold of Central Park—it's not trendy, but it is pretty, and you could do worse on a nice sunny day than to sit in the light-filled dining room, eating roasted figs with goat cheese and arugula. The Rainbow Room is good choice for a drink, or dinner and dancing. And that view! For a classic New York experience, head by Frank Sinatra's favorite restaurant, Patsy's in the Theater District. This white tablecloth spot of simple elegance and warmth is still family-run, serving some of the best down-home Southern Italian you'll find in NYC. (The Sinatra family still dines here.)
Asian-influenced food is a staple in Australia. For the trendy New York version, Buddakan offers food + hip: crispy cauliflower lollipops, Asian green stir-fry. TAO has a similar vibe, there's a giant Buddha in the dining room, and you can get a dim sum brunch or a prix fixe lunch—a good deal. By all means try the dumplings. The restaurants are little attitude-y, but very New York, and the food is quite good.
Australian Visitors in NYC: Culture and History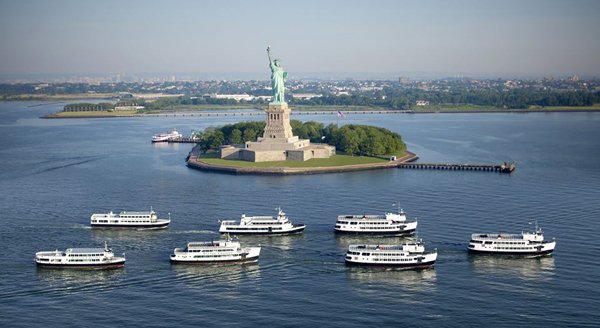 Statue Cruises is the way to go for Ellis Island and the Statue of Liberty
New York offers several great, lesser-known venues for the arts: The Joyce Theater is a smallish, slightly off-the-beaten track venue for watching dance, from the Pennsylvania Ballet to the Hong Kong Ballet. It's a nice choice when you want something artsy and a little outside the mainstream. For fascinating New York history, Ellis Island is a good half-day trip; there's a lot to get through, but it's also surprisingly moving, and it's fun to get off the "mainland" for a while. It has lots of great info and displays about immigration (it's a staple in elementary-school classes) but it's also a tourist attraction for a reason. Statue Cruises will get you there—the same boats are the only way to get to the Statue of Liberty.
Another popular trip is to the Intrepid, the aircraft carrier docked on the Hudson River. It's massive but extremely interesting, and has both a permanent exhibition as well as special offerings. Don't miss the submarine right next to it—seeing the conditions under which the sailors lived is eye-opening.
Aussies may have the famous Sydney Opera House front and center, but in New York, you can take a backstage opera tour at the Metropolitan Opera; guests can view the carpentry shop, rehearsal rooms, and even the dressing rooms. The other Met (Metropolitan Museum of Art) has an enormous collection—it has over two million works of art—including some that hail from Australia, primary in the Michael C. Rockefeller Collection on the first floor.
And to cap off your day, skip the sports bars and head for a gastro pub. The hippest place at the moment is Black Tap (several locations), which offers craft burgers and beer—plus the most awe-inspiring shakes you've ever seen. If you're just looking for some local hospitality, served with some tasty American fusion bites, check out Midtown East's Foxy John's.
Feeling homesick? Burke & Wills on the Upper West Side will take care of you, with food and wine inspired by the Southern Hemisphere. Who's ready for a Bushfire Margarita?
---
Need the Australian consulate? You'll find it in Midtown East.
Australian Consulate-General New York
150 E. 42nd St., 34th Floor, New York, NY 10017
212-351-6500