Thought puppets were for kids? Think again. Avenue Q is a laugh-out-loud musical that tells the ageless story of a bright-eyed college graduate arriving in New York City with big dreams and a near-empty bank account — and it's not necessarily the type of show you want to take your children to see (the storyline touches on issues like sex, drinking, and porn-surfing). Part-puppet, part-person, next time you're looking for a show that will have your sides aching from so much laughter, Avenue Q is your stop.
The Storyline
Avenue Q is an adult-friendly show that follows the life of Princeton, a broke college graduate, after he moves to the far-reaching Avenue Q in New York City. You'll meet all of his neighbors throughout the show, including Kate (the girl next door), Lucy (the slut), Rod (the Republican), Trekkie (the pervert), and Gary Coleman (the superintendent). The entire band of characters talk jobs, dates, and even their thoughts on life's purpose during Avenue Q, making for a show that's filled with fun, intellect, and even a bit of sentimentality. 


The History
Avenue Q originally opened at the Vineyard Theatre in March 2003, where it raked in positive reviews and was extended a number of times. Before its Broadway previews, it won the Lucille Lortel Award for Outstanding New Musical and received a nomination for the 2003 Outer Critics Circle Outstanding Off-Broadway Musical Award. Later, in 2004, Avenue Q picked up the Tony "Triple Crown" for Best Musical, Best Score, and Best Book. While Avenue Q's final Broadway performance took place in September 2009, you can still catch the memorable show at New World Stages for its Off-Broadway performances.
The Cast
The current Avenue Q Off-Broadway cast includes Elizabeth Ann Berg, Kerri Brackin, Grace Choi, Ben Durocher, Jason Jacoby, Nick Kohn, Danielle K. Thomas, Katie Boren, Imari Hardon, Michael Liscio, Jr., and Jed Resnick, making up an eclectic group of performers that have credits ranging from Goodspeed Opera House to The Jim Henson Company.
Tickets
Tickets can be purchased ahead of time via Telecharge for $75.50, $97, and $126.50. Additionally, Avenue Q does sell a limited amount of general rush tickets for $26.50 (cash only) on the day of the performance.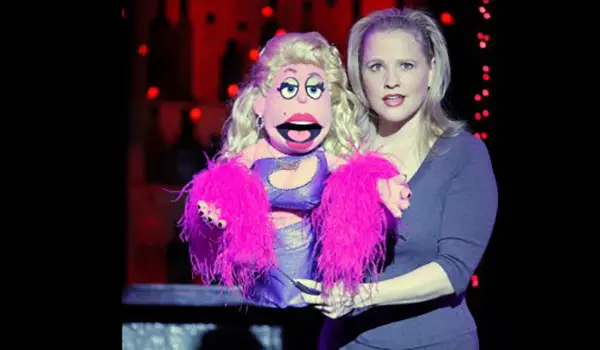 Reviews
"Of all the musicals hatched in the post-2000 age of irony, AVENUE Q has remained
the FRESHEST and FUNNIEST!" — Variety

"SWEETLY SATIRIC and SURPRISINGLY FRESH!" — The New York Times

"AVENUE Q" is still one of the hippest theatrical destinations in New York." — Backstage

"The TONY AWARD-WINNING musical remains as SHARP AND FUNNY AS EVER!" — TheaterMania

"'AVENUE Q' remains a sly and winning piece of metamusical tomfoolery." —Time Out New York

"Somehow, the jokes seem funnier, the songs catchier, and the talented ensemble better than ever." — New York Magazine
New World Stages, 340 W. 50th St., avenueq.com