JANUARY 18, 2023: ANNUAL TOURISM SEMINAR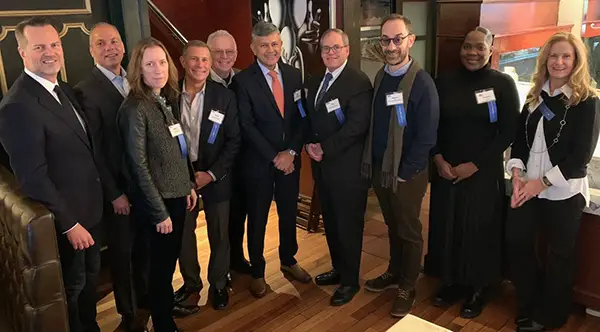 PRESENTERS: Fred Dixon, Pres/CEO, NYC & Company, Delfin Ortiz, Mng Dir, Legends/One World Observatory, Sophie Wright, Exec. Dir, Fotogafiska, David Miller, CEO, Davler Media, Bob Hofmann VP, Broadway Inbound, Vijay Dandapani, Pres/CEO Hotel Association of NYC, Tom Harris, Pres, Times Square Alliance, Andrew Rigie, Exec Dir, NYC Hospitality Alliance, Shanifah Rieara, Acting Chief Communications Officer MTA, Susan Marenoff-Zausner, Pres, Intrepid Museum (missing from photo: Deputy Mayor Philip Banks III)
Last Tuesday, City Guide's Annual Tourism Seminar brought together an all-star panel of presenters to share market and sales data across most segments of the industry. One hundred industry executives exchanged ideas over breakfast at the Redeye Grill. 

Fred Dixon, President and CEO of New York & Company, was very upbeat about 2023 in his introductory remarks. Dixon relayed the strength of the fourth quarter, an expected surge in day trip numbers for 2023, New York's status as the safest big city in the U.S., and that "domestic travel is coming back in a huge, huge way."

Data highlights: 
NYC welcomed about 56 million tourists in 2022, domestic tourism mostly recovered from pre-pandemic levels, international is still lagging, but improving. The projection is for 61MM tourists in 2023.
Broadway, hotels, attractions, and museums all reported great holiday sales numbers. Several presenters said they reached or exceeded pre-COVID levels in December.
The government-affiliated presenters shared the initiatives in place to reduce crime, improve cleanliness, and help individuals experiencing mental health issues. The data they shared indicates real progress has been made on these fronts.
The Annual Tourism Seminar was the subject of a New York Business Journal article, which quoted the "Major NYC Tourism Sectors" panel, dedicated to hotels, restaurants, and Broadway.
NYC TOURISM DATA
| | |
| --- | --- |
| Number of Subway Stations That Exceeded 2019 Ridership in December | 21 |
| NYC New Year's Eve Occupancy | 88% |
| Average Daily Rate Increase That Week Over '21 | 26.5% |
| Empire State Building Observatory Attendance Early December Versus Pre-Pandemic | 95% |
| NYC & Company Projection for Potential Chinese Tourists in NYC in 2023 | 500,000 |
CRIME/SAFETY NEWS
NYPD
Overall index crime in NYC was down for the second straight month in December, reduced 11.6% compared with December 2021. Five of the seven major index-crime categories saw decreases, driven by 26% decreases in murder and grand larceny.
For the fourth quarter, index crime was down by 1.5% against Q4 of 2021; although crime overall was up in 2022, murders were at their lowest level since pre-pandemic.
Brooklyn saw drops in shootings and homicides, down 31% and 21% respectively since 2020 peaks.
"Ensuring our city thrives is the business of the NYPD," according to an op-ed by City Police Commissioner Keechant L. Sewell.
MAYOR'S OFFICE
LINKS OF INTEREST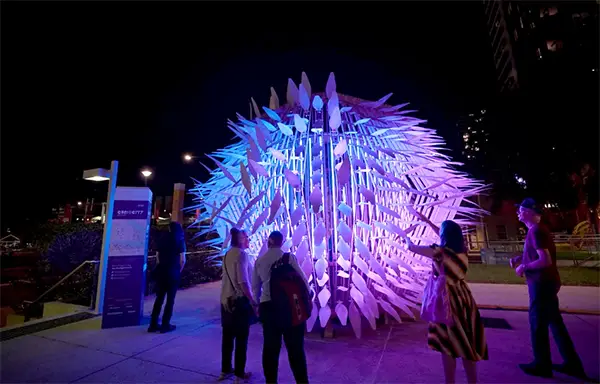 The Garment District Alliance unveiled Living Lantern yesterday, a kinetic installation serving as a symbol of hope through February 24th on the Broadway plazas. Created by NEON and Frankie Boyle Studio, and powered by WIREFRAME. Photo Credit: PixelMill Studio.
NYC
BEYOND NYC
JANUARY 4, 2023: NYC TOURISM UPDATE
Despite economic headwinds, the outlook for New York tourism remains strong. Some data for the year ahead:
NYC topped 1 billion subway riders for the year on December 27th, the highest ridership since 2019. As Mayor Adams put it in a recent roundup of the city's tourism prospects, "New York City is not coming back—we are back."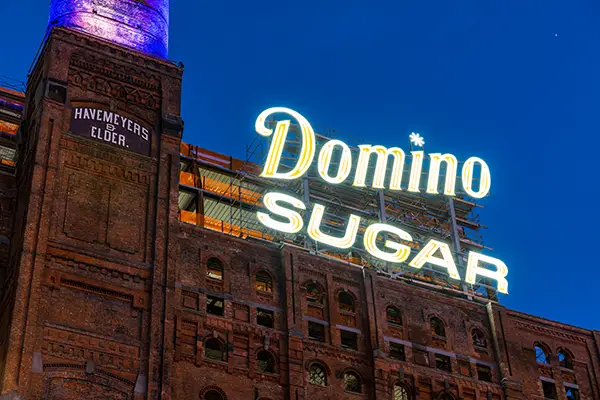 A landmark on the Brooklyn skyline for over a century has returned to the Domino Refinery building. Photo by Wes Tarca.
NYC TOURISM DATA

Increase in NYC Airport Volume Nov. 2022 Versus Nov. 2019


2%

Increase in NYC Airport International Travelers,
Oct. 2022 Versus Oct. 2021


1.7 million

December 2022 Statue of Liberty Visitation Increase Over 2019 Benchmark



25%


49%

Harry Potter Gross That Week to Set All-Time Broadway Play Record


2.7
million

The Lion King Gross That Week to Set All-Time Broadway Musical Record


4.3
million
CRIME/SAFETY NEWS
The Adams administration is touting big improvements in public safety in its first year. Shootings are down 17% and homicides 13%; the NYPD has removed more than 7,000 illegal guns and made over 4,500 gun arrests—a 27-year high. November 2022 saw major crimes drop from where they were in November 2021, and subway crime that same month dropped by 12.8% over the previous November—even more impressive given the big lift in ridership. Pedestrian fatalities are down as well.
In just the first nine months of the Adams administration pedestrian pedestrian stops increased 22% over the entirety of 2021.
In another boost for tourism, the city is prioritizing getting cleaner. More than one-thousand neglected areas have been targeted and waste basket service has been increased 50,000 times each week.
LINKS OF INTEREST
NYC
BEYOND NYC
CLOSING TIME
DECEMBER 21, 2022: NYC TOURISM UPDATE
Looking back to the beginning of the year it's amazing to see how much ground we've recovered. A year ago the Omicron variant was putting a damper on activity and it seemed like the crowds would never return. The bounce back since then has been incredible, even if we are not yet back to pre-pandemic levels. We are still missing foreign visitors, although at last there has been a loosening of Chinese restrictions, giving hope that they'll return soon—bringing three years of pent-up demand with them. Data supports the case for cautious optimism:
Tourism Economics reports Travel Industry Poised to Grow in a Recession, noting U.S. households are in a position of strength, there are no signs of weakness, and pent-up demand remains strong. In fact, the latest forecast from the U.S. Travel Association anticipates an 8.8% increase in leisure travel next year (and business travel spending expected up 19.1%). AAA estimates the next couple of weeks will be the third-largest for holiday travel since tracking began, with 3.6 million more people than last year—just off pre-pandemic volumes.
NYC TOURISM STAT PACK

NYC Hotel Occupancy for November


90.2%

Broadway Capacity
Last Week


85%

Broadway Capacity Increase Over Previous Week


5%

Gross for Funny Girl Over 8 Performances to Set August Wilson Theatre Record


$2MM

Grand Central Area Increase in Pedestrians May-November


6%

Times Square Pedestrian Count Increase for November
Year Over Year



18%
CRIME/SAFETY NEWS
MTA
"In the month of November, we had a couple of weeks where we had the lowest rate of crimes per million riders that we've had since before COVID. This is by no means time to declare victory, but we're in the right direction," MTA Chair and CEO Janno Lieber explained in a recent ABC7 interview.
MTA initiatives will improve tourist experiences even beyond lowering crime. Comprehensive Customer Service Centers will provide direct support in high-traffic subway stations. Six will open early next year, followed by nine more in 2023. Station Agents will be moving out of the booth and into more direct customer support roles.
MAYOR'S OFFICE
LINKS OF INTEREST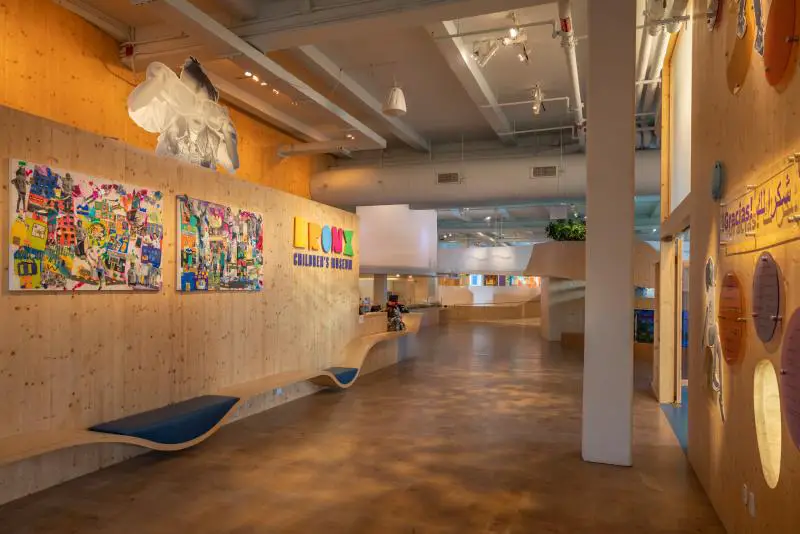 The Bronx Children's Museum opens a permanent space on the Harlem River. Welcome area photo credit: Matthew Lapiska.
NYC
BEYOND NYC
CLOSING TIME
Legendary East Village Dallas BBQ closing up after nearly four decades
Almost Famous to end its brief Broadway run on January 8th
DECEMBER 7, 2022: NYC TOURISM DATA
It's worth remembering that a downturn in 2023 is far from a done deal. In fact, Goldman Sachs projects a 65% chance the U.S. avoids recession. November's employment report was unexpectedly strong, led by leisure + hospitality jobs. STR and Tourism Economics have only pared their 2023 projections down by a hair, with revenue per available room anticipated to be up 11.6% versus 2019. 
Recession concerns are real, but spending is holding strong, especially when it comes to travel. "There's no question that restaurants and bars and things are really packed and everybody's out," Peter Schubert, managing director of commercial leasing at TerraCRG, tells Bisnow about NYC. "And you sense that there's a little bit of euphoria. We're all very, very bullish. I mean… even with the talk of, 'Oh, we have a recession,' [retailers] don't see it; it just hasn't materialized."
Thanksgiving Week Broadway Grosses


$37
million

Broadway Capacity
Last Week


83%

NYC Hotel Occupancy Over the Last 4 Weeks

85%

Last 4 Weeks Increase in Times Square Pedestrian Count


14%

October Jobs Gained in NYC
Hotels and Restaurants


9,600
NYC CRIME/SAFETY NEWS
NYPD
Overall index crime in NYC decreased in November against a year ago. Shooting incidents  were down by 32.8% and the 2022 murder rate is 11.1% below last year's.
Gun arrests are at a 27-year high; arrests for major felony crimes are up 19% against November '21.
The NYPD has launches its Holiday Safety Initiative, with increased police presence and patrols tailored for places of worship, retail centers, tourist attractions, and other holiday gathering locations.
MTA
Felony crime on transit is not outpacing the surge in ridership on the MTA—travel is up 38% over 2021, which is about the level of reported crime increase.
"The NYPD is now putting more officers on subway cars and on platforms, and so far this month it has resulted in a drop in crime," MTA spokesman Aaron Donovan told the Post. In fact, transit crime fell 13.1% comparing November '22 with '21.
MAYOR'S OFFICE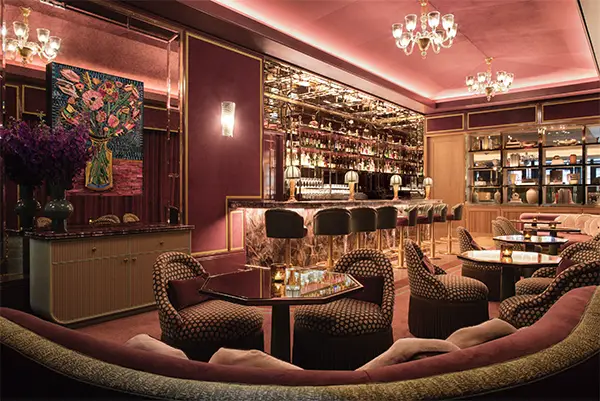 Hotel Barrière Fouquet's New York now open in Tribeca, the first U.S. location of the luxury French brand.
LINKS OF INTEREST
NYC
BEYOND NYC
CLOSING TIME
NOVEMBER 22, 2022: HOLIDAY TOURISM OUTLOOK NYC
Tourism Recession or Surge: Here's the Data
There's a lot of chatter about a recession in travel. Of course rising costs and economic instability are impactful, but the data we're seeing points to ongoing recovery:
"More than half of Americans report that travel is now a priority and see their holiday as a sacred, worthwhile investment," James Thornton, CEO of Intrepid Travel, tells TravelPulse. "Having a period without travel has made people appreciate their holidays even more."
NYC TOURISM DATA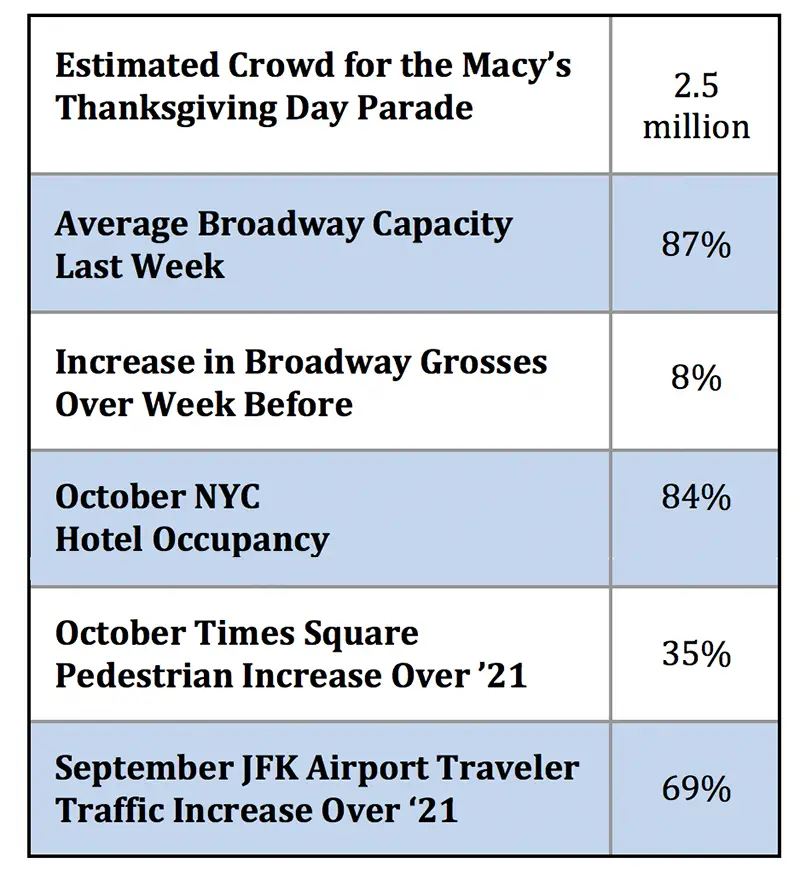 NOW OPEN!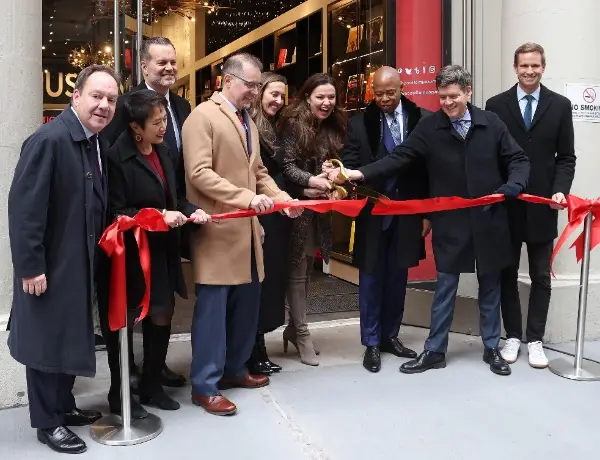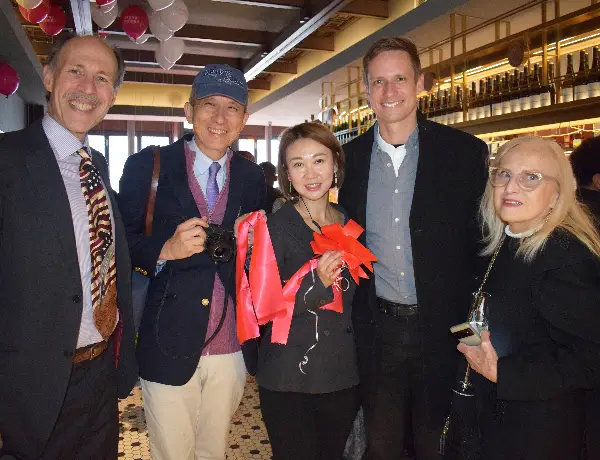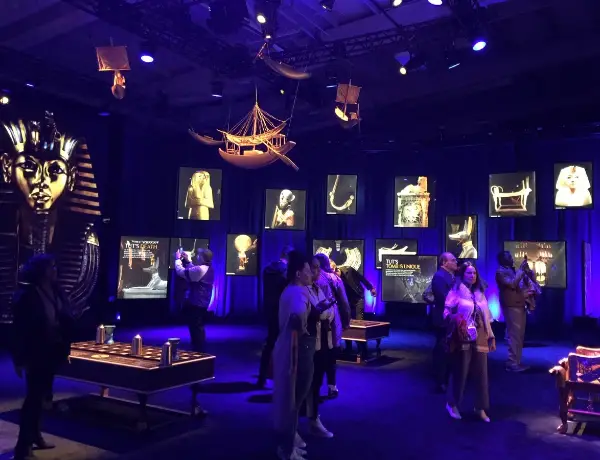 Congrats all around (from top), as the Museum of Broadway opens (photo by Taylor Hill); Hells Kitchen welcomes Chi Restaurant; the new location of the Brooklyn Deli opens in Times Square (photo by Tricia Baron); and City Guide hosts a concierge night at the new Beyond King Tut: The Immersive Experience.
CRIME/SAFETY NEWS
When it come to keeping NYC safe, there is much going on beneath the surface. This week we learned MTA Police officers apprehended two men at Penn Station and averted an attack on NYC's Jewish community. 

According to New York Magazine, election results in New York state suggest that "doom and gloom about crime" was more of a media narrative than a central concern of people.
LINKS OF INTEREST
NYC
BEYOND NYC
CLOSING TIME
FALL TOURISM OUTLOOK NYC
We are into quarter 4, NYC tourism's busiest season, and the outlook for the upcoming weeks is very strong. NYC & Company projects 6.5 million visitors between Thanksgiving and New Year's. The latest hotel data shows NYC is still #1 among the nation's major hotel markets, with Average Daily Rates reflecting tourist willingness to spend significantly.
National headlines support the positive local trends. Some key findings:
Expedia also set records in Q3. "Overall we are pleased to see strong demand expand into the fourth quarter as consumers continue to prioritize travel spend over other discretionary spend," according to CFO Julie Whalen.

All of the data points to a busy stretch of tourism ahead.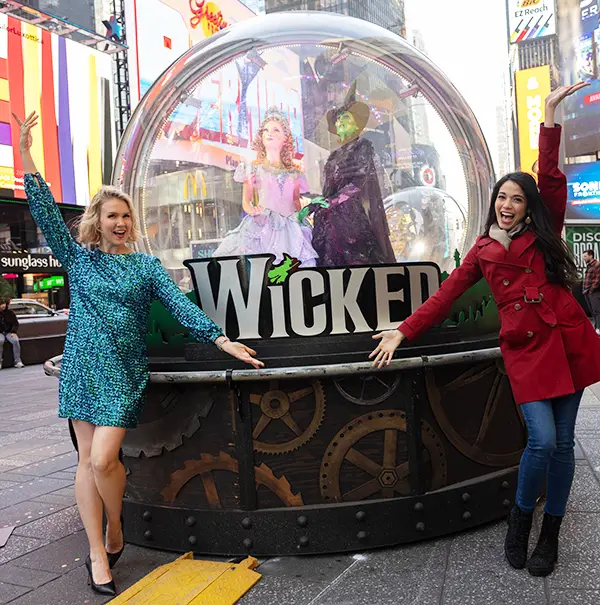 Ginna Claire Mason (of Glinda fame) and Arielle Jacobs (known for playing Jasmine in Aladdin) welcome back the Times Square Alliance's "Show Globes," a big hit with tourists that will be on display in Times Square through December 26th. Photo by Michael Hull.
NYC TOURISM DATA
Average Broadway Capacity Last Week


84%

Hotel Occupancy

86%

Hotel ADR

$333

Hotel RevPAR

$286

New NYC Hotels
Opening in 2022


38

September Times Square Pedestrian Increase Over '21


43%

Empire State Building Observatory 3rd Quarter Traffic Increase Over '21


300%
SOME GOOD NEWS TO SHARE ABOUT NYC SAFETY
Media reports on crime in the lead up to the midterm elections has led to misperceptions about the safety of New York City. Here is some good news data:

MTA
1,200 additional police officers are now on patrol in the MTA, on top of personnel increases earlier in the year.
As a result of the new staffing, fare evasion summons are up more than 80% compared to last year, and quality of life summonses are up 118%.
Major felony crimes on the subways are down 4% compared to pre-pandemic stats.
Officers will be present at over 300 stations during peak hours.
New dedicated units at psychiatric centers will address street and subway mental illness issues.
The subway has set pandemic-era ridership records the last three weeks in a row.
NYPD
Per the latest crime report, shooting incidents and killings are both down by one-third, October 2022 against October 2021.
Despite 2021's rise in homicides in NYC, the murder rates remain less than 20% of 1990's levels.
City Guide will continue to report on the good news about city crime, as it is important to communicate to tourists the realities of visiting New York City.
LINKS OF INTEREST
NYC
BEYOND NYC
CLOSING TIME
NYC TOURISM 2022 SUMMER UPDATE
The long-awaited return of international travelers has begun. Inbound bookings jumped 93% during the past six weeks compared with 2021; and they're not looking for beaches—NYC and other cities are the main destinations. Canada, Germany, France, and Brazil are the top source markets; Japan and China have also joined, increasing by 8% and 28% respectively in just the past four weeks. Search engine Jetcost has some additional data:
250% search increase for flights year to date
330% search increase for hotels year to date
Searches for August 2022 holidays are 30% above pre-pandemic levels
NYC is the #1 search for US vacations, across Germans, French, Spaniards, Italians, Dutch, Portuguese, and British
For US tourist searches, New York is also #1, beating out every other destination in the world
SPENDING
NYC
Even the "new normal" of travel can be turned to a positive, as tourists are seeking out exciting experiences to counteract the frustrations of their journeys. NYC can definitely help with that.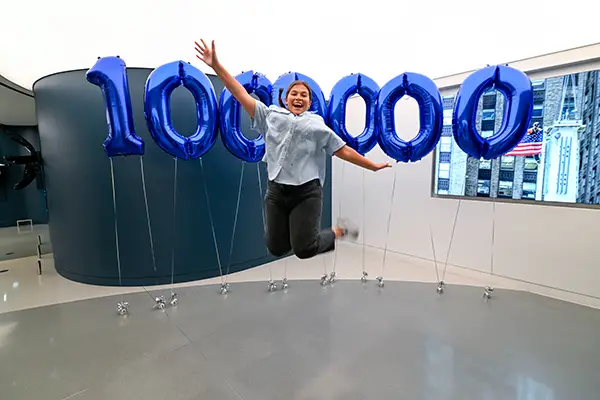 SUMMIT One Vanderbilt celebrated its One Millionth guest last Friday. Open just nine months, the milestone shows the brisk pace of NYC's tourism recovery. The lucky One Millionth Guest at SUMMIT received a $5,000 cash prize, in partnership with TD Bank, a private guided tour, and a memorable journey in Ascent, the world's largest external glass elevator—soaring 1,200 feet above Midtown Manhattan.
LINKS OF INTEREST
NYC
HOTELS
BEYOND NYC
CLOSING TIME
CITY GUIDE CONCIERGE NIGHTS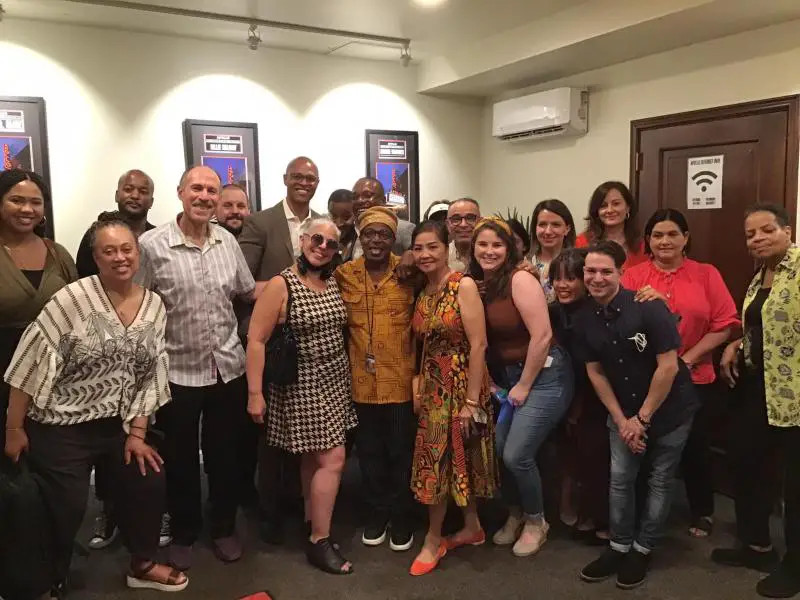 City Guide concierge nights are back in full force, including a recent outing to Amateur Night at The Apollo. City Guide's Eli Marcus, hotel friends, and Billy "Apollo" Mitchell, historian and tour director of The Apollo for many decades, are pictured here.